The South of Fifth Condo Market Report 2019
The South of Fifth Condo Market Report 2019 – The Last 6 Months (May till October 2019)
David Siddons and our South of Fifth condo expert and resident Stefania Cambarau spent the week analyzing the South of Fifth condo market to provide our readers with a clear overview of what has happened in the last 6 months, what trends we are seeing and what we expect from this market in the months to come.
Observations in the South of Fifth Condo Market below $2M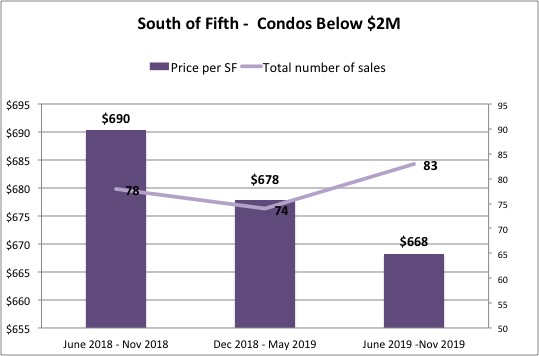 229 Active Listings
86 Sales
14.3 Sales per month
16 Months of inventory
The South of Fifth condo market recorded 86 sales within this price range while there are currently (as per Oct 1, 2019) 229 listings. This leads to 16 months of inventory, which is not a bad number at all. South of Fifth is performing better than the rest of the Beach. This is mainly because of the desirability of the location, close to the elementary school (one must live in the perimeter to be accepted by the a rated public school), because of the more neighborhood lifestyle and the access to many stores and restaurants in walking distance.
The properties with the longest days on the market are generally the units in the more dated (pre-2000) condo buildings. The older buildings see a lot of product that stays on the market for 300+ days. Condos that can be rented for a short term or are income producing are selling very well and for a high amount per SF. In recent years we saw top dollar being paid for very well done units that were destined for the short term rental market. With the recent outlawing of platforms like AirBnB, we see that these prices per SF have decreased as the short term rental opportunities are now limited. The only buildings that keep on selling for a high price per SF (up to $1,000 per FS) are those buildings that allow short term rentals such as the yacht club or newer buildings such as Murano Grande, Murano at Portofino, Continuum or Icon.
Units in older building get less and less desirable, either because the buildings are not correctly maintained or managed or because a very costly special assessments is coming up. Newer buildings still have high HOA fees, but are more desired by renters as well and therefore make more sense as an investment.
Please be aware that it is not untypical to see 10% reductions from asking to sale price and in many cases when we look at properties being relisted we are seeing 25% discounts off original ask price.
The rental market saw 199 units being rented. Compared to 86 Sales in the same period this is definitely a rental based market.
What will the future bring?
This market has adjusted its price already and is much more balanced than before. Therefore we will see even more of a dynamic market in 2020, with more sales. The favorable interest rates are also a great push for this market.
Observations in the South of Fifth Condo Market for the $2M- $6M Market
 98 Active listings
16 Sales
2.66 Sales per month
37 Months of inventory
More than 50% of the current listings has been on the market for over 280 days. About 25% has even been on the market for over 600 days and 50% of these listings is priced at $1,500 per SF or more.
So the market is definitely back end heavy; i.e units are sitting a long time on the market. As we are dealing with a lot of inventory still, there is a lot of competition and merely very well finished condos or very well priced condos are being sold.
Over 50% of the sold units were sold at Continuum on South Beach. All sales that have happened, were recorded in the relatively newer buildings, built post 2000. Only two sales were traded at a price of $2,000+ per SF, both were at Continuum.
Continuum is definitely leading the sales. Buyers who are willing to pay for very high maintenance fees also want to have an elevated level of service and quality of the amenities, and Continuum is not second to any other building when it comes to amenities and services.
We also saw some big reductions from original asking prices in this price range. Many listings entered the market as early as 2018 and saw massive discounts before being sold. 
There has been a big adjustment in the prices due to the high level of inventory.
This is the typical example of the snowball effect, when you own a unit that is just like 50 other ones in a building.
The previous sales set the new market price and anybody that sells afterwards need to adjust accordingly.
112 rented to 16 sales. Still a big rental market, although many owners decide to sell their unit in order not to loose more value.

What will the future bring?
We will see way more leases in the next 4 to 6 moths as the season is approaching. Many new units will hit the market for sale as well; something that happens a lot during the high season. This year we will see very competitive listing prices as the fresh inventory will add up to the existing one.

Observations in the South of Fifth Condo Market for the $6M+ Market
34 Active listings
7 Sales
1.16 Sales per Month
29 Months of Inventory
This market is fairing better than the mid-range market of $2M- $6M and the last 6 months this market performed much better than the 6 months prior where we had only 3 sales. This is a market that is less affected by economic change. The ultra-luxury market is now seeing very high-end products move again at a greater velocity than last year. This is due to the many price corrections and heavily discounted sales. I think this is also seen in other markets; High-end sales are moving better due to realized discounts of 20% or more.The over-confidence is gone and we are back to true market values. We do notice in this market that people are shopping for very well finished product or combined units with high-end details and those buyers are willing to pay top dollar for these kind of units.
The most expensive listing is listed at $19M asking price while the most expensive sales was $13M, again at Continuum. Just like in the mid range, almost 50% of sales are recorded at Continuum. The highest sales price per SF was just below $3,000 per SF, which was unit 3303 at Continuum that sold for a 20% discount.
33% of Product has been sitting on the market for over 1 year.
Only 3 rentals in this price bracket. The demand is very high for the high-end rentals, but the offer is almost absent. This happens mainly in the high season from November through April.
What will the future bring?
The market will stay strong. More inventory will be listed for sale, but buyers are coming strong in 2020
Please fill in your details and David Siddons will contact you
Get our

Newsletter

No Thanks
Get the latest news from Miami Real Estate News
Email to a Friend
Recomend this to a friend, just enter their email below.
Your email was sent succesfully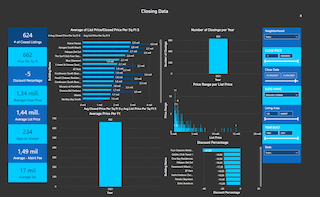 COMPARE WITH CONDOGEEKS