What is the Best Gated Community in Miami Beach
Homes in Miami Beach Gated Communities
Miami Beach is known for its swanky condos and fabulous lifestyle. Many outsiders don't know that Miami Beach also offers a single family home market that is excellent for family living with more privacy and tranquility than the famous South Beach area. Many of these Miami Beach homes are large waterfront mansions excellent for boaters or those who want to enjoy the best that Miami has to offer. In this article we will discuss the various Miami Beach gated communities. These private enclaves offer the finest of Miami Beach homes and will be discussed below in further detail.
By clicking on the map you can see where the different Miami Beach gated communities are located. Each of the gated communities listed below provide a link that will redirect you to a specialized page where you can find all the current listings in that community
Allison Island
Allison Island is an 8.5 acre island in the beautiful Biscayne Bay of Miami Beach. The South of the island is called Aqua and is home to many townhomes and condos (3 midrise waterfront condos and 46 townhomes), while the North of Allison Island is known for its many waterfront homes. Single-family homes on Allison Island are located on spacious lots (16,000 SF+) and offer unobstructed views over the water as well as La Gorce Island or Indian Creek Dr. Home for sale on Allison Island are desired, because they offer a great deal of privacy and tranquility although they are just minutes away from the action of Miami Beach. Allison Island is also desired by boaters for obvious reasons.
Price range: $2.8M – $11M+
Number of homes: 50
SF range of Homes: 3,600 -12,000
SF range of Lots: 16,000 – 26,000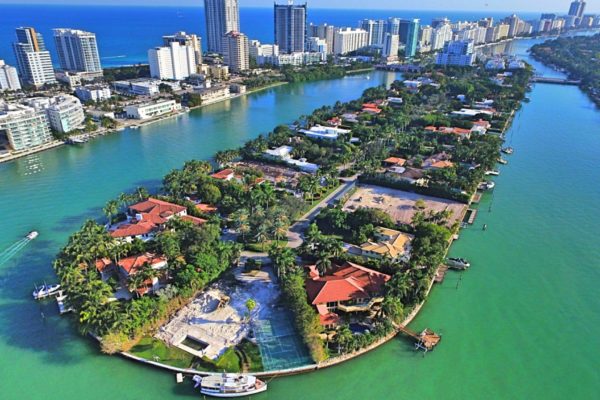 Biscayne Point and Stillwater
Biscayne Point is in the northwest tip of Miami Beach, just north of Normandy Isle and south of Surfside. Biscayne point is made up of two peninsulas that extend into the Biscayne Bay, called Biscayne Point (Southern peninsula) and Stillwater (Northern peninsula). Most homes are waterfront and enjoy amazing views over the Biscayne Bay and the Miami skyline. Biscayne Point is close to the beaches and all its entertainment while the community gives you a feel of tranquility and privacy.
Biscayne Point is desired with boaters and golf lovers as the waterfront community is surrounded by two golf courses: Indian Creek Country Club and the Normandy Shores Golf Course.
Price range: $350K – $5.1M
Number of homes: 300+
SF range of Homes: 1,200 – 10,000
SF range of Lots: 2,500 – 15,000
Fisher Island
Although this blog is more about Miami Gated Communities for single family homes, we couldn't ignore Fisher Island. This island is arguably one of the most exclusive and private enclaves in all of Miami. Fisher Island can only be reached by helicopter or ferry and is only accessible upon invitation from one of its residents. Fisher Island is self regulated and offers a golf course, tennis courts, 24 hours security, a marina and a school.
Condo Community
Price range: $1M – $30M+
SF range of Homes: 600 – 10,000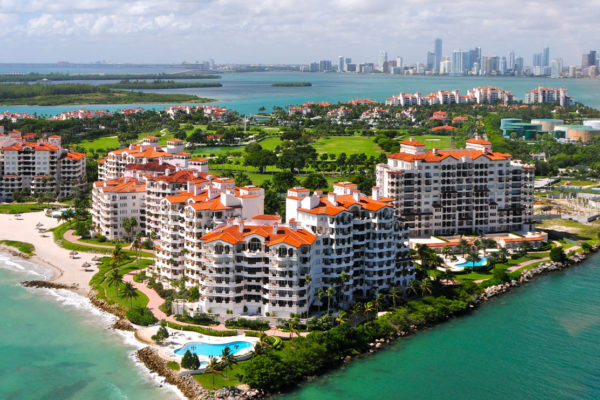 Hibiscus Island, Star Island and Palm Island
This exclusive island trio is located in the Biscayne Bay between Downtown Miami and the Beach along the McArthur Causeway. The homes are known to be owned by the international jetset and celebrities. Homes on the islands are large and located on large lots. The most exclusive island is Star Island.
Price range: $1,2M – $28+

Star Island: $7.1 – $28M
Palm Island: $1.8M – $11.5M+
Hibiscus Island: $1.2M – $14M+

Number of homes:

Star Island: 35
Palm Island: 150
Hibiscus Island: 150

SF range of Homes

Star Island: 4,700 – 20,000
Palm Island: 2,000 -12,000
Hibiscus Island: 1,600 – 12,000

SF range of Lots:

Star Island: 40,000 – 87,000
Palm Island:  6,500 – 60,000
Hibiscus Island: 9,000 – 38,000
Indian Creek Island
Indian Creek island is a 250 acre private island with only 40 residences around an 18 hole Golf Course which belongs to the best in the nation. Known for its extremely large waterfront homes, Indian Creek belongs to Miami's most exclusive communities and is often referred to as "Billionaire Bunker", topping Zillow's list of most expensive streets in the USA with an average home value of $21.48 million.
The extremely safe community enjoys maximum security by means of police controls via boat, jeep and Jet Ski 24 hours a day.
Price range: $14,4M – $47M
Number of homes: 40
SF range of Homes: 3,500 – 30,000
SF range of Lots: 53,000 – 118,000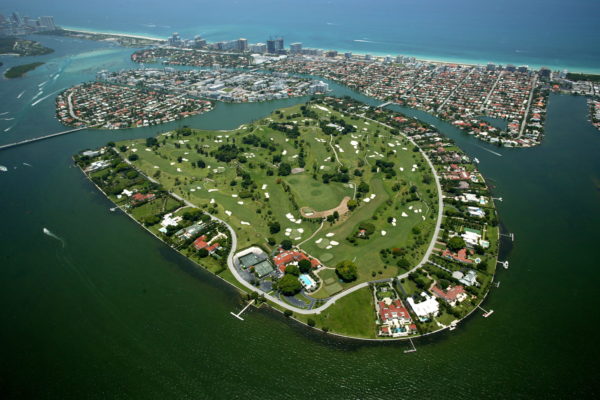 La Gorce Island
La Gorce Island is a guard gated Island community in the Biscayne Beach. The tropical and lush island offers various styles of homes, which are located on large lots. Some of the homes are located on waterfront lots while most of the homes are located on an interior lot. Many of the waterfront lots come with a boat dock. Like other island communities, homes for sale on La Gorce Island are desired because of their exclusivity, privacy and the tranquility that comes with island living. Besides the waterfront location, La Gorce Island is also close to other main areas of Miami and therefore desired with buyers.
Price range: $2,5M – $30M
Number of homes: 58
SF range of Homes: 3,000 – 15,000
SF range of Lots: 12,500 – 75,000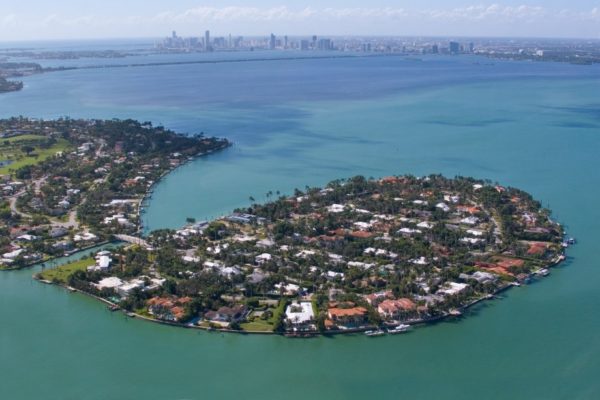 Normandy Isle and Normandy Shores
Normandy Isles and Normandy Shores belong to the private and gated island community of Normandy Isles. The island community is the most affordable of all Miami Beach gated communities with home prices already starting at $500,000 or less. The island still offers many dated homes that can be bought for good prices and remodeled into a multi-million dollar mansion. The island offers a great amount of waterfront homes. The norther part also called Normandy Shores is more exclusive than its southern counterpart and home to a 18 hole golf course called the Normandy Shores Golf Club.
Price range: $380,000 – $5M
Number of homes: 300+
SF range of Homes: 1,175 SF – 5,000
SF range of Lots: 6,000 – 16,000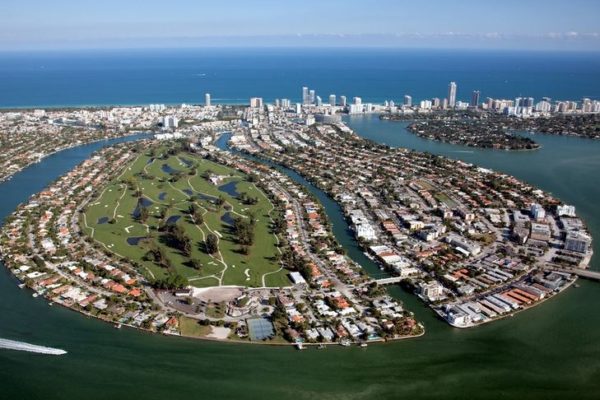 Sunset Islands
The Sunset Islands are a group of 4 islands located in the Biscayne Bay just north of the Venetian Islands. The island group is one of Miami's most desired residential areas as the 24/7 guard gated community offers superb real estate on an excellent location.
Price range: $1,680,000 to $10M+
Number of homes: Each island has between 50 and 80 homes
SF range of Homes: 2,000 -10,000 SF
SF range of Lots: 6,000 to 35,000 SF.
Venetian Islands
Not Gated but important to include as a Miami Beach community
The Venetian Islands are 6 man made islands in the Biscayne Bay between Edgewater/Midtown and South Beach. These ideally located islands offer many waterfront homes but also homes on dry land. The Venetian Islands are very desired because of their excellent location and beautiful real estate.
Price range: $1M – $22M
Number of homes: Di Lido island is the most dense island with approx. 200 homes
SF range of Homes:1,500 – 10,000+SF
SF range of Lots: 5,000 – 20,000 SF+