The 2020 Fort Lauderdale Real Estate Luxury Report: Investing in the Fort Lauderdale Real Estate Market
Part 6. Smart Ft Lauderdale Real Estate investing; What to focus on and what to avoid in the Ft Lauderdale Real Estate Market?
This is the sixth of seven parts to our 2020 Real Estate Luxury Report, the most comprehensive report of it's kind in Ft Lauderdale. So far we have covered: The best performing neighborhoods, the worst performing neighborhoods, the strongest condo buildings, and the weakest condo buildings. We have explored the economic mechanisms in play that are affecting our markets and taken an overview of the prime luxury neighborhoods. In this part 6 we look forward through 2020 and explore the 'investment opportunities' in Fort Lauderdale.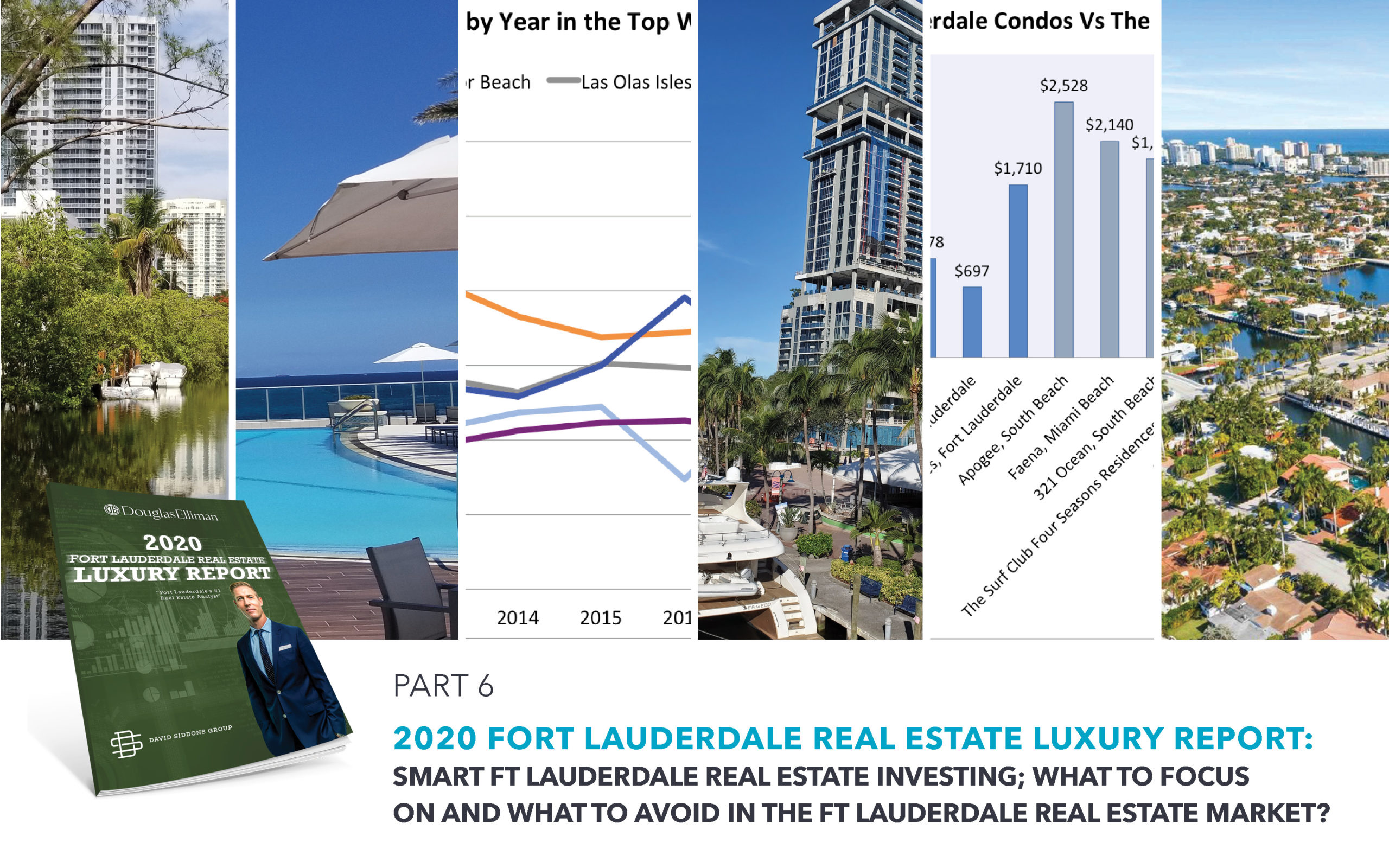 This question "What real estate should I be investing in?" is one that I am asked very regularly. But never in 12 years of selling South Florida Real estate (and with the incredible focus I have on analytics) have I ever been asked this question so frequently! So, why now may this be the most pressing question of all: 'Is it a good time to buy?' In Part 6 we will address: "ROI and asset appreciation", "Which neighborhoods present the best opportunities?", "Houses or Condos?", "Commercial real estate", "Where is the bottom of the market, and are we there yet?", "Should I be investing in the luxury Ft Lauderdale Real Estate Market?" and "Why is 'multifamily' the holy grail of investment real estate?"
Should I Be Investing in the Fort Lauderdale Luxury Real Estate Market?
Many investment reports focus on the cheaper Ft Lauderdale real estate market (the median home value in Fort Lauderdale is $352,161 according to Zillow), but for many investors these properties are not suitable. They require too much attention and maintenance and for investors who are not on the ground, this simply won't work. As an established agent in South Florida I often help investors buy portfolios of units; multifamily, small buildings as well as larger condos and single-family homes. The luxury market is often not as much thought of for investors, but right now this could well prove to be a good focus. We have already seen a number of big investment trusts in Q1 2020 snapping up large parcels of luxury real estate. Please call me if your focus is luxury real estate and I will help you find the best properties to meet your investment goals.
With so many California and North Eastern relocations, waterfront and land locked neighborhoods have been in solid demand. At the same time we have (for the first time) sellers who due to economic macro forces, eg: Currency, Covid 19 are being forced to sell and this disparity creates opportunity. According to business insider Miami will be the 2nd best performing luxury housing market on the planet for 2020! This success spreads throughout South Florida including both Fort Lauderdale and West Palm Beach. Investors can capitalize on the draw of new Buyers to the area.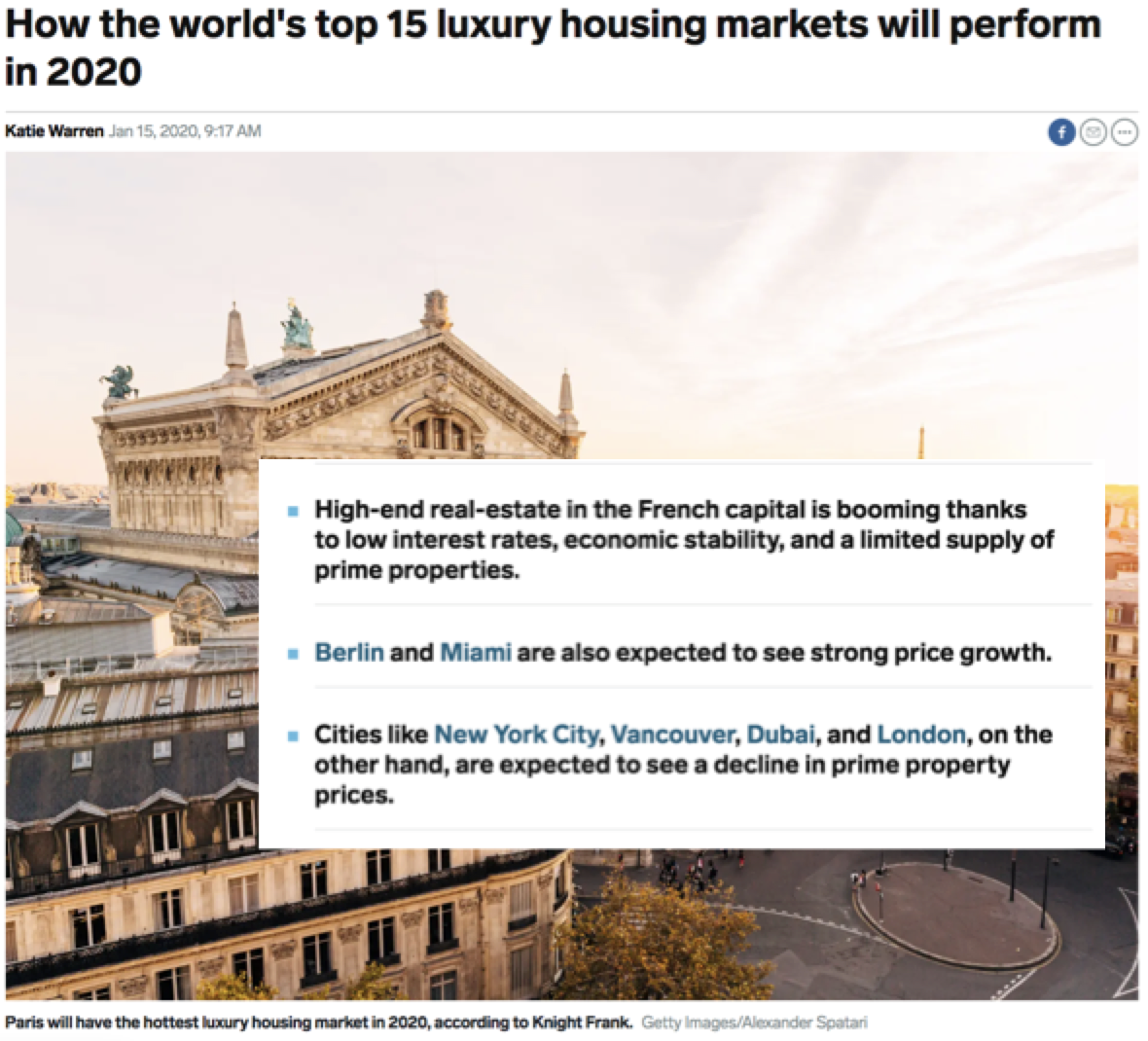 Where are we in the Economic Cycle and why is this so relevant?
Fort Lauderdale's last economic cycle started in 2010/2011 after it came down significantly from the previous years. After 2011 the market started to go up in value again, with condos growing at a faster rate than single-family homes. Undoubtedly this has to do with the fact that the condo market is one mostly dominated by snow birds while the single-family home market is one for families looking for a primary residence. The Fort Lauderdale condo market however has not seen the same dramatic course as its Miami counterpart.
As you will notice, I did not start writing reports yesterday, I have been doing it for years and my predictions have materialized as truths. I am certainly not omnipotent, but I have learned to pay attention to the right metrics of the market and you should too!
Below I have highlighted the economic cycle for Fort Lauderdale condos and for Fort Lauderdale Waterfront Homes in the desired areas of Bay Colony, Coral Ridge, Las Olas Isles, Rio Vista and Bay Harbor.  In both ranges I included properties between $1M and $4M as this is where most of the sales occur. These markets follow the patterns mentioned above.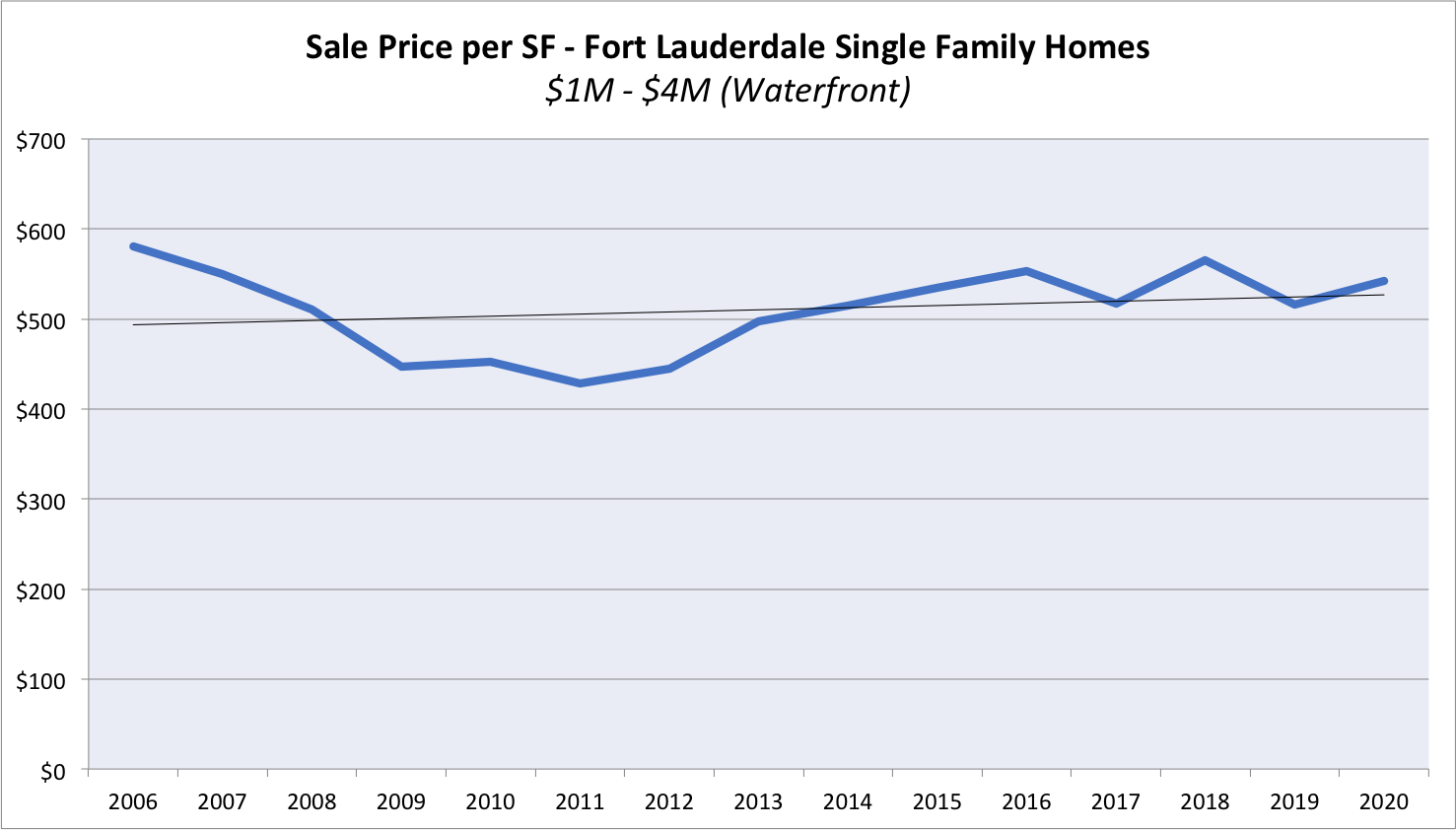 What is very key in making a smart condo investment decision is recognizing where we can get close to the bottom of the market. I don't say 'at the bottom of the market', because that can be impossible to predict exactly, but getting within a margin of error is good enough. Fort Lauderdale condos are still not close to a market peak although it seems some pre-construction condos are selling below its pre-construction prices.
The demand for Fort Lauderdale condos is still high as the city is seeing tax migrants just like the rest of South Florida. Currently we are a long way off the last peak and one of the reasons why Miami is becoming such a focus for investment is because we know we are dealing with a growing city: population is growing, infrastructure is growing, wealth in the city is growing and the fundamental desire to live in Miami as a city is at an all time high. But at the same time sold properties are now coming in at 2012/2013 prices, a significant drop from their peak.
The single-family market has  grown steadily over the last few years. As Fort Lauderdale is more of a local market than Miami, you see a more stable movement in this market. Generally speaking we are at the end of the economic cycle, but with Florida's massive tax benefits we do expect the Fort Lauderdale Luxury market to be hit less hard than the rest of the country.
How do I measure investment success – ROI and Appreciation of Asset?
When we get into commercial we tend to get more focused on the CAP rate, talks of 7-8% CAPS. Of course this is nice, but in developed housing markets like Ft Lauderdale and working on the higher-end of the market ($500k+) these caps become fewer and further between. What I do see however, which plays more of a role, is how much the property goes up in value.  When you have a basic cap rate of 4%, but then bake in the asset appreciation at 6 – 8% per year then a 10-12% ROI is very nice indeed. The purchase of a few properties can not only act as a good short against your position in other asset classes, but provide a very solid return.  We work with both types of clients, those who are commercially or multi-family focused and those who are focused on residential.
Which neighborhoods present the best investment opportunities in the Fort Lauderdale Real Estate Market?
When you make any real estate purchase you ARE an investor. The purchase of a home is most likely the largest asset investment many people will make over a lifetime. Let's explore the neighborhoods with the greatest investment potential.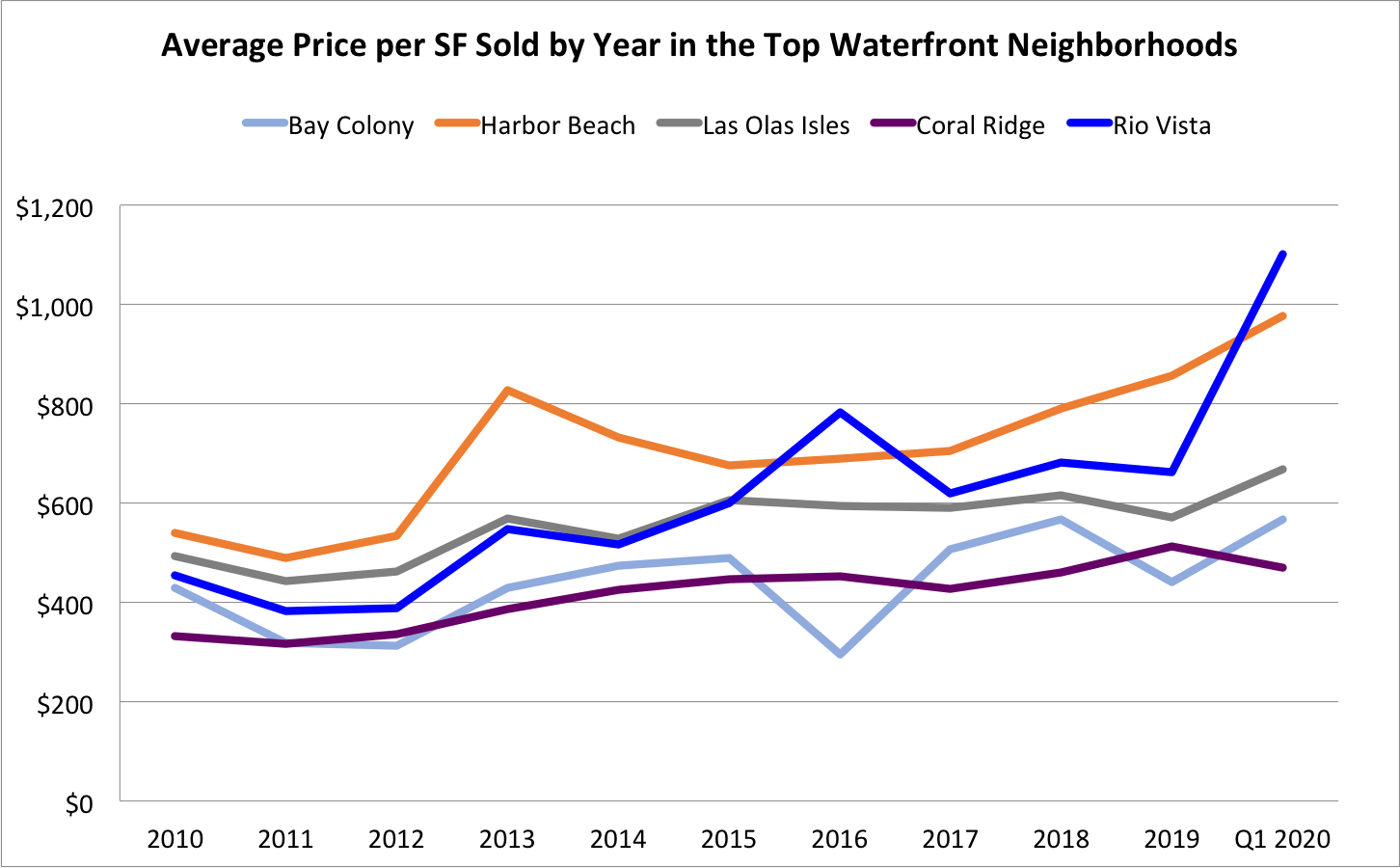 LAS OLAS ISLES: In part 3 of the Fort Lauderdale Real Estate Luxury Report we reviewed Las Olas Isles and signaled it as a market with opportunity for investors. Due to an abundant amount of active listings (135). In the period of March 1 – May 31 there have been 23 closed sales which is a 17% increase vs the same time frame in 2019 where only 19 sold. The average price per square foot of the sales was $557. Final purchases averaged 11% off list price. The number of new construction homes is also a good indicator of a strong neighborhood. 25% of the homes currently listed are new construction.
SOLO: It's the latest acronym for the area "South of Las Olas". This neighborhood is located south of Las Olas, east of Andrews and west of Federal. I mentioned SOLO in a video market report last year. This area is being primed for boutique condos and townhomes. We are signaling this due to an expansion of Andrews corridor dining establishments and the arrival of Whole Foods which will open in 2020 anchoring an eight story mixed-use project with 243 apartments. According to Bisnow, Prices have been rapidly appreciating in the area. This is the area for the next explosive development wave ala Flagler Village.
HARBOR HEIGHTS: This beachside neighborhood is one of the limited few single-family home neighborhoods east of A1A.  This is a secret neighborhood offering prime future investment opportunity. Older homes on larger lots ready for renovation & resell. You can purchase a home on 10,500sf Lot for $769k. A renovated home in Harbor Heights is listed for $1,280,000. The investors here can make a substantial ROI on a remodel without having to reconstruct. The appeal is the location and proximity to the most beautiful section of beach in Fort Lauderdale. 
Are Condos a good investment in Fort Lauderdale?
The condo market in Fort Lauderdale has seen a tremendous influx of new construction condominiums hitting the market since 2017. Purchasing a condo at pre-construction pricing has its advantages when it comes to resell. The price per square foot in condos has seen a steady rise year over year. Much of this is a reflection of the newer higher priced units driving the averages up. Prime established condos with beachfront locations also fair very well. L' Hermitage built in 1997 consistently ranks amongst the highest price selling units. The community has maintained high standards, which is an important factor when condo investing. The Northest Buyers flooding the area are looking for beachfront and values. Fort Lauderdale has the beachfront and better values when they compare to Miami.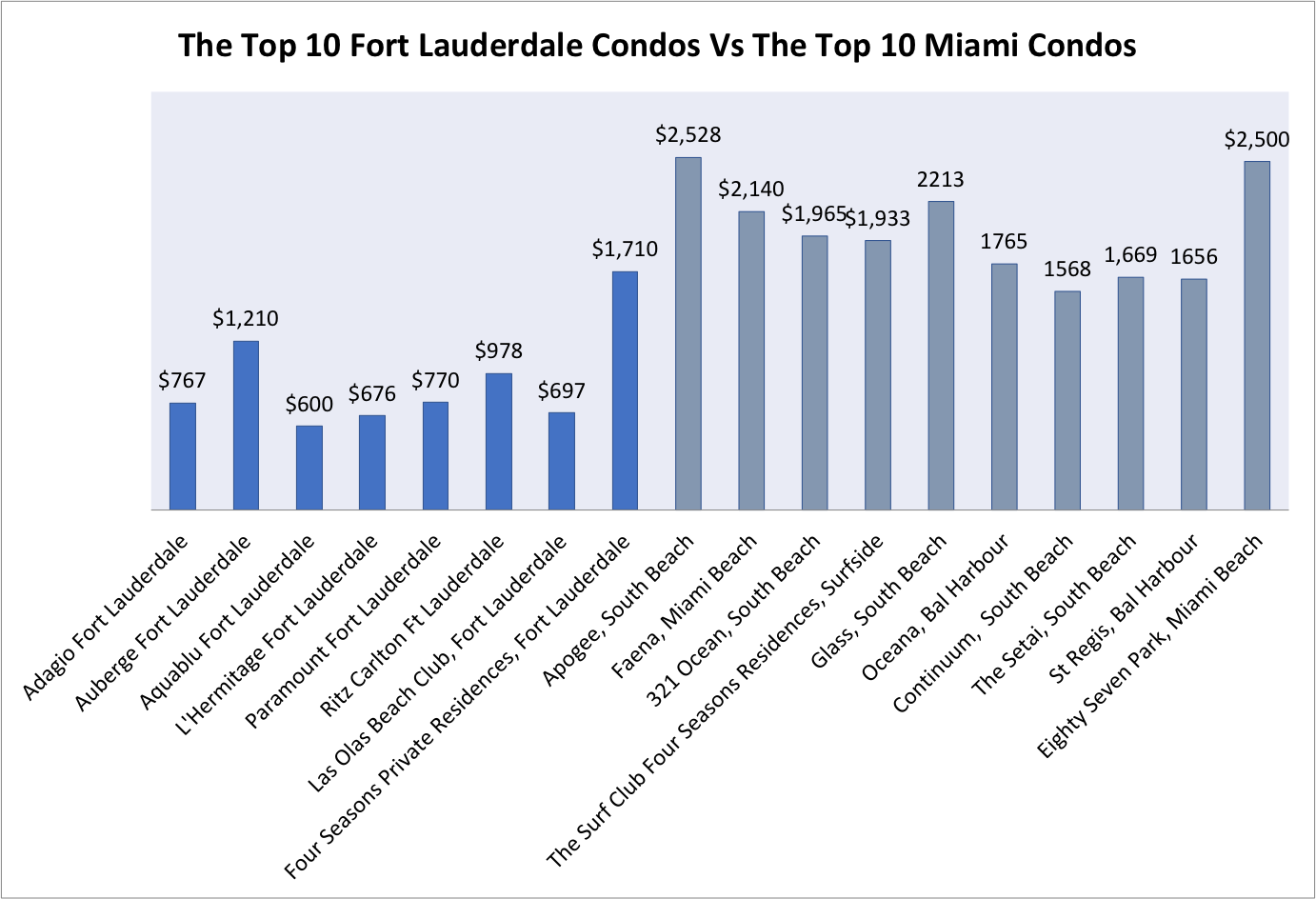 Why is 'multifamily' the holy grail of investment real estate?
The multi-family home market has become a huge focus for investors in the last couple of years. The ROI of multi-family is excellent and with people moving into Ft Lauderdale every day the need for multifamily outstrips supply. Stay tuned for my coming blog in the next few weeks which will be an interview with our top commercial guys as we discuss this area of the business. Because of the nature of commercial if you are not truly plugged into a group who handle this sector you will be met with a cold shoulder. So many investors and so few multi-family opportunities, means that the best deals are gone before they ever reach the market. The same can be said for many other commercial real estate opportunities. At the David Siddons Group we are aligned with the top commercial guys at Douglas Elliman and this is all they do, all day long. So if you have a need in this area, please call me.
Please fill in your details and David Siddons will contact you
Get our

Newsletter

No Thanks
Get the latest news from Miami Real Estate News
Email to a Friend
Recomend this to a friend, just enter their email below.
Your email was sent succesfully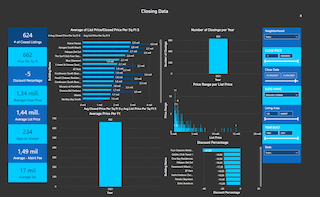 COMPARE WITH CONDOGEEKS

Meet our Team