The 2020 Fort Lauderdale Real Estate Luxury Report: The (Socio) Economic and Demographic Influences in the Market
The 2020 Fort Lauderdale Real Estate Luxury Report: The Market's main influences in 2020
Most real estate reports talk about what is happening, while almost none of them discuss why something is happening.  As always, the David Siddons Group tries to think out-of-the-box and provide a report with added value. We think the "Why" is just as important as the "What", because it makes you appreciate why some markets are over or under performing and it makes you understand why some market's performance is likely to remain stable or change in the near future.
For this report we want to look back to the last few months while also focusing on what happened during the entire real estate cycle going back all the way to 2008.  We will then continue to discuss both positive and negative influences in the market, as well as potential economic sides effects that could come about from the current climate.
The 2020 Fort Lauderdale Real Estate Luxury Report: Where are we in the economic cycle?
Fort Lauderdale offers a very stable housing market due to a high percentage of residing owners. It is what we call a primary market and not an investment driven market. The market is also not reliant or dependent in foreign investment capital. Most owners live and work in Ft Lauderdale and that provides a lot of stability. Houses and condos are obviously two different animals and so is price point. Unlike Miami we haven't seen a drop in the condo market. The Fort Lauderdale market has remained stable and will likely remain stable. My prediction is that Fort Lauderdale will rebound faster than Miami from the Covid-19 crisis as well for these same reasons. The growth is steady and slow as reflected by the growth of the city. It does not have volatile spikes of high and low. Generally speaking we are at the end of the economic cycle, but with Florida's massive tax benefits we do expect the Fort Lauderdale Luxury market to be hit less hard than the rest of the country.
Condo cycle wave pattern of Fort Lauderdale Condos priced between $1M and $4M
Home cycle wave pattern of Fort Lauderdale Waterfront Homes (in the main neighborhoods) priced between $1M and $4M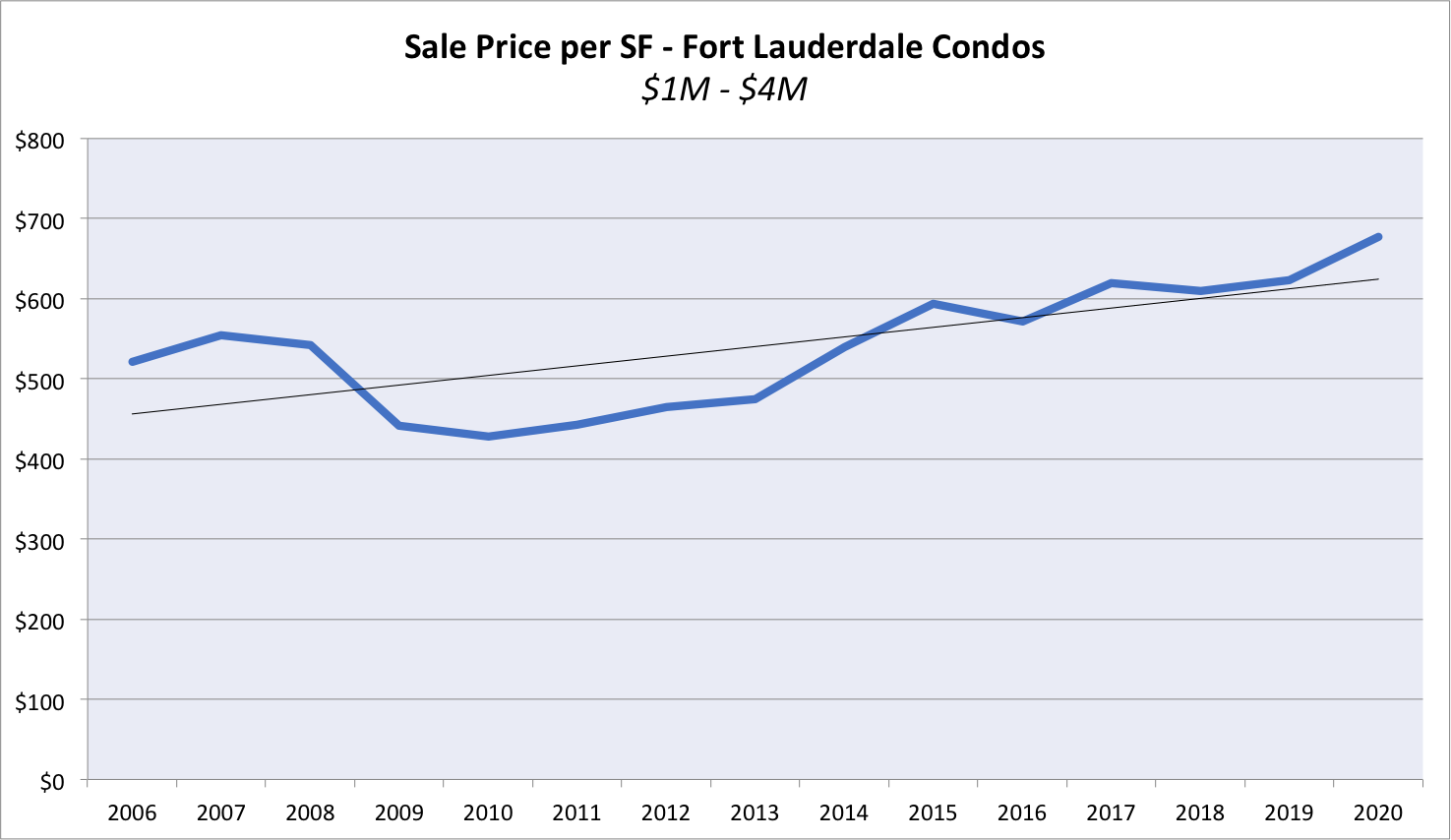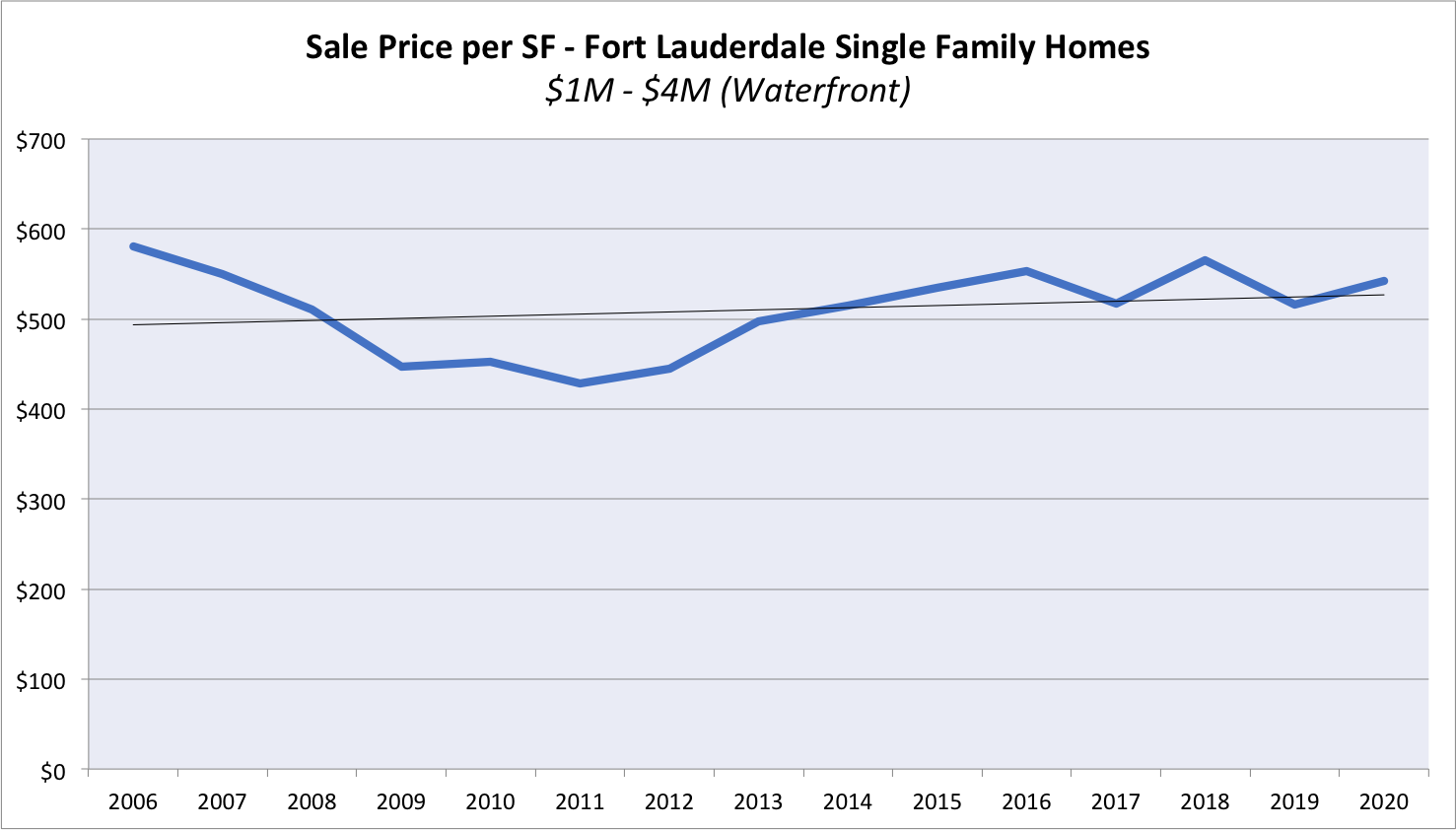 The 2020 Fort Lauderdale Real Estate Luxury Report: The Months of inventory – Demand Vs Supply.
The fundamental behavior of any economic cycle is an illustration of: 'supply vs demand'. Although this is not an influence, it is a side effect of economic behavior. This effect is 'demand' on one side of the equation and rate of new construction 'supply' on the other side. Most people focus solely on the 'Demand' side and are therefore missing half of the equation. Buyer confidence is important, but one should not forget the supply side of the equation. The rate of supply is very different for the condo market than for the single-family home market. In single-family home markets there is a given amount of homes with a given amount of land with clear boundaries. When new homes are built they are normally built on a lot that previously offered an older building that is being demolished. With other words; a certain neighborhood won't often see a sudden increase in the amount of homes they offer (unless zoning changes are made and lots are subdivided but this rarely happens). In these areas new homes will replace old homes, increasing the quality and therefore the price levels. The condo market, on the other hand, behaves in a completely different way. A 250 Unit condo can be erected on a small empty lot or replace an old commercial building, a car park or a lot that previously hosted just 10 condos. Because it just needs a limited amount of land to offer hundreds of new unit, the supply side completely changes.
So when you ask me: "How is the Fort Lauderdale Market behaving?" I will always answer with: "It depends on whether you are looking at condos or homes, as these two perform in a completely different manner" 
There are still empty lots in Fort Lauderdale to build new condos and we know that new condos will come tomorrow, next year or in 2 years from now. Now drive through Rio Vista, Harbor Beach or Bay Colony and recognize that there is almost no empty lots available and therefore the supply side is not likely to sky-rocket any time soon!
The 2020 Fort Lauderdale Real Estate Luxury Report: Tax Relocations
South Florida is a desired destination for "Tax Refugees". Because of its proximity to the Beach, many waterfront homes and relax ambience, Fort Lauderdale is one of the preferred relocation destinations for many buyers from the north east or other high tax states. Although it is often in competition with Miami, Fort Lauderdale wins it with those that prefer lower costs of living, larger (more affordable) waterfront homes and a more quiet lifesyle.
Consider this equation of taxes and cost of living:
A NYC condo owner that earns $3M per year decides that he/she doesn't like paying city and state tax (10%) and decides to move to Fort Lauderdale. He sells his NYC apartment for $10M and buys a slightly smaller property for $6M in NYC as he would like to keep a base there for business. Given his lifestyle he would like to buy a similar property in Fort Lauderdale of $10M (Your dollar stretches much further in Fort Lauderdale than in NYC and the price per sqft in luxury condos is almost 50% of NYC). They use the balance of $4M as down payment on a Fort Lauderdale Home for sale and mortgage the rest. A $6M mortgage equates to $25k per month – exactly what they save in taxes by relocating.
Conclusion: This NYC buyer could now own 2 properties, with a cumulative value of $16M for the same price as their initial condo. The Fort Lauderdale condo / home is way nicer than an equivalent condo in NYC. They get to experience the best of both cities for the same cost. This scenario is happening every day and only grows as business also see the savings and motivations of their staff to live in South Florida.
What is driving these buyers and where are they focusing on?  For mid level families it's quality of life, single-family homes in close proximity to good private schools in the primary markets of Rio Vista, Las Olas, Bay Colony, Coral Ridge or Harbor Beach. No surprise then that these markets are performing so well. Those who prefer condos will be attracted to Fort Lauderdale Beach where we find high-end projects such as Auberge, the Four Seasons Private residences or 321 at Water's Edge.
The 2020 Fort Lauderdale Real Estate Luxury Report: Economic Outlook
Fort Lauderdale has seen the job market increase by 1.9% over the last year. Future job growth over the next ten years is predicted to be 37.9%, which is higher than the US average of 33.5%. Fort Lauderdale is seeing more and more entrepreneurial activity with tech companies settling into the city.
Fort Lauderdale is one of the top tourism destinations in the US with 15 million visitors who make tourism a key part of the South Florida economy. Yet, our city is much more than sand, sun and surf. Fort Lauderdale is also an attractive destination for business and commerce. Fort Lauderdale is fortunate to have a strong and growing business community that believes in the philosophy of developing opportunities and connecting its partners for economic growth. To the savvy site selector looking to either re-locate corporate headquarters to Florida, or expand regional operations in the Sunshine State, there's no better place to be than in this particular piece of paradise. Read this article from the Fort Lauderdale Chamber of Commerce to learn more about the opportunities and success stories
The 2020 Fort Lauderdale Real Estate Luxury Report: The environmental factors
Now let's take a look at some of the environmental factors that are effecting both the housing market and condo markets in Fort Lauderdale.
In recent months, Fort Lauderdale made the national news as the city battled to get the aging sewer system under control. In several prime waterfront neighborhoods the system began to fail and emergency patch and repair commenced. The system was long overdue for attention and the spotlight was on the City of Ft Lauderdale to get the repairs right. We are pleased to report that replacement of the sewer system has begun.
As with any replacement of a major utility big equipment is required and traffic needs to be diverted at the repair sites. The repairs have impacted the drivability of Coral Ridge, Rio Vista, Las Olas Isles, Victoria Park and the downtown condo area. The good news is property sales were not impacted and a new sewer system is being installed. Buyers with vision should understand that down the road these repairs will be a beneficial selling point for these neighborhoods.
Another environmental factor effecting Ft Lauderdale is sea level rise. The base elevation average of Ft Lauderdale is 9′ but this average dips lower in some inland waterfront neighborhoods. The city had taken action to combat the effects of sea level rise,  including an ordinance change requiring seawalls to reach 3.9 feet NADV 88; repairing and raising municipal seawalls; installing back flow valves, which allow water to run out to the shore but block seawater from entering the city's rainwater system; cleaning and repairing the municipal storm water system; adding more pumps and more.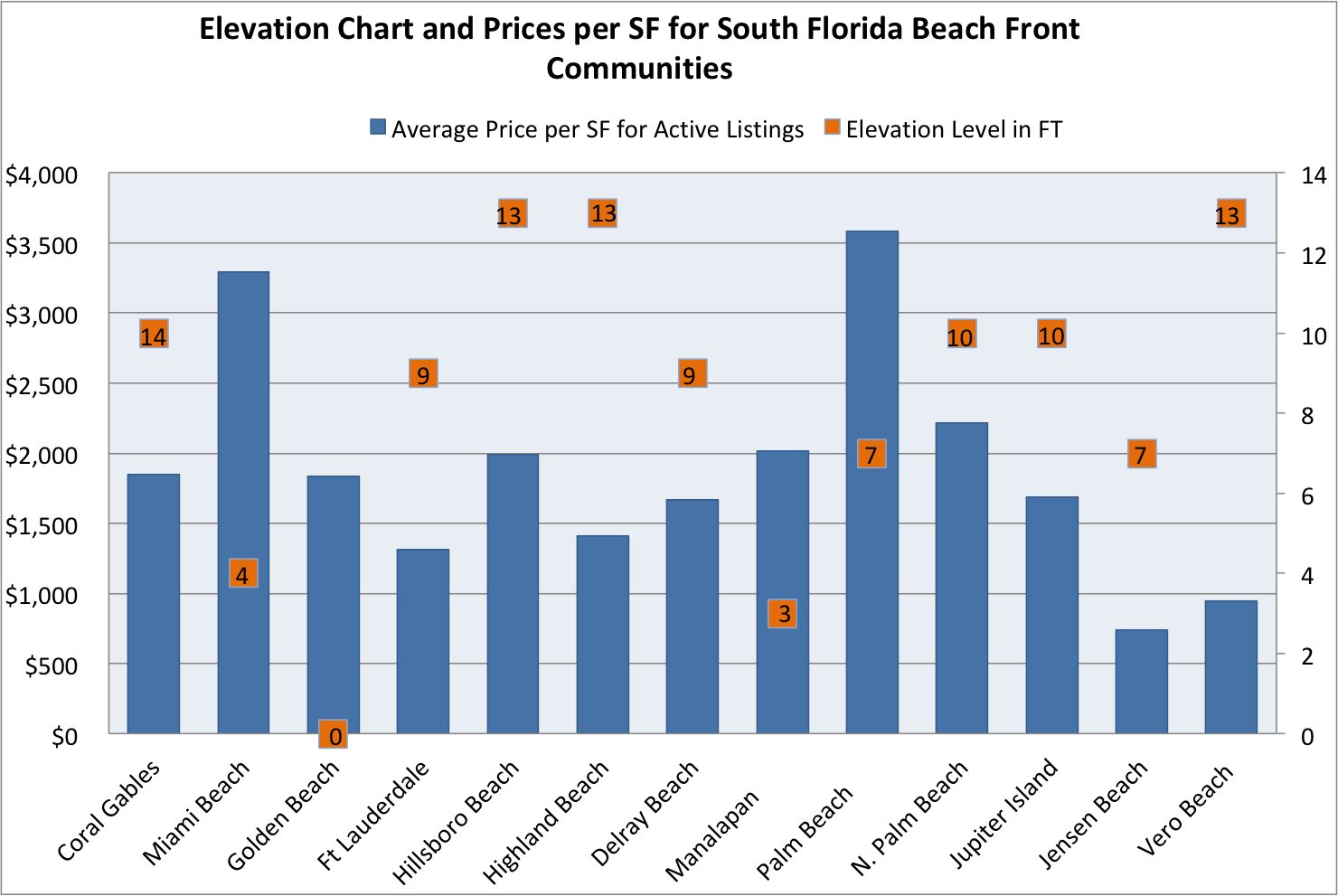 Some developers in Fort Lauderdale with an eye on sea level rise are getting resourceful and building with resiliency in mind. Resiliency is a term for the ability to absorb changes caused by climate change and continue to function. This will become very important when considering a long term purchase. An example of resiliency is Auberge Beach Residences which was built to withstand the rise at a height if 15′ above the sea level benchmark. The one constant is change. At the David Siddons Group information and education is at the heart of our business.
The 2020 Fort Lauderdale Real Estate Luxury Report: COVID-19
Two months ago, nobody would have even thought we needed this section in our report, but here we are and this pandemic is of course a primary influence to all of the other parts of our real estate economy: Fed's decisions, potential currency movements and EVEN THE SPEED OF RELOCATIONS. Interestingly, Covid-19 is not affecting all Fort Lauderdale properties in the same way, but it is worth addressing what we are noticing:
Rate of sales and Listings:
Condos: Not all condo are allowing visitors or realtors to enter the condo. This of course leads to a slower rate of sales, but lets not forget the other side of the equation: supply. With many social distancing rules in place and it being hard to show a property, many home owners are hesitant to have people in their home whether they are videographers, photographers, realtors or potential buyers.
Homes: While many condos have strict rules and of course owners who want to show their neighbors respect by not having people over, the single-family home market does not have that problem. We have observed however that owners of Fort Lauderdale homes have been more willing (specially when the economy has reopened again)  to allow agents and buyers into their homes. Despite this, we have seen a drop in the number of listings. Besides the fear of the virus itself, many home owners are now more hesitant to sell as they fear they will not find a new home any time soon as other sellers/owners might be more hesitant to open or even list their property.
When the market will reopen again and people are learning to adapt to life with or after Corona, I am predicting (and I am not alone in this) we will see many new listings and potential buyers who have been waiting for this moment. The first week that 'open houses' are allowed, I foresee an absolute feeding frenzy, and even if it's in the middle of the summer, it's going to happen. Therefore, in the desired single family neighborhoods like Coral Ridge and Rio Vista, we do recommend buyers to wait for the primary markets to soften, because I doubt it will with such limited supply. Some dialogue has been had that we can be in economic freefall with growing rates of unemployment, but this is not caused by a weak economy but by a global pandemic putting THIS business in what has been classified by Economist Paul Krugman as a 'self induced Coma'. The difference is that Fort Lauderdale is not NYC or any other major city with a high population density.
Of course Fort Lauderdale attracts many tourists and many residents work in hotels, restaurants, bars and clubs. With this industry being hit quite hard we do not know how the rental market will hold up? How will rents get paid, and if they don't get paid how do you collect rent? This of course is mostly a concern for the lower end of the rental market. The high-end markets in Fort Lauderdale also see a lot of influx of new residents who are currently living in small apartments elsewhere in the country and who are now looking for a better lifestyle and living space. As you can see in the graphic below, South Florida is one of the major new destinations for New Yorkers fleeing Covid-19 in NYC.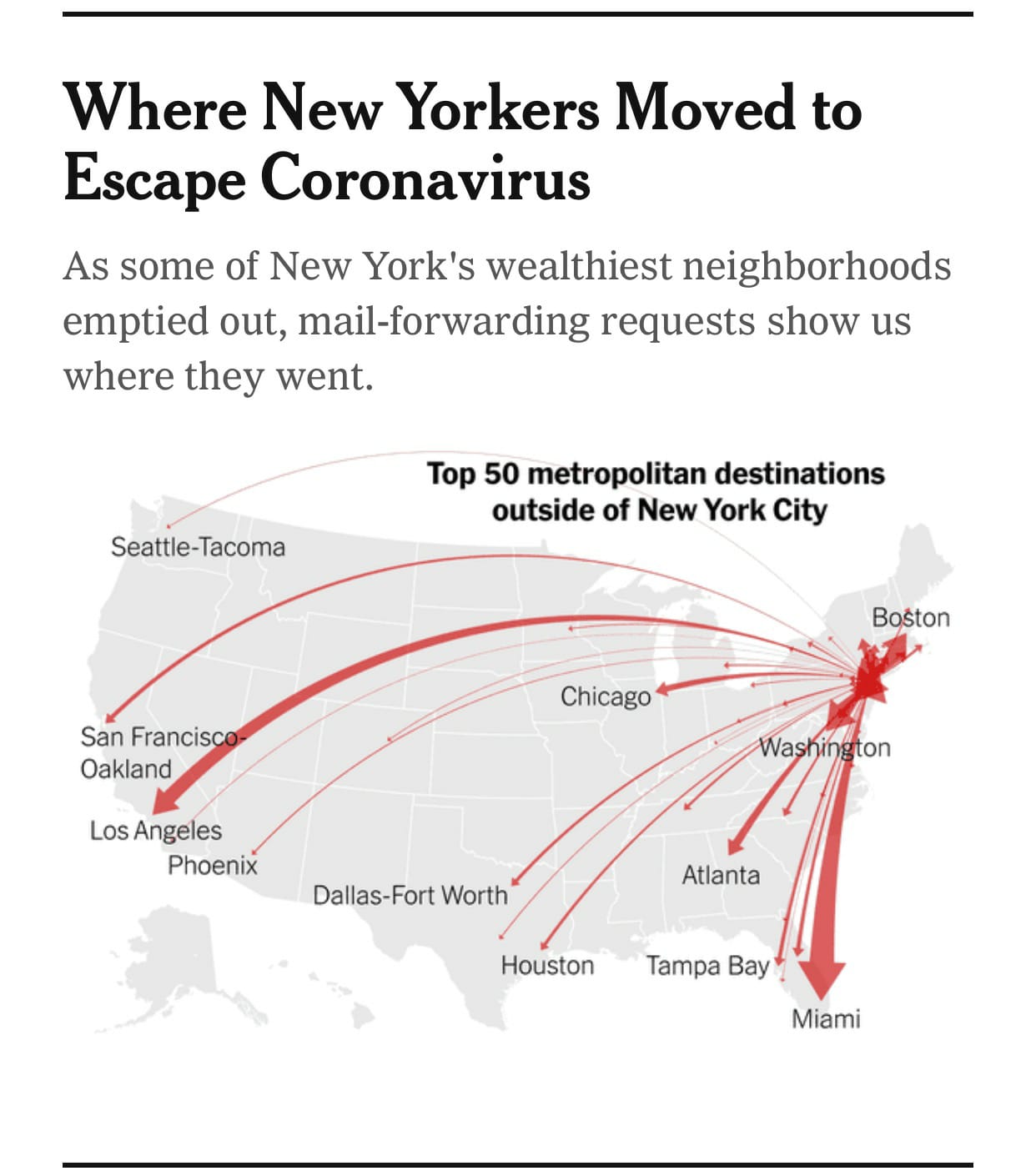 Single family owners: If you are thinking of listing and will be open to showings consider that you won't have a lot of competition and buyers are busy online looking right now. Please call me if you are one of these people!
New Construction of Fort Lauderdale single-family homes: Although we are still seeing homes being constructed, a large number of job sites have been closed down by order of the city.  As some of these developers might feel the pinch,  you might not see as much new product enter the market as usual, because inspectors and TCO's time is as much an asset to builders as is cash. For some builders the appeal of having buyers take a home in a more raw state and finishing it can be highly appealing. For a buyer it can also be appealing, because it can allow spec homes to be turned in custom homes by the end user. We are dealing with a number of these situations right now and they are allowing for some excellent opportunity.
The psychological impact of Covid – 19. 'An existentialist awakening!'
We spend so much time talking about the mathematical and statistical effect of Covid-19, but what about the psychological effect? South Florida, but specifically Fort Lauderdale is in a very unique position right now. As we own one of South Florida's most information rich and engaging websites, we noticed that since the outbreak of Covid-19 we have seen our subscribers increase by 800%. We are not talking about subscribers who are merely subscribing for some pretty pictures, we are speaking about serious buyers who engage with us and tell us they are looking to move to Fort Lauderdale or Miami as soon as possible! After talking to these buyers several things have become apparent. They are a) mostly relocating families or b) buyers who have liquidity looking for opportunity. Many of them were already considering a move down to Fort Lauderdale and are now expediting their relocation. During this Covid-19 pandemic they started questioning their life goals, lifestyle and their living situation and the realization that they have not been living their best life kicked in. This led to many picking up the phone to have a serious conversation about a potential move to Fort Lauderdale. We see many opportunity buyers in the condo market, looking for great deals from motivated sellers. In the single-family home market (particularly the 'working wealthy category of $1m – $3m and even in the $3m to $5m) we are seeing many tax relocation buyers  from the  northeast who are now more than ever convinced to make their move to South Florida. At this moment in time we are experiencing a very unequal balance 'globally' between people being negatively affected by the global economics and Covid-19 and those who are not. At the same time we also see huge amounts of liquidity still floating around.
Under new policy for very high-end real estate transactions there are significant deductions that can be made. For 2020, if you have a large real estate portfolio ($6,875m per individual) you can make much larger tax deductions. You can depreciate an unlimited amount now – defendable against the IRS.
I met with my my financial advisor David Gruen CFP & ChFC who is an Estate & Business Planning specialist and asked him three questions:
What happened in the new stimulus bill that will have an effect on real estate?
What is the fed doing that will have an impact on the real estate market?
Any other things you find interesting to look at?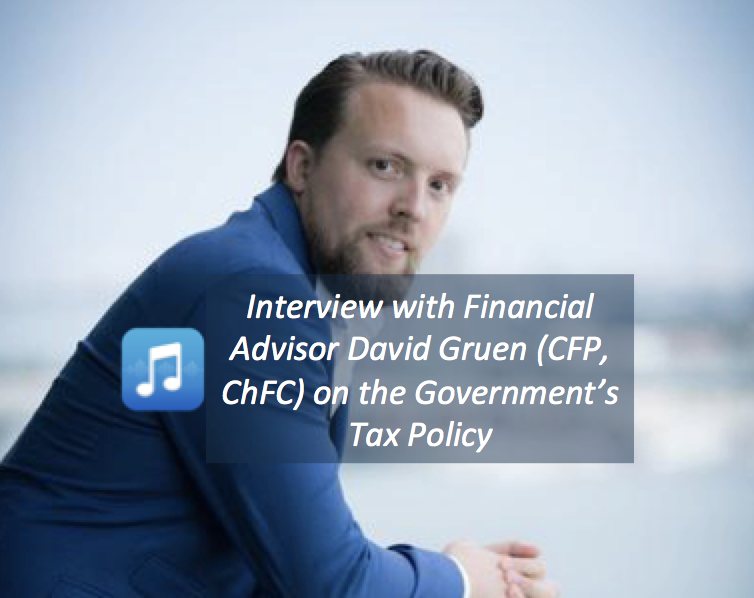 I spoke again with my financial advisor David Gruen on what the FED is doing that will have an affect on the real estate market?
Please fill in your details and David Siddons will contact you
Get our

Newsletter

No Thanks
Get the latest news from Miami Real Estate News
Email to a Friend
Recomend this to a friend, just enter their email below.
Your email was sent succesfully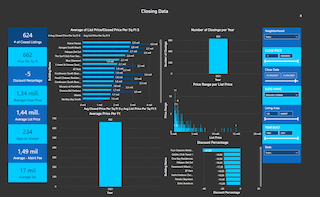 COMPARE WITH CONDOGEEKS