Miami Condo Investments | Now is the Best Time to Sell your Miami Condo
The Miami Condo Market is at its Peak | Sell When The Market is High and Nobody Else is Selling
This blog is written with investors in mind, who typically concentrate on the condo market. As the Miami Condo market has surpassed (in most cases) all historical peaks we have to ask ourselves: "How much further can this market increase?" , "How much more can your asset appreciate?" and "How much longer can this rental market keep increasing?".
The Miami Condo Market is at its peak. Of course some sub-markets are more robust or resilient to economic change. Please contact me for more information on the nuances of the Miami Condo Market at 305.508.0899. Images taken from our Condo Analytics Tool "Condo Geeks"
The Investor Market is More of a Cyclical Market
It is important to realize that the Miami condo market has always been very cyclical and much more subjective to economic change than the single-family home market. The Miami condo market might be very strong today, but prices cannot keep rising forever. The single-family has always dominated as the primary market, given that it provides families with access to their kid's schools, while the condo market is more of a secondary market. Investors only buy if it makes financial sense and this group looks less at the livability or the quality of finishes of a unit. For this reason they often invest in more generic product and offload the investment at the first signs of economic turmoil. As prices continue to rise, we don't know until when people will continue to pay top dollar. It's true that this condo cycle is different than the ones we have previously seen and more and more condo buyers are looking for a primary residence. But having said this, the condos that are bought by primary residents are mostly larger and more luxurious condos versus the more generic product.
We are not saying the market is about to collapse, but if you are an investor, the time to get out and get top dollar is now!
Protect yourself against the cycle! Sell when the market is high and nobody else is selling.
The Brickell condo markets tends to be quite generic. Of course it depends on the building. Call me at 305.508.0899 for more information on the Miami condo market and to discuss selling your unit. If you are a buyer, I can give you my unfiltered opinion on the different condos and their floor plans.
The Miami Condo Market is at its Peak | Generic Product is Most Vulnerable
The majority of generic condo product ends up on the rental market and this sub-market is most likely to become subject to price corrections once the market cools down. At this moment the market is so hot that generic mid -level product trades for luxury prices. This is what we call the "Investor's Peak".  Once the market cools down, demand starts slowing down or the negative effects of a macro-economic event influences the Miami real estate market, these are the first condos to take a hit. Most of the generic condos that are dominated by renters can be found in the greater downtown area and Miami Beach.
Most of the condos in Brickell are dominated by renters: examples are SLS LUX, SLS, Icon Brickell, 1010 Brickell, Rise, Reach, Brickell Heights and Flatiron. Buildings that have high rates of primary users and are therefore more stable are condos such as Carbonell or Asia on Brickell Key and Bristol Tower, The Four Seasons or Santa Maria.
In the Edgewater area we see many rentals in the Paraiso project: One Paraiso, Paraiso Bay and Paraiso Bayviews, as well as Aria on the Bay, Icon Bay and Biscayne Beach. Buildings like Elysee in Edgewater see relatively low rental occupancy as this is a more exclusive tower with just 2 very large units per floor.
On the beach we see lots of rentals in buildings such as Mirador, Carillon, The Yacht Club, The Waverly, Akoya, The Blue Diamond and the Floridian. Further up in areas such as Sunny Isles we see many rentals in the Trump Towers, Armani and 400 Sunny Isles. Again condos with well-considered floor plans such as Eighty Seven Park or the Ritz Carlton in Sunny Isles see more primary users.
For more information on condos that are dominated by renters or owners contact the David Siddons Group at 305.508.0899.We do not say that condos with a high rate of renters are bad investments at all. But it has been proven that condos that are built and used by owners perform better over time. It all depends on what you paid for a unit as well.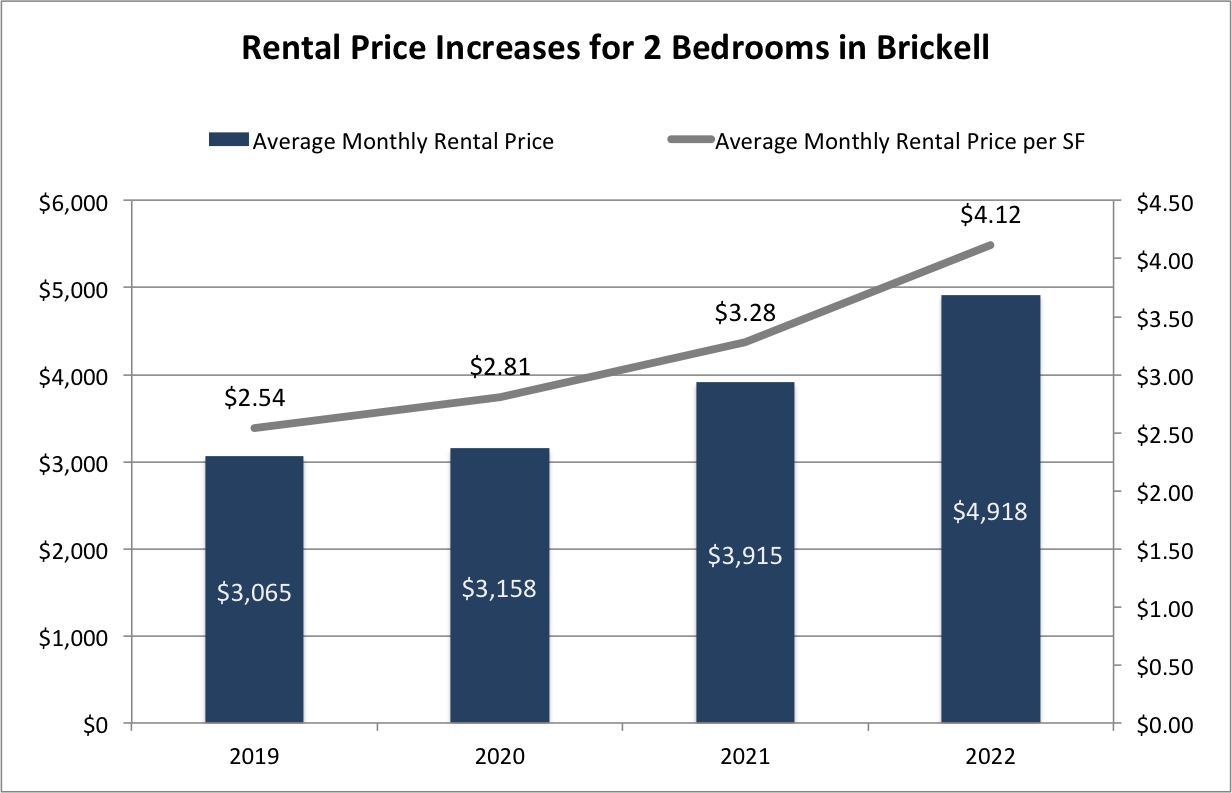 The Supply Site Is Being Boosted by New Condo Development
Another threat is the arrival of new product in the market. Less of an issue for the more generic product as most of the new condos are priced at $1,000+ per SF or start at the $1M mark, but definetely a threat to the supply side of the market. New product is now being introduced on a bi-weekly basis and it will absorb part of the demand. Once these will start reselling (most of them are expected in 2024 or 2025) the market might take another hit. Projects like Waldorf, Cipriani, Casa Bella and Baccarat offer units with a wide price range.
The Rental Market and Its Sustainability
Finally, I would like to discuss rental sustainability. A discussion or talking point I have started several times in the past also for part 1 of my 2022 Miami Real Estate Forecast with Ana Bozovic. With the current buying trends, more and more investors want to enter the Miami condo market. The problem is that Miami is becoming more and more expensive. Rent has gone up with 30-50%, because of the high demand from relocating tenants and cost of living in general has also gone up considerably while Miami salaries have remained stable. The people migrating to Miami are relocating professionals, oftentimes CEOs, Hedge Fund managers or high-end execs. These are driving up the rental prices, which for the migrants from the northeast or California are very affordable. Brickell's median income is $80K per year. With rental prices through the roof many individuals or families see 50% of their monthly income go towards the rent. The problem is that these rental returns will anchor the future appreciation of a condo. Those who bought at a premium will need to ask for premium rental prices to make an acceptable cap rate. All of these highly priced units will need a much higher rental return and Miami simply does not have the work force to sustain this. Once rental prices are not sustainable anymore the underlaying asset will loose in value. This is when we expect investors will want to offload their unit for a more attractive asset and buyers will be less eager to pay premium prices. So although we recognize that this is a very different market than any market we have seen before and we do not expect a full crash, we do expect prices to moderate at some time.