The David Siddons Group – Why we do what we do? (Part 2)
Why the David Siddons Group exists and why we do what we do?
This is the second part of a three part blog/vlog on why the David Siddons Group is in real estate, what drives them and how do they make sure they constantly add value to their clients.
Part 1 of the "Why the David Siddons Group exists?"
While Part 1 of this series focused more on who we are as a group and what drives us, this part focusses more on how we truly add value to our clients and readers by means of excellent real estate reports and information
How the David Siddons Group adds value to its clients
As the video already explained, we would like people to appreciate the process of this business and what is involved with it, but more importantly: what drives us and how we provide this added value?
If you haven't visited our website www.luxlifemiamiblog.com yet, please take a few minutes to have a look. Our website has gone through several stages of development and we are always updating and enhancing it to serve our clients better. The website is born of very good analytics and market reports. It is very thorough and provides great story telling which makes the news and information as interesting and comprehensible as possible.
The core of the site is that we have the best possible information out there. Many other reports (sometimes of main brokerage firms) focus on Miami as a general market, they lack focus and relevance and sometimes they even provide wrong information. We create our own reports and we make sense of the date. We provide you with data reports while we provide you with a narrative and understanding so you can apply it to your specific situation whether you are selling or buying. I believe our strength is the combination of numbers, narrative and the ability to be on the ground to create one holistic overview.
One particular report that was very well received is our 2016 End of Year Miami Residential Real Estate report. This 63 pages long report breaks each Miami market down into sub-sectors and it explains per sub-sector what is happening and why it is happening. As we move forward we will add layers of information to this base annual report on a monthly basis. When we see things happening, we will tell you what is happening so you have time to act upon it. Think of opportunities to buy in a certain market; we will tell you to wait with buying for a few months in order to get the best conditions or to buy now as we see the signs of a rising market. The same goes for sellers, some sellers are waiting too long, we will tell you when the time to sell is right as we see inventory levels rise in certain areas making it more and more disadvantageous to sell in a later stage.
This is all within the different Miami sub-markets and not generalized information for Miami. Each sub-market has demographics and profiles that need to be taken into account. The David Siddons Group likes specific information that truly provides you with insights into the market.
Please fill in your details and David Siddons will contact you

Subscribe!
Get uninterrupted access to our entire articles and blogs database.
Get our

Newsletter

No Thanks
Get the latest news from Miami Real Estate News
Email to a Friend
Recomend this to a friend, just enter their email below.
Your email was sent successfully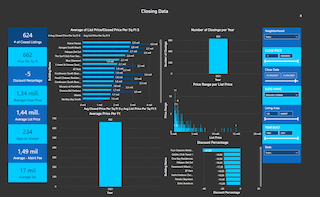 COMPARE WITH CONDOGEEKS

Meet our Team