The David Siddons Group – Why we do what we do? (Part 1)
Why are we in the Miami Real Estate Business?
As the owner of the David Siddons Group, I'm very proud of what we have achieved so far and I wanted to share with you why we do what we do and how we add so much value to our clients.
I will share with you who I am and who we are as a group. I will also elaborate on why I decided to become a realtor and why I wanted to change the Miami Real Estate industry with my website and my brand.
Why The David Siddons Group?
Have a look at this brand new video by David Siddons shot in our new Condo listing in Sunset Harbour 
Why I Became a Miami Real Estate Agent?
I got into this business almost 10 years ago, when I moved to Miami from London. In the beginning I didn't know much about Miami or the Miami real estate market. Due to my interest in the market, professionalism and work ethic, nowadays I know this market like the back of my hand and I eat, sleep and breath real estate.
I have a background in finance and most of my team members come from the financial sector. As numbers-oriented people we built our brand and website to offer strong and essential investment analysis. As a buyer or seller you always want to make the best financial decisions and in order to do so you need an holistic overview of the market. What are the market prices?, Where is the market moving to? and Should you be buying in a specific area? Extracting or finding this information is one thing, but making sense of the data is the hardest part. Creating a holistic overview for our clients and showing where the market is moving requires specific knowledge and a specific skill set, which we are constantly improving.
I'm driven by the fact that I know more about a certain area than anybody else. I like to empower my clients with all the possible knowledge from a certain area so they end up saving money or putting money back into their pockets.
What the David Siddons Group wants for their clients.
We want sellers to look back at the selling process thinking the 3% they spend on realtor fees were really well spend. They should realize they gained market knowledge and in the end the David Siddons Group saved them a significant amount of money. Our clients should never think they were squeezed into a deal or could have gotten a better deal.
We want buyers to look back at the process thinking they found the right home at the right price. Our clients should never feel they overpaid for a property or missed out on an opportunity.
The Big Drive of the David Siddons Group
David's focus is on our online presence.  Our ability to provide our (online) consumers with really good reports and up-to-date market data. The David Siddons Group constantly works on improving their reports and their website. After the launch of the latest website. many people asked us why we created such a big and extensive site and how we find the time for all these reports?
Although there are many Miami Real Estate Reports circulating on the Internet,  I feel that these are not useful, accurate or specific enough. Many of these reports are too general and often created by reporters that don't even live in Miami. They are too removed from the market and they lack personal experience with the market. Most of these reports generalize the entire Miami real estate market by providing the readers with a single number that describes the entire market while the only valuable data out there are data that apply to your neighborhood or your specific area within the neighborhood. For this very reason I created a new and never before seen website that offers state-of-the-art research tools that provide my readers with the latest and most accurate data.
Furthermore, I like to be respected as an agent who has real and accurate knowledge. Not just another broker who gets his information from 3rd parties and doesn't do his own research. I'm always driving through the neighborhoods or scrolling through the MLS to look for the best deals for my clients. I often study a certain neighborhood or even streets in that neighborhood to get the knowledge that no other realtor has. You can take a list of homes and draw several conclusions without taking any other factors into consideration. Within the David Siddons Group we look at more factors within the market as well as macro economic factors from inside and outside the USA. Aspects that might have a negative or positive impact on the area you live in or want to live in.
The Human Factor of Real Estate
I learned to appreciate that this is a very personal profession. As I moved several times myself, I know the emotional and financial worries and implications that come along with selling your current home and investing in a new home. Especially for hose investors or buyers that come from abroad and first need to know the Miami market this is a complicated process. This is one of the aspects that I like most about my job; helping people who are not from Miami to come here to invest whether it is in a first home, a holiday home or a pure investment. I understand and appreciate the massive faith they put into me.
What motivates me most is meeting people, building relationships, going through the process of exploring a city, finding where they want to live and look for the best deal in that part of town.
Please fill in your details and David Siddons will contact you
Get our

Newsletter

No Thanks
Get the latest news from Miami Real Estate News
Email to a Friend
Recomend this to a friend, just enter their email below.
Your email was sent succesfully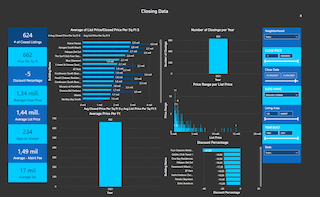 COMPARE WITH CONDOGEEKS