Where to Find the Best Land for Sale in Miami in 2020
Lots for Sale in Miami: Where to Find them & What to Pay for Them?
This 18,225 SF lot (135′ X 135′)  was just listed and offers an incredible opportunity to buy a rare double north Grove lot. Please see attached architectural plans & renderings of an incredible 10,000 Sq.Ft home w/entrance on 'Coacoochee'. Click here for more information on 3210 Coacoochee Street or call me at 305.508.0899 for more information on land for sale in Miami
Just Listed: 159 Buttonwood Dr on Key Biscayne. This 8,038 SF residential lot in Key Biscayne is located on a quiet and desired street. This presents the rare opportunity to buy an empty lot in one of Miami's most desired residential area. Close to the Village, Boat Club, parks, the beach and Golf Club. This lot is listed for $1,599,000 by the David Siddons Group. Call me at 305.508.0899 for more information on land for sale in Miami
There is a clear desire for brand new homes and many of these new homes are sold quite fast after they hit the market. Therefore builders and investors are looking aggressively for Miami land for sale to profit from this high demand. Empty lots are scarce in Miami and dated "Tear-down" properties do not always become available in the desired areas.
In the blog below we discuss the most desired areas for Miami land for sale. These are Coconut Grove, Coral Gables, Pinecrest and Miami Beach. We added some statistics* and a direct search button to look for land for sale in Miami. For those who decide they rather not build a home from scratch and prefer to buy a new construction home, please scroll down for some very useful tips on buying Miami spec homes.
* Data are based on land sales that were indicated as such on the MLS. Dated homes were only taken into this research when they were listed for their land value
The Top 10 Lands for Sale in Miami
The Best Land for sale in Miami in order of appearance: 1. 501 Arvida Parkway in Coral Gables, 2. 409 E Dilido Drive, Venetian Islands 3. 28 Star Island Drtar Island 4.670 Harbor Drive, Key Biscayne 5. 1300 San Jose, Coral Gables 6. 5860 N Bay Rd, Miami Beach 7.275 Veleros Ct , Coral Gables 8. 80 Leucadendra Dr, Coral Gables 9. 3210 Coacoochee Street, Coconut Grove, 10. 9840 SW 60 Court, Pinecrest
Land for Sale in Coconut Grove
Land in the small village of Coconut Grove has always been rather scarce and remains to be so. Empty lots have been extremely scarce for a while and dated "Tear-down" properties do not always become available in the desired areas.  In 2020, till August, we saw 2 significant land deals compared to 4 in 2019, 6 in 2018, 9 in 2017 and 6 in 2016.
Size and location wise we have only seen 2 significant sales in 2020. 3401 Halissee Str, which sold for $859,000 and 3540 Palmetto Ave, which sold for $1,300,000. Both are non waterfront lots. 2019 Recorded 4 significant sales of which one was a waterfront land deal in the gated community of the Moorings for $10,185,000. One Dry lot property on 2467 S Bayshore Dr sold for $3.1M.
Most good sized lots in mores desired areas start selling around $800K and we see most sales happen in the $1M – 1.5M range with (rarely available) waterfront lots  starting at $4M+ in the last 3/4 years.  As the Grove remains one of Miami's most desired residential areas specially for relocating families, land or older properties will remain very desired. This demand in combination with what has always been a short supply means prices are about to rise! When you see a good land for sale, do not wait too long in this market. A good option in the Grove is our listing on 3210 Coacoochee St, a 18225 SF dry corner lot in the North Grove.
Land for Sale in Coral Gables
Coral Gables is equally, if not more, desired than Coconut Grove, but has the advantage of being a much larger neighborhood. This means that there are more opportunities for available land (or homes that sell for land value).
Size and location wise we have only seen 3 significant sales in 2020. 4120 University Dr, which sold for $1,175,000, 8820 Arvida Dr which sold for $4,375,000 and 1238 Malaga, which was a 13,026 SF Lot in front of the Biltmore hotel that sold for $940K. None of these are waterfront. Compared to previous years we saw respectively 7,6, 5 and 8 land sales from 2019 till 2016.
Most good size lots in the desired areas start selling just below the $1M mark and we see many sales happen in the $1M-$2M range. As Coral Gables is home to many exclusive gated communities, we often see larger lots being traded here between $2M and $4M. With some exceptions most waterfront homes start trading for $3M especially those located in gated communities. Being Miami's number 1 relocation spot for families (due to safety, schools etc) this area has always seen a healthy demand, but lately we are seeing a surge of buyers from the Northeast. Since most buyers are looking for "new homes" the demand for land for sale in Miami will remain high both from developers as well as from end-users.
Land for Sale in Pinecrest
Pinecrest is known for its many very large lots and several years (around 2015) ago this was a mecca for builders. A large amount of older homes were bought up and brand new homes were constructed. With the large demand many builders started to cut corners however, which resulted in luxury homes that were  listed for top dollar while offering less than luxury finishes. Please see the tips below to not make the same mistake when buying pre-construction.
So far 5 significant sales have been recorded this year compared to 11 in 2019, 7 in 2018, 12 in 2017 and 10 in 2016.  While in 2020 the most expensive lot sale was 8965 SW 63rd Ct, which was a 37,984 SF lot that sold for $1,275,000 most Pinecrest lots sell between $800k and $1,5M. Compare that to Coconut Grove and the Gables and you see that you pay the same price, but for a lot that is almost an acre large. Pinecrest offers much more land for your dollar and is ideal for those that want massive homes and very large gardens. The northern part of Pinecrest commands the highest prices, mostly starting at $1M while in the south you get more attractive prices. If you are looking to build on the water, then this area is not for you.
8965 SW 63rd Ct in north Pinecrest is a 37,984 SF Lot amongst all-new multi-million dollar homes. This property was listed for $1,290,000 and sold for $1,2750,000
9840 SW 60th Ct sits on a 40,265 SF Lot north Pinecrest lot with plans from esteemed architect David Johnson. The buyer could use the existing plans or modify it to their liking. Listed for $1.3M and sold for $1,250,000
Land for Sale in Miami Beach
Miami Beach is home to many ultra-luxurious brand new homes. With many New Yorkers and other tax migrants flocking down into Miami we are noticing an increased demand in the ultra luxury market. Where there is a need for brand new homes, there will be a need for land. In Miami Beach we have seen 8 land sales so far this year (till August) compared to only 5 in 2019, 6 in 2018, 12 in 2017 and 9 in 2016.
There is a clear concentration of land sales on the Venetian Islands,  Palm Island, Hibiscus Island, the Sunset Islands and North Bay Road. The lots on the Venetian Islands are relatively small around 10,000-15,000 SF, while those on N Bay Road are mostly 15,000 SF+ lots going up to full acres and more. A desired new comer is Biscayne Point where more affordable lot can be bought with superb water views.
In 2020 we saw the lowest sale happening at 5352 Pine Tree Dr for a 7,500 SF dry lot. The 2 most affordable waterfront lots sold both for $4.2M, both were located on San Marco Island and offered 10,500 SF.  Expect an entrance level of around $1M for a good quality dry lot of decent size and a $3M to $4M  entrance level for a waterfront home. The most expensive sale this year happened at 2142 Bay Ave, where a 25,671 SF lot traded for $14M.
If this is out of your budget, but you are really set on building on Miami Beach you might want to try Biscayne Point where dry lots can be found for less than $1M and waterfront lots can be bought around $1.5M.
1266 S Venetian Wy (Picture 1) and 1370 S Venetian Way (Picture 2) both sold for $4.2M. Both are 10,500 SF lots that are located on San Marco Island (Venetian Islands). 1266 Venetian was originally listed for $4,900,000 and then reduced to $4,390,000. 1370 Venetian was listed at $6,500,000 and then several times reduced to its last listing price of $4.6M
4424 N Bay Rd (Pic 1) is a 15,800 SF lot  that sold for $7M (listed for $7,495,000) while picture 2 shows 2142 Bay Ave, which sits on an almost 26,000 SF lot that sold for $14M. This property was listed for $15,750,000
New Construction Homes Miami
Miami's single-family homes market is bullish and so is the market for new construction homes. Like all good quality homes spec homes are being sold very fast and prices are about to increase.  Because building a brand new home from scratch or buying a spec home is fairly different than buying a resale home we have listed the 5 things you as a buyer should know about buying a brand new home in 2020. (Source used: Inman News)
Please fill in your details and David Siddons will contact you

Subscribe!
Get uninterrupted access to our entire articles and blogs database.
Get our

Newsletter

No Thanks
Get the latest news from Miami Real Estate News
Email to a Friend
Recomend this to a friend, just enter their email below.
Your email was sent successfully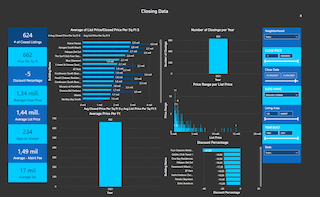 COMPARE WITH CONDOGEEKS

Meet our Team