What Miami Real Estate NOT to buy!
Which Real Estate in Miami you better not buy!
Miami real estate is very desired and many people are looking for properties in our beautiful city. When doing your research on Miami properties, most sites (including ours) will inform you about what to buy and where to buy. Nobody however will tell you what to avoid and what to be very cautious with.
This article is an overview of what I normally tell my clients when they have their eye on an investment property that is just not right.
Which Miami Condos to Avoid
Overpriced Miami Condo Units
Many of Miami's condos are overpriced. The market has boomed for a long period of time and the supply could not keep up with demand. Units often sold at asking price or even above asking price and many buyers didn't do the right research before purchasing. Although the market is currently experiencing a period with higher inventories and correcting prices, many sellers are still pricing their units like we are in a sellers market in which the seller has an advantage. These units mostly stay on the market for a long period of time, before the seller realizes the price needs to go down.
On our website we provide you with many articles on what the average prices are in the different Miami neighborhoods or in a certain condo. It is advised not to purchase a condo unit above the market price. Consult our website or call David Siddons at +1.305.508.0899 for more information on market prices to avoid overpaying.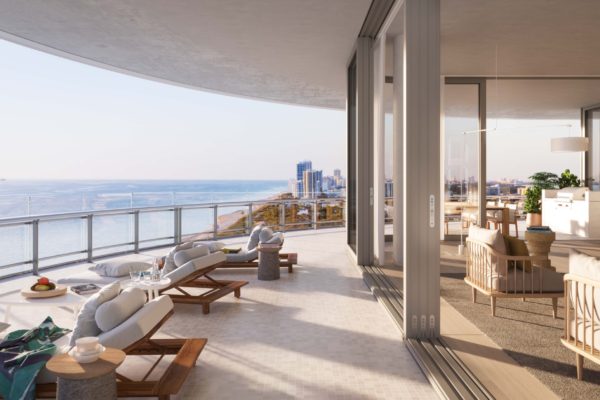 Choose a unique condo with unique features such as high ceilings, large balconies and views that will not be obstructed in the near future
Generic Miami Condos
Miami is home to many generic condos that do not have anything special to offer. The Brickell condo market* offers a lot of generic condos that do not really stand out in the crowd** and can easily be replaced with other condos. Especially the newer units in Brickell can be very generic and many of them are priced within the same price range. Please avoid these units! In a buyer's market it will be harder to sell these units, because buyers have thousands of similar units at their disposal.
Some condos have a luxury brand in their name, but the exclusiveness of the brand does not reflect in that condo. One should also be very cautious with these. Some of them are really high-end condos and recommendable investments, one of which is the Porsche Design Tower in Sunny Isles, but this is not always the case.

*The Brickell Condo market has a lot of really good investment units. It is however a market to be cautious with as not all units offer superior quality and resale value.
**For Legal Reasons we won't name the specific condos here – Please call me for an open discussion
Unique Features
One should always aim to get a unit that has desired features such as high ceilings, corner units, large balconies, and water views (if your budget allows for it). Please stay away from lower ceilings, bad views and extremely small balconies. When selling the unit you will be faced with a lot of competition and most modern day buyers do value the above mentioned features.
Owner to Renter Ratio
When buying a Miami condo you should always consult about the owner to rent ratio. The more rentals a condo tower has the lower the value of that condo. First of all, a high amount of renters means the condo is mainly used for investment purposes, which makes a condo more volatile. In case the market shows signs of slowing down many owners will sell quickly to save their investment. This won't happen in condos which are used by owners and therefore these condos are steadier. For the same reason you need to avoid condos with a high amount of inventory for sale. The Brickell condo market for example is very much a market used by investors and speculators. Brickell offers many excellent condos and there are good opportunities, but one needs to be cautious and use an experienced realtor.
 Think of the Condo's Future!
When buying a Miami condo, please think of future assessments coming up and the financial stability of a condo. You don't want to buy in a condo that soon requires mayor investment which increases HOA fees.
Always ask whether your views won't be obstructed by another building. Buildings with an empty lot next to them might get a new development, which can obstruct your view.
Always have a realtor provide you with a comparative market analysis before making an offer. 
What to Avoid when Buying a Miami Single Family Home
Perform a Comparative Market Analysis
When it comes to single-family homes, it is also important to stick with the market price in the area and to have a realtor perform a comparative market analysis. You do not want to pay a higher price per SF than similar homes, not even in a seller's market. This still happens a lot with buyers using a realtor who does not perform a market analysis. They pay too much for a property and when they try to sell the property they notice they overpaid and cannot cope with the competition.
Consult the Miami real estate market updates on my site or even better call me for an up-to-dated overview of the market to avoid paying over market prices.
An Eye for Detail
The Miami Market offers many finished spec homes these days. It is sometimes hard to make a comparative analysis for these homes, which makes buyers blind for the price. As the home is very new and features the latest in finishes, buyers often fall in love with its design without critically looking at the different details. The David Siddons Group worked with many spec homes and knows a generic product from a luxury product. Moreover, as the husband of a renown Miami interior architect and designer, David recognizes high-quality finishes from low quality finishes, which helps in the process of establishing the correct price.
Natural Disasters
Miami knows certain areas with flood hazard. It is advised to stay away from these zones for obvious reasons. As Miami experiences hurricanes one should also look for well-build homes, which are equipped to protect themselves from hurricanes.
Please fill in your details and David Siddons will contact you
Get our

Newsletter

No Thanks
Get the latest news from Miami Real Estate News
Email to a Friend
Recomend this to a friend, just enter their email below.
Your email was sent succesfully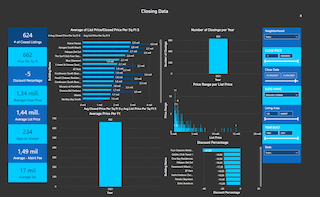 COMPARE WITH CONDOGEEKS