The State of the Miami Real Estate Market in Q2 2021
A Reflection on the Sustainability of this Market and how this Cycle is Different.
Everyone knows the Miami Real Estate Market has experienced a massive rise in demand. While the single-family home market started to boom in early 2020, the condo market followed in 2021 with a sudden spike in sales volume. The Miami real estate market seems to be unstoppable and is now officially in boom mode. As the market moves extremely fast, we wanted to take a minute to explain to our readers what is happening with the Miami real estate market in 2021. We will reflect on the market, but also on the behavior of buyers and sellers.
 If you understand what drives demand, it is easier to understand how strong or how weak a market is.
The State of the Miami Real Estate Market in Q2 2021: A Reflection on the Miami Real Estate Market.
Many readers, buyers and sellers ask me: "Is this market sustainable?" and "How long will it run at this speed?".  It is impossible to determine how much longer the market will continue at this pace. What we can do however is to look closely at the factors that drive this market. If you understand what drives demand, it is easier to understand how strong or how weak a market is. This cycle is a different kind of cycle than anything we have ever seen before. Where we were and where we are going are two completely different stories.
This isn't the 2000-2010 Miami with the booming condo market driven by second homeowners or investors. Today, the demand is coming from a real need. Florida is offering a much more attractive tax system than most other states and that is how it all started. A few high profile New Yorkers came to Miami for tax reasons and noticed the quality of life, the A-rated schools and the relatively affordable real estate where for the same dollar you could get 3 times more space and a garden. Then came Covid-19 and people wanted to get out of NYC or any area with population density. They were seeking additional personal space and had the flexibility to work remotely. The process of tax migration was further accelerated by Covid-19 and word of mouth marketing kicked in. Potential migrants from the northeast felt reassured and once they settled in, they noticed the enormous quality of life Miami has to offer.
As single-family home inventory dried up and prices were increasing, many opted for a condo instead. The condo market, which in 2020 was still seeing an abundance of inventory at discount prices, seemed far more attractive and therefore the demand for condos took off almost overnight.  There is a real need to live in Miami, families are looking for the best quality of life for the lowest price and that is what Miami has to offer. So when people compare this cycle to the last cycle I think the mistake they make is that they only look at the rise in demand and not at what drives this demand. This cycle's need is driven by a necessity, we are dealing with more engaged buyers who are looking for a primary place to live and they need a home for their family. This is is what makes this cycle more sustainable. All of the above you might have read before, but THIS IS WHERE IT GETS INTERESTING!
It's not just about getting people to come to Miami, it is about keeping them here and to bring the entire city to the next level. One strong force in achieving sustainable growth is Miami's Mayor Francis Suarez, who is doing a great job in making Miami the new Silicon Valley. Several weeks ago Mayor Francis Suarez replied directly to a tweet of a tech entrepreneur asking him what he [the Mayor] could do to get the tech crowd to settle in Miami. This viral tweet sparked everyone's interest, because it showed that Miami's Mayor is directly courting these tech investors. He is telling them he wants them here and is willing to do whatever it takes to make them feel at home. Mayor Suarez is now promoting Miami's business-friendly environment and the city's responsiveness to the needs of the incoming tech companies. Now these tech entrepreneurs are coming and they are not just bringing their businesses, they are creating new businesses, new jobs and lots of investments and capital will be flowing in. Miami is now becoming the San Francisco of the 90's. The absence of a state income tax, plus warm weather and a business-friendly mindset is now attracting more and more hedge fund managers, bankers and tech entrepreneurs to Miami than ever before. Miami is growing on all fronts and is quickly transforming into a world class city with a booming tech and finance industry, a business friendly climate, lots of jobs and an increasingly entrepreneurial and creative crowd.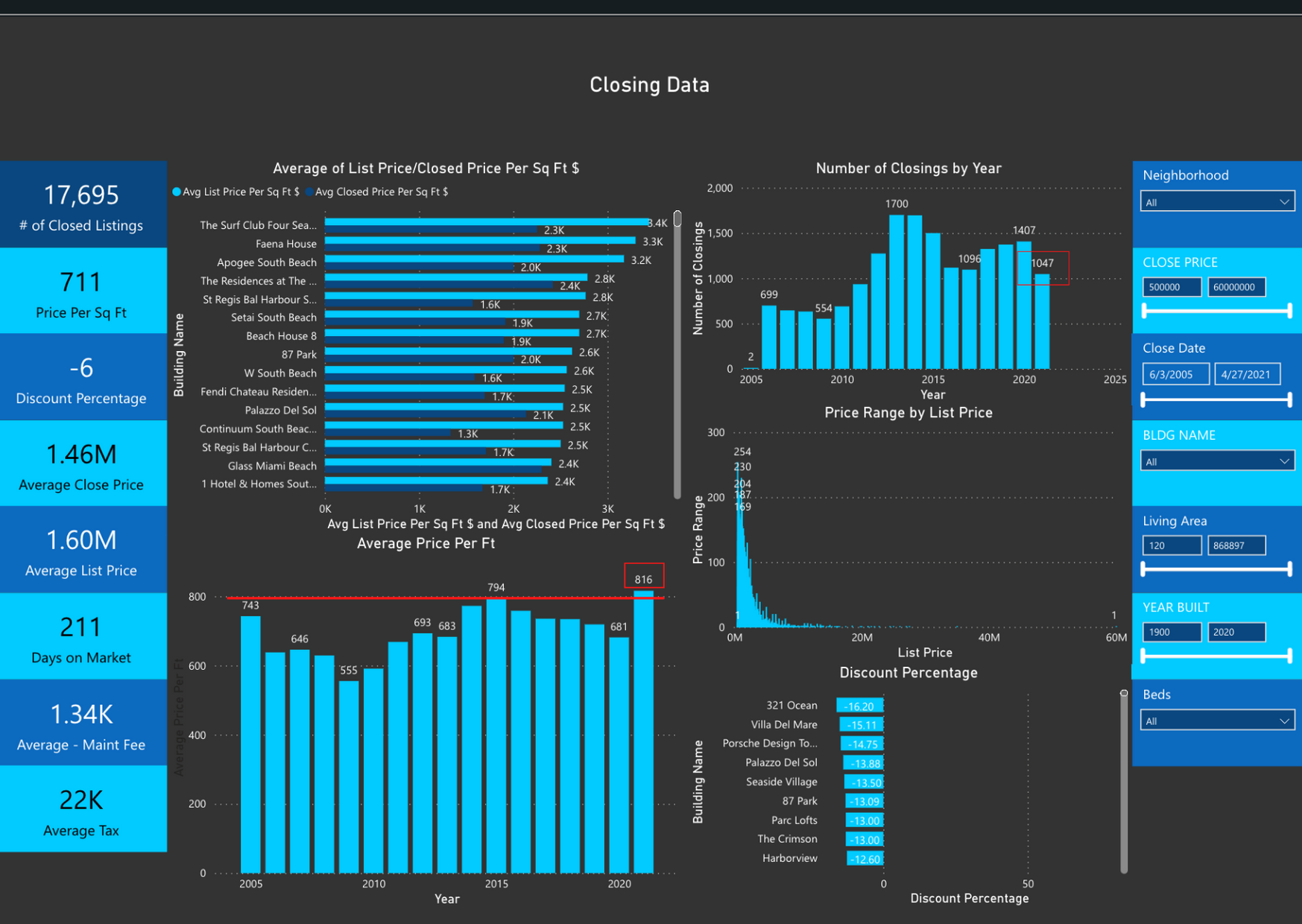 Screenshot from our Condo Geeks Analytics Tool, in which we can trace the Miami condo market over the last 15 years. As you can see 2021 is seeing record prices. Paying top dollar is justified for certain products, but of course paying top dollar just because it is a sellers market does not make sense. Contact David Siddons at 305.508.0899 for more information about Miami real estate and at what price point to buy.
The State of the Miami Real Estate Market in Q2 2021: Reflection on Buyers of Miami Real Estate.
We are noticing that buyers are very eager to buy and there is a level of anxiety we have not seen before with buyers. In the last weeks we have noticed that buyers are getting more aggressive. Buyers are young, there is a lot of liquidity and buyers are very bullish. We sense irrational behavior reassured by the fact everyone else is buying and justified by "It's a sellers market". During these crazy times however, we like to stay rational. We don't go along with the frenzy and although we recognize this is a sellers market we do show our clients the real estate cycle and what they should and should not be paying. We work with both buyers and sellers and we know the numbers. Just because everyone is offering doesn't mean you have to go there. Many buyers are now buying, because everyone else is buying and they go and pay exorbitant prices that can't be justified other than "its a sellers market". Especially with condos we have seen this happen a lot with buyers that use inexperienced agents. Properties are on the market for a long time and don't sell. Even after being on the market for months they increase in price. We warn our buyers and advise them on a maximum price to pay, in order to protect their assets. It has happened several times already that we have had buyers chasing a unit for which the sellers wanted too much money. We advised them against it and looked for better alternatives or went off-market.
The State of the Miami Real Estate Market in Q2 2021: A Reflection on Sellers of Miami Real Estate.
Sellers are now becoming more and more unrealistic. Units that were on the market for months without selling are now increasing in price. I have brought plenty of buyers to units for which we offered fair market value (factoring in this is a sellers market) and the seller would just not accept it. These units end up sitting on the market for long periods of time. Although the condo market is in high demand, there are plenty of options to choose from. This unrealistic behavior however might become troublesome as many buyers will go ahead and buy for an unreasonable dollar amount per SF. This market will not continue to rise at the same rate for years to come and those who buy at unrealistic prices will need to wait a long time in order to sell their unit for a profit.
Conclusion
The Miami real estate market is indeed in boom mode and prices are likely to increase in the coming months. Today's market is more stable than ever as the demand is driven by a need for a primary residence. Furthermore the entire city is growing as a result of a tax and business friendly environment. Of course there are several markets that are safer, healthier or more stable than others and it is important you identify which these are. If you are a buyer in this market I advise you to move forward with caution. Many properties are now asking prices that cannot be justified. Hire an experienced realtor that knows the market and the numbers and that wants to protect your interests. As I mentioned before we work with sellers and buyers and we know the numbers. I have helped several buyers find similar properties for a much more attractive price per SF. For more information about the safest investments whether it is in the condo or the single-family home market give me a call today at (305) 508.0899.
If you are selling Miami real estate you can do so for top dollar, but you need to be realistic and know how to compare your property to others. Can you get a higher price per SF than before? Yes, the market is in your favor, but please do not exaggerate and look at the numbers.
Please fill in your details and David Siddons will contact you

Subscribe!
Get uninterrupted access to our entire articles and blogs database.
Get our

Newsletter

No Thanks
Get the latest news from Miami Real Estate News
Email to a Friend
Recomend this to a friend, just enter their email below.
Your email was sent successfully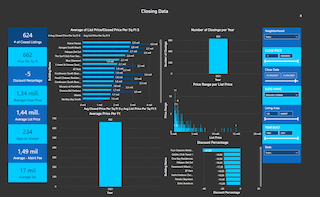 COMPARE WITH CONDOGEEKS

Meet our Team