The Best Miami Real Estate Agent for your Listing is Whomever has National and Global Reach.
The Definition of Insanity is Doing The Same Thing over again Expecting a Different Result.
If you have been unsuccessfully listing your Miami home or condo for a while and are motivated to sell, but are just not seeing the results you expected or even if you are thinking of listing your home for the first time we have to give you one good piece of advice. Before you list your property please check the marketing methods and the reach of your Miami realtor. Does your real estate agent have a website with local, nationwide or global reach? If the answer is no, you might have to look for another realtor
I say this because of recent we have been picking up listings that have been previously and unsuccessfully listed by other agents. Often big listings that have been entrusted to agents with little to no web presence. We are living in a 'post-covid' world now and if it has not become clear, it should become clear that everyone looking to buy property is looking extensively online for options and information to make their purchase before they actually buy. In Miami we have been inundated with relocating buyers and not only do they look for properties, but they look for guidance on the best neighborhoods, schools, gated communities, lifestyle and anything else that helps them focus on the area or neighborhood they want to buy in. Whomever provides that information becomes their go-to partner.
After 12 years of doing exactly that, we have come produced over 1,650 articles, 70 reports and a whopping 470 videos and counting! In short we have built a communications platform perfectly built to provide that kind of real estate guidance, so if you are a buyer then we certainly can help you 'make a better decision', but as a seller we can give your property better exposure too.
Why is it important to have National/Global exposure?
Miami is not a market that attracts merely local buyers. Miami is a global city appealing to investors from all over the globe and the latest influx of buyers are from the northeast and California (sometimes referred to as tax-refugees). If your realtor has no website or a website that does not rank with the major search engines than how will anyone ever find your listing?
Those who are looking for Miami real estate from out of town do not have a local realtor yet so what are they most likely to do? Either search for a Miami realtor or a site to browse for properties themselves. They start searching on Google for "Coral Gables Homes for Sale", "South of Fifth Condos for sale" or "the best Gated Communities in Miami".  If your realtor cannot be found, your listing cannot be found.
If you have a Coral Gables home and you want to reach buyers for Coral Gables homes then you should have a realtor who ranks high for "Coral Gables Homes for Sale". With 1000s of homes for sale and 1000s of realtors in this town you need to have a realtor that makes your home stand out in the crowd.
The Best Miami real estate agent for your listings ranks high on key words that matter for your listing!
How do You Know Your Miami Realtor's Reach?
If your realtor does not have national reach then this isn't your realtor. How can you find out whether he has global reach? Go online and try to find him by looking for the type of home/condo you are trying to sell. If you cannot find him, the rest of the world won't find him either. The Best Miami Real Estate Agent for your listing can be found online.
Our Online Presence and Global Exposure
98% Of searches start online so if you don't have a strong digital footprint you are already behind. It's not as simple as just getting someone to see your material, your listings etc. You have to get them to engage, and ultimately this is where we excel.
Our website Luxlifemiamiblog.com is a high-ranking website and our digital footprint is enormous (after all, from the 10,000s of Miami real estate website you found us). We offer the most relevant real estate related content of all Miami agents (you can easily verify this online). We have written over 1,600 blogs and created numerous videos (Vlogging is the latest trend in online communication and our Youtube channel is growing rapidly as we now have a full time in-house videographer). This unique and rich information has earned us a dominant number 1 spot for almost all Miami real estate related key words in the world's most used search engines. With our real estate reports, real estate forecasts and relocation guides we capture buyers from all over the globe who trust our opinion and who reach out to us for advice and guidance.
A few of our high ranking search terms (Organically and via ads)
Coral Gables Homes for Sale
Coconut Grove Homes for Sale
Relocating to Coral Gables

Relocating to Coconut Grove

Best neighborhood for families in Miami
Safest neighborhood in Miami
The best South of Fifth Condos for Sale
The Best Brickell Condos for Sale
The Best Gated Communities in Miami
Moving to Miami
Best Miami Realtor
The Best Miami Neighborhoods for Schools
Our Digital Marketing Strategies and Campaigns
Underpinning the strong digital footprint is the digital expertise when it comes to specific marketing campaigns. Our Funnel Campaigns, Retargeting, effective ranking on Google for long tail key phrases and geo specific adverts (to name a few) are leading large amounts of potential buyers to the site. We know where to find the right buyers and how to best reach out to them. We excel in the online marketing business, which is the marketing of today's global world.
You will notice that as soon as you start visiting my site you will be retargeted and start seeing my adverts around the web again and again and again. This is no coincidence!
Please fill in your details and David Siddons will contact you

Subscribe!
Get uninterrupted access to our entire articles and blogs database.
Get our

Newsletter

No Thanks
Get the latest news from Miami Real Estate News
Email to a Friend
Recomend this to a friend, just enter their email below.
Your email was sent successfully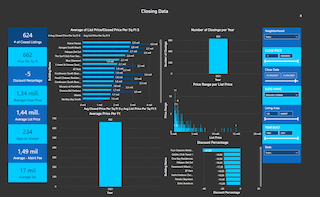 COMPARE WITH CONDOGEEKS

Meet our Team