St Regis Bal Harbour and the State of the Bal Harbour Luxury Condo Market in 2020 (Post Covid-19)
Smart Miami Condo Investments: A Tour of our Newest St Regis Condo Listing
With the current Covid-19 pandemic the world is in lockdown and many feared what this would do to the Miami real estate market. In this blog, the David Siddons Group is talking to team member and Bal Harbour real estate expert Fernanda Zomignani about how the Bal Harbour luxury condo market is holding up.
The Bal Harbour Luxury Condo Market
The Miami market is experiencing a large number of relocation buyers mainly from the northeast. These buyers are attracted by South Florida's favorable tax climate and superb lifestyle. Most of these buyers are coming from small(er) condo living and are now looking for space and a better lifestyle. Although many buyers are searching for single-family homes, a large share of these buyers prefers the "lock up and leave" concept of Miami luxury condos with the 5 star services and amenities to ease their life.
Now in times of Covid-19 we are getting many calls from relocation buyers who come from the northeast. Specially those from large metropolitan areas such as NYC or Chicago are used to much higher prices per SF and smaller units.  While many were already considering a move to Miami, the pandemic has only sped up the demand for Miami's ultra luxury real estate. Being locked up in 1,600 SF is different than being locked up in 3,000+ SF.
Bal Harbour is home to 2 ultra-luxury condos, which are Oceana Bal Harbour and St Regis Bal Harbour, so when we speak about the Bal Harbour luxury market we refer to these two condos. In both condos we see a surge in buyer demand from the northeast (tax-refugees). What makes this ultra luxury market so strong? This market is less investor-driven than many other Miami condo markets. Buyers at St Regis are buying a principal place of residence, a second or even third home.  This makes this market less volatile than investor-based markets.
Many buyers prefer the St Regis for its large floor plans that could easily replace single-family home living. This condo offers the space of a single family home, while adding the 5 star amenities, lifestyle and services. The high-end living matches the type of condos these buyers have at home, but with the additional space, outdoor amenities, services as well as additional balcony space that can be used all year round.
What Makes St Regis to be One Of the Best Condos in Miami?
St Regis is ideally located in Bal Harbour. Bal Harbour is just north of Miami Beach, which means you are in the middle of South Beach within 5 to 10 minutes without experiencing the crowded beaches or bikini-clad tourists on your doorstep. Furthermore, the St Regis is located just across the street from one of the US' most desired and luxurious shopping malls; the Bal Harbour Shops. Besides high-end fashion this open-air mall also offers trendy restaurants and bars.
St Regis is also desired for its low-density living. The condo offers 270 units over 3 towers and 26 floors. This is not just a condo with a fancy name tag. The towers are known for its solid construction and those who buy here know they are buying quality and unique features such as private elevators, large floor plans,  privacy and the best service levels. The St Regis hotel tower even received a Forbes accreditation.
The Values of Bal Harbour and St Regis Condo units
Bal Harbour prices vary between $1,300 and $2,200 per SF while St Regis sells for an average price of $1,635 per SF.  The St Regis Bal Harbour condo is listed as one of the 10 most exclusive condos in Miami in our 2020 Miami Real Estate Report while it also appears in our top 10 of best values or condos with the best opportunity for good deals. These are high-end condo towers that offer great quality while they are also offering units that are currently very well priced and can be bought under market value.  Take a look at the below graph in which we compare the average sales prices per SF of Miami's most desired and luxurious condos. St Regis is one of the ten most exclusive condos, but offers relatively a low price per SF.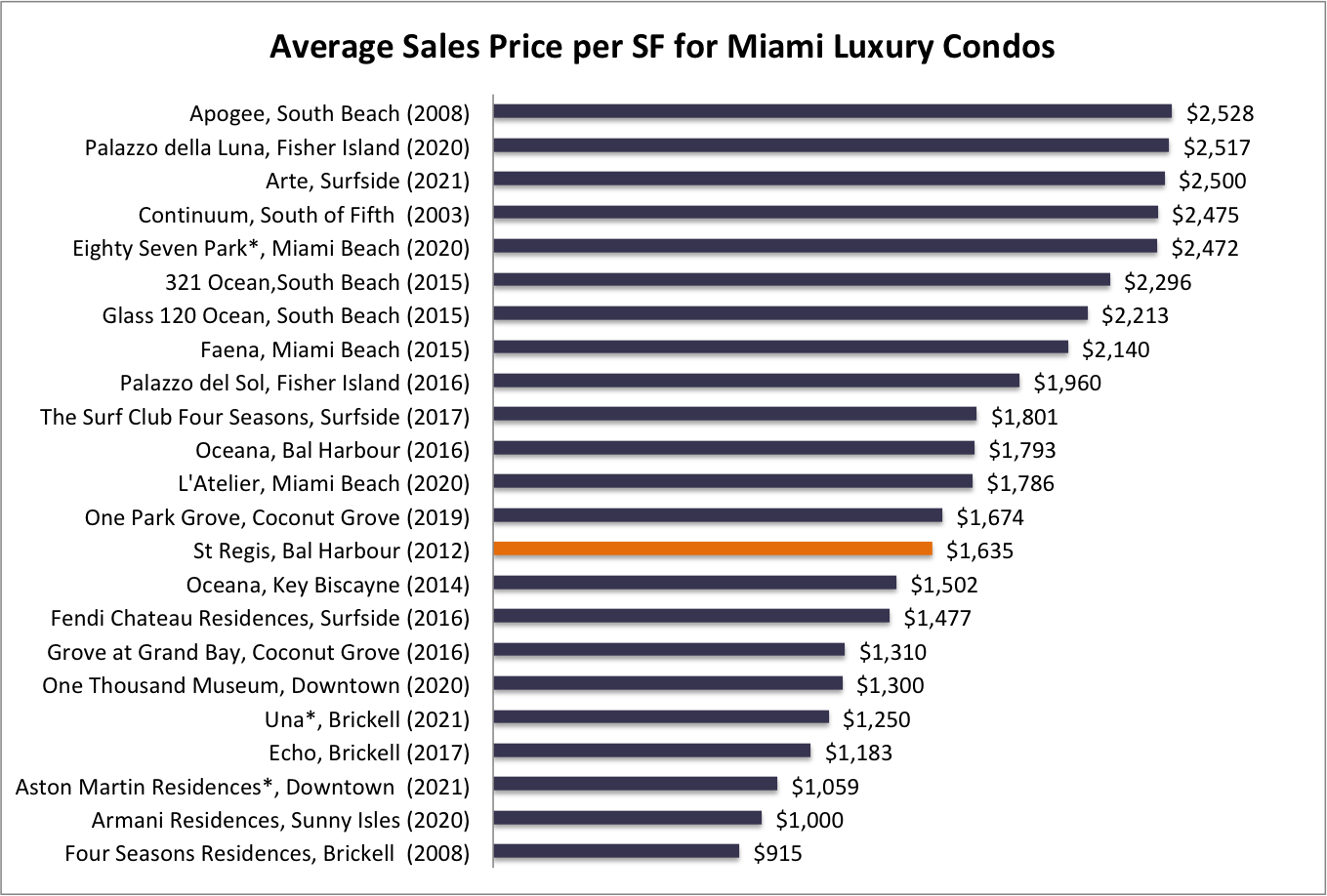 Please be aware that the top 10 of Miami's most exclusive condos based on prices per SF can change on a daily basis and this is just a snapshot of the last months 
Unit 1903 at St Regis Bal Harbour
Single Family Living in this Spacious ST Regis Unit

When looking for Luxury, Space, Views, Great Location and White Sand Beach; St. Regis Bal Harbor is the only answer. At this 5 Star, Ocean front building, across the Bal Harbor Shops, you will experience the uniqueness of what Miami has to offer. Unit 1903S has a unique floor plan, meticulously designed to accommodate with luxury, privacy and entertainment at the same time. This extremely well finished unit offers a unique and customized floor plan that is optimized for ultimate privacy and increased living space.  The 4 bedrooms are completely separated from the unit's social areas and the service quarters will serve perfectly as an office as well. The kitchen comes with gas  There is only one floor plan like this in the condo! The unit is flow-through and comes with two terraces, one overlooking the beach and one overlooking the city and intra-coastal. 
9701 Collins Avenue unit 1903S

4 Bedrooms & Service Quarters, 5.5 Bathrooms

Living area: 3,556 SqFt – Total Unit SF: 4,800 SqF

Price: $6,850,000

More information about St Regis Unit 1903S