The 2018 Sunny Isles Beach Luxury Condo Report
The 2018 Market Analysis for Sunny Isles Beach Luxury Condos for Sale
A Soft Investors Market with Extremely High Levels of Inventory
The Sunny Isles Beach luxury market has been soft for sales through 2018. Just 9 sales so far this year over $3m and 2 pending up to August 1st 2018. Mansions of Aqualina and Porsche are the main two condos that feature multiple times in this list. There are no doubt a few others that may have sold in some of the remaining developer inventory for new condos in Sunny Isles. This is still a very small number considering as of 1st August there was a pool of 185 condo units available priced at $3m or more. Breaking this down: 88 are priced between $3m – $5m. 78 are priced $5m – $10m and 19 over $10m.
This market is typically made up of investors and second homeowners and to a much lesser extent end-users who occupy these condos as a primary residence. We have continuously and repetitively continued to tell our clients that these non-primary neighborhood markets are more sensitive to market corrections than neighborhoods where the majority of home owners live all year round. You will often find me referencing 3 different market types and their typical economic behaviour: 'investor' (the least robust), second home markets (the middle ground) and primary markets (the most robust)'.
Underwhelming Brand New Towers 
One of the main reasons for this market's slowdown is that in the last condo boom many luxury condos in Sunny Isles were overhyped and were sold on what many consider over exaggerated, under delivered promises and features. 'The sky is the limit's is the mentality that was pitched in terms of stylistic and cutting edge condo construction. The pitch was strong and huge amounts were spent by developer on attracting international buyers. Buyers were displaying a "followers" mentality and following other high end buyers into the market with little question and the prices saw a rapid increase.
When these projects were finally delivered they were disappointing to many. Owners also expected to flip these units for elevated prices and therefore listed them right after they were delivered. The problem with this market is also that the demographic that was heavily buying into this market suddenly experienced currency or economic problems in their home countries, which resulted in a drop in demand from their side. With many new products and a limited base of buyers, inventory rapidly escalated. We saw properties reselling for $4M while they were originally purchased for $5,9M. That is a massive price drop and very revealing for the state of the market.
For more information or my personal (uncensored) opinion about the different Sunny Isles Beach condos, please contact me personally at 305.508.0899.
Please fill in your details and David Siddons will contact you
Get our

Newsletter

No Thanks
Get the latest news from Miami Real Estate News
Email to a Friend
Recomend this to a friend, just enter their email below.
Your email was sent succesfully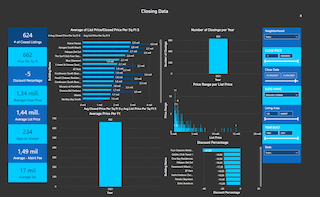 COMPARE WITH CONDOGEEKS