The St Regis Brickell Miami | An Independent Review
A Lifestyle and price analysis of the New St. Regis Brickell.
Introduction
Welcome to our independent opinion on the new St. Regis Condo in Brickell set to complete in 2025. It will help those who may be considering the purchase of a unit in the project, giving guidance on price and preferred floor plans. I have been selling real estate in Miami for the last 15 years and analyzing the condo market for just as long. I started my career in 2008 and wrote my first report, 'The investor' guide to Brickell' in 2013. In 2020 we launched 'Condo Geeks'. A high-grade analytics system that allows us to track the economic performance of EVERY CONDO in Brickell, as well as the rest of Miami. In short, I know the Brickell market! Not just in terms of the buildings but in terms of the numbers.
This article will give you FIVE legitimate reasons why we like this project. Nothing is perfect, and no single condo works for everyone. Therefore we are adding some of the cons of this project as well. Of course, when we get into your personal needs' the analysis and reasoning will get far more granular. So please consider this a starting point in your decision-making process. I encourage you to call me to discuss this in more detail: (305) 508 0899. I hope my knowledge and analysis will protect you from making a poor decision. We teach about the Miami condo market statistics and how this building stacks in terms of economic performance and future projections. Broader details of the St. Regis Brickell project (such as amenities and floor plans can be found here. Watch the video below and put a face to the opinion as I discuss the best overall new construction Condos in Miami.

1. The Pedigree and Experience of the St Regis Brand
St Regis is an established hospitality brand. Hospitality-branded Condos have historically performed very well in Miami. With a pedigree of experience, they proved to be more economically resilient than other condos. Take St Regis in Bal Harbour, the Ritz Carlton in Sunny Isles, or the Four Seasons in Brickell or Surfside. St Regis is not brand just for the sake of branding but provides a superior experience to the residents in service and amenities. Their performance is a testament to that.
Below I have provided a graph showing the past performance of the hospitality brands against the general market. If you track their appreciation in percentage, you will see that the increase of these buildings exceeds competing buildings without a brand name. Furthermore, some 'non-hospitality' branded condos that entered the market with a brand name as part of their selling strategy performed the worst.
2. The St Regis Brickell offers Primary Residences and mostly better floor plans.
There are no cheap seats on this condominium floor plan. With that said, the front two-facing units are the most desirable and expensive. Every floor offers four residences. The smallest residences are still expansive (the two-bedroom units measure almost 2,400 SF). There is no abundance of small units in the condo, which is the case in many other Brickell condos. This tower will cater to a high-end buyer and is, therefore, more likely to be bought by primary residents comparable to investors. As a result, there will be a higher ratio of end-users in the future and fewer renters. Ask me for data on rental-dominated condos against more primary condos. I can show you how the two differ in appreciation performance.
With our guidance, we can help you understand the views. This WILL AFFECT FUTURE VALUES. Why? Because direct water view units are in much lower abundance than partial or city view units. Consider New York, as a much older city, buildings with views over the Hudson or Central Park have seen incredible increases in value because their views have remained the best. Increasingly the neighborhood gets denser, so you will find fewer and fewer of these. We use our drones to show clients what the views will be like from any elevation. Below a certain floor level, the views drastically change on both front and back.
Buyers who combine units to create even larger residences are also potentially making a wise decision. An unusually high number of unit owners have already opted for this at St Regis. Larger units are hard to come by in Brickell. Over time I have seen many units sell as combinations and the subsequent staggeringly high appreciation. Consider our combined 87 Park units (1102/1106), which we sold for $21,000,000 – 25% more than the owner originally paid.
3. The Location of the St Regis Brickell Miami
St Regis is in the South part of Brickell. Brickell is essentially the urban core of Miami. If you want to be where the action is or are one of many who work in Brickell, this is an excellent location. The south part of Brickell is actually (in my opinion) much better than being in the core of Brickell. St Regis allows easy accessibility to the center of it all but without the limitations of the heavy traffic. Many residents that live in the center or close to the infamous bridge experience heavy traffic in peak hours making it harder to enter or exit the financial district. Brickell remains the best location if you like a vibrant city core and is excellent for those working in the financial sector.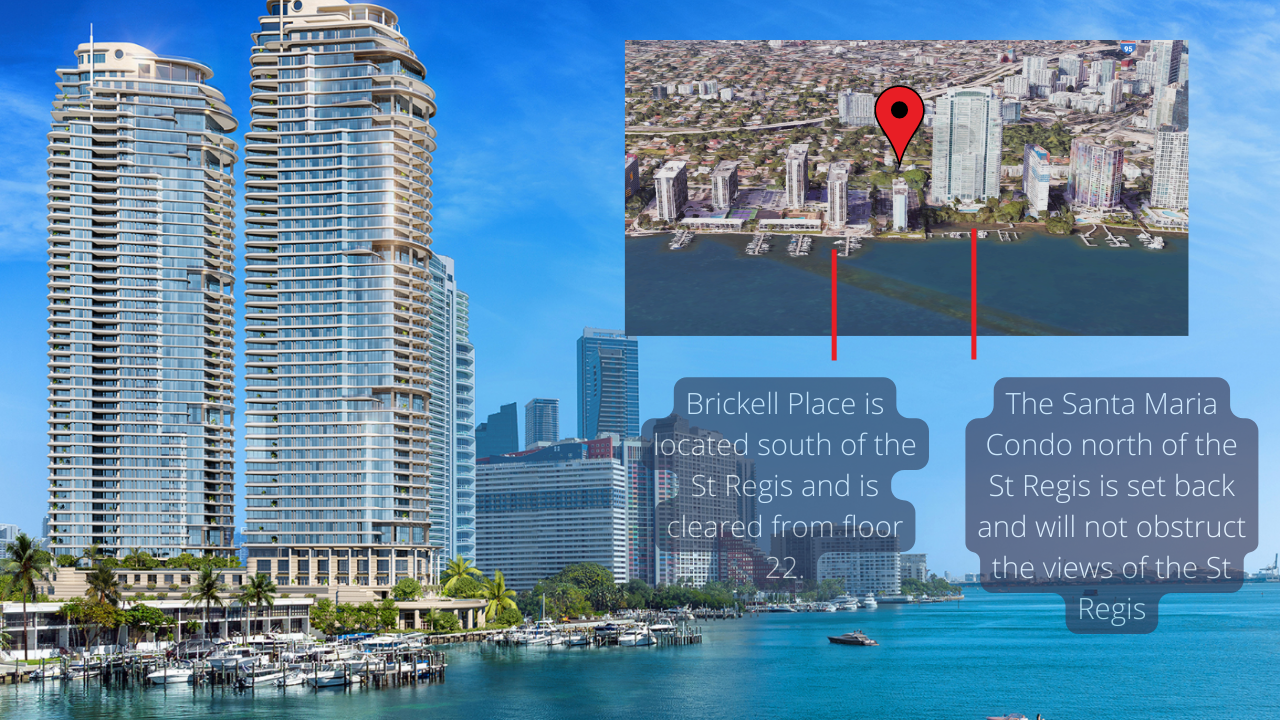 4. One of Few Ultra-Luxury Condos in Brickell
The word 'luxury' in Miami Condo marketing has been applied too casually for many years. In truth, Brickell is NOT home to that many luxury condos!!! In my opinion, St Regis is the first new legitimate ultra-luxury condo since the Four Seasons Brickell. Built in 2004, the Four Seasoned delivered exclusivity, elegant floor plans, and luxury amenities. Before this, it was Bristol and Santa Maria. These projects, although still very desirable, are now very dated. The fact is, St Regis is a brand new condo and the first one to fill the demand for luxury condos in Brickell, making it unique. If you want to know how I define true luxury, please give me a call. My opinion is from years of feedback and conversations with luxury owners and buyers.
5. The Economics make sense
Not enough to take our opinion. Lean into our market analysis to see if it makes economic sense. This information is from our Condo Geeks analytical tool. As with all good analyses, it is dangerous to generalize or blend averages. We need to get specific, and this takes far more skill.
The first tower of the St. Regis Residences in Miami is between $1,400 and $2,100. If you compare St Regis Brickell with other condos, then, yes, the price is high. But please consider that Brickell does not have many luxurious condos, and the Four Seasons Residences finished construction in 2004. After this, nothing of this caliber has been in Brickell. Which is one of the reasons this condo is unique. To value, you MUST compare St Regis to other luxury condos in the rest of Miami. Please call me. I can talk about the analysis relevant to the unit you want and the asking price.
Picture 1: As a reference, I added this print screen of Brickell condos that sell for $2.5M+. As you can see condos like Flatiron, SLS, Four Seasons, and Echo have reached sales prices of around $1,100-$1,400 per SF in recent years.
Picture 2: Comparing the $1,400 to $2,100 per SF of St Regis Brickell to other top luxury condos in Miami we see there is still room to appreciate. Many of the most luxurious condos in Miami sell for $2,000 per SF or more.

Trending Economics in Brickell and the Luxury Condo Market.
Brickell is much an investor-driven market and has a more volatile economic nature. I want to stress that most of the Brickell condos are not in the range of the St Regis condo. Most of the Brickell condos are generic condos with one or two bedrooms destined for the rental market. As you can see in the two graphs below, the first shows the overall Brickell market, and the second graph shows the luxury market of $2M+ sales. Both illustrate an upward trend. The $2M+ range shows a more steady increase and is less volatile.
Are there any Downsides?
We do not want to sound sycophantic or one-sided in our analysis, so we detail a few things to consider when you are thinking about buying into this project. We do not believe that anything is 100% perfect. I think agents who tell you everything is amazing are not doing you any favors as a client. I have seen agents who focus on the good and not the bad. This is just not honest and forewarned is forearmed!
The most expensive condo in Brickell: St. Regis will be the most expensive condo to be built in Brickel ever. Admittedly it will also be the best finished, in the best location at the highest level. Nevertheless, you want to be aware of this.
High Density: St. Regis is not a boutique project. It has a higher density than other luxury projects currently being built.
Views: The second tower will not have the unobstructed views that the front tower will enjoy. There are buildings to the north and to the south, that will create some obstructions for lower floor units.
Alternative Condos to St. Regis Brickell
Please fill in your details and David Siddons will contact you

Subscribe!
Get uninterrupted access to our entire articles and blogs database.
Get our

Newsletter

No Thanks
Get the latest news from Miami Real Estate News
Email to a Friend
Recomend this to a friend, just enter their email below.
Your email was sent successfully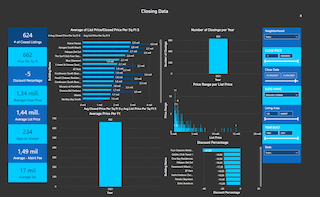 COMPARE WITH CONDOGEEKS

Meet our Team