The St Regis Brickell | Will this be the Best New Condo in Miami?
St Regis Brickell | What Makes This Brand New Miami Luxury Condo so Unique?
You might have heard by now that Brickell will soon be home to a brand new St Regis branded residential tower. The St Regis Brickell will consist of two towers. The first tower to launch is called the East Tower. This direct bay-front luxury tower which is the most luxurious tower will offer 149 residences, ranging from 2-7 bedrooms. The West Tower, which will be released later, will offer 203 Units residences ranging from 1-5 bedrooms. Although it will be a residence-only project (no hotel component), residents can enjoy the St Regis signature (butler) service as well as its state-of-the-art amenities. The project is expected to break ground in 2022 and will be finished in 2025.
In this blog we wont't share the normal information about the team behind this project, residence features and amenities. We already wrote that blog. In this blog we will discuss whether the St Regis Brickell has the potential to become the best new condo in Miami.
What Makes A Condo a Good Investment?
What makes a condo unique? What makes a condo the best in class or most likely to appreciate over time? Not a simple question, but with 15 years of experience selling condos in all kinds of markets (bullish, bearish and everything in between), I'm proud to say that I have always guided my clients into safe investments. There are several rules when it comes to recognizing a good condo. I always encourage my buyers to go for the larger and unique units. Those units that are destined for primary residents, where individuals or families would like to live all year round. These unique condos offer unique features that makes them stand out in the crowd: condos in superb locations, unobstructed water views, condos that offer unique floor plans or buildings with high-end finishes. For specific units you should focus on flow-through units, corner units, units with extra high ceilings, large terraces, the best views and penthouses.  Unique, stand out product will appreciate over time, because what is hard to replicate is most desired and scarce! Therefore it is very important to know that even in good condos there are bad floor plans. When buyers ask me whether condo X is a good investment, my standard answer is: "That depends on the floor plan". A condo may outperform all other condos with certain lines, but if you own the least performing line this doesn't give you much of a benefit when selling. It is essential to look at the uniqueness and quality of a floor plan. With this I mean looking at the flow of a unit, the views, efficiency of space etc.
The St Regis Brickell | Will this be the Best New Condo in Miami?
As market analysts, who like to provide their clients and readers with transparent information, we are known for our unfiltered opinions. We have been critical of some product in the condo market, specially generic product that has nothing more to offer than a smooth marketing pitch. However, the St Regis in Brickell is a project we are extremely positive about. We feel this project has what it takes to be called a truly luxurious condo that can go head to head with Miami's top performing condos.
1. Unique and Large Floor Plans
The St Regis residences in Brickell offer 4 large units per floor. The smallest residence is a 2-bedroom unit, which still offers 2,375 SF of interior living space. The trophy floor plans at this project are without a doubt the A (northeast exposure) and B line (southeast exposure). Both are 4 bedroom corner residences with approx. 3,400 SF of living area, 11 ft ceilings, a spacious and deep balcony and mesmerizing bay views. The unit is accessed via a private elevator and after entering the unit via your private foyer, you right away enjoy the breathtaking water views.  The floor plans embrace the modern way of living with lots of open spaces, a great flow and a large social area which enjoys expansive water views. The living or common areas are separated from the bedrooms by means of a long corridor. The units also provide for a laundry room and service room.
The developer has really spend time on creating these floor plans as we see an efficient use of space with great flow.  Quite unique is that the 4+ bedroom residences will get 3 parking spaces with additional valet service. Three bedrooms enjoy two parking spaces and two bedroom residences will have one parking space with additional valet.
Looking for something truly unique? This condo will offer 4 very large (5,000 SF) duplexes with 25ft ceilings and 1,100 SF terraces!
2. The Views
From what floor do you clear the adjacent buildings? The A Line offers unobstructed views from the very first floor, while the B line requires a floor 19 or 20 to clear the south views. The east views over the water are always cleared, but for 270 degree views you will have to be above the 19th floor. The C and D line units do not offer unobstructed bay-views but because of the design and orientation of the condo, these owners will be able to enjoy bay views from their large terraces. As mentioned before, the floor plans are extremely well thought-out to optimize the ocean views.
3.  A Name that Goes with unparalleled Services and lifestyle options
Residents of the St Regis residences will enjoy the signature white glove services that the St Regis brand has to offer such as butler services, in-room dining, housekeeping services and the St. Regis global membership privileges. The project offers 40,000 SF of amenities among which a golf simulator, a signature St Regis Cognac room, signature St Regis tea room, a fine dining restaurant, a holistic wellness center and exclusive beach club access and a private marina. This last feature is very desired with buyers, but not something many condos offer. Unlike the St Regis in Bal Harbour, the Brickell residences will NOT have a hotel component. The residences give you that 5 star lifestyle while also protecting the exclusivity and privacy of its residents. The St Regis brand stands for timeless elegance and consistent service. The prestige of the St Regis brand is hard to copy. Of course one should not buy a condo for the brand, but rather look for legitimate value. The St Regs however is offering good floor plans and architecture besides being a trustworthy brand in the hospitality or lifestyle industry.
4. A Stellar Team has gathered behind this project
Robert Stern is one of the US' most renowned architects with an impeccable track record.  RAMSA's major works include the classically styled New York apartment building, 15 Central Park West; 220 Central Park South tower, 520 Park Ave in NYC and One Bennett Park in Chicago. Related and Integra are the developers behind this project. Related is a trustworthy name in the Miami real estate industry and the developer of successful projects such as Park Grove. Rockwell Group is a highly regarded interior design firm based out of NYC. Of course, like with any truly high end condo in Miami, Enzo Enea Group is responsible for the landscaping.
5. The Finishes
We normally also like to discuss finishes and compare these with likewise condos. However this project is not even launched so we will add this section in a later stage when we know more about the finishes.
The Prices at St Regis Brickell
Prices are expected to start at $2.5 million
The northeast tower will be selling on average for $2,000 per SF
The southwest tower will be selling on average for $1,800 per SF
At $2,000 per SF the St Regis will be competing with condos such as Faena House in Miami Beach, The Ritz Carlton in Sunny Isles, Eighty Seven Park in Miami Beach, 321 Ocean Miami Beach, Oceana Bal Harbour and Fendi in Surfside. Of course these condos are all located on the Beach. The St Regis (together with Baccarat) will set a new standard in Brickell. As more and more financial institutions and tech companies are opening their doors in the downtown Miami area we are seeing increased interest for large, primary residences that cater to the relocating families from the northeast. The St Regis is one of the first condos to respond to this gap in the market.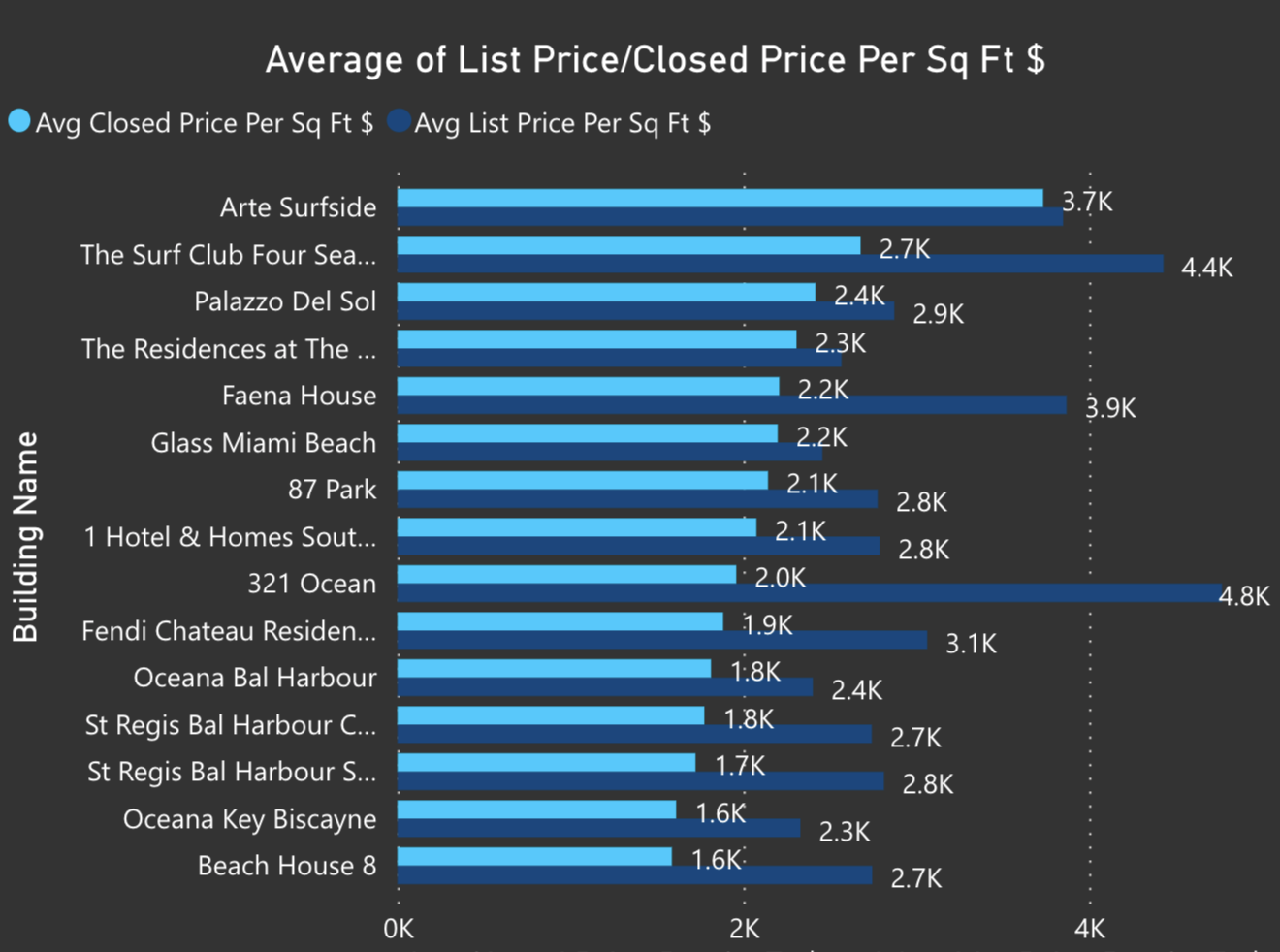 The St Regis is also expected to launch a residential tower in Sunny Isles Beach. Click here for more information about the new St Regis in Sunny Isles Beach.