Is it time to sell my Coconut Grove House?
How do you know it is time to sell your Coconut Grove House?
If you bought your home after 2008 but before 2015 in Coconut Grove you will no doubt have realized considerable profit in your home, and you may well be wondering: "Has it peaked, and how do I know if its time to sell"?
If you are in a position that your home is your biggest asset and want to protect that asset, then you are very conscious that real estate is an investment and that much like stock real estate has its own peaks and troughs too. So you know how to apply the golden rule of: 'buy low and sell high!' So Jump from peak to peak and not hit the troughs.
Here is how you can tell if its time to sell your home in Coconut Grove.
There are a few indicators that will tell you whether the market and your Coconut Grove house have reached it maximum. If this is the case you might consider selling
Inventory is rising or and likely to continue to rise above 12 months
If the number of sales within your sector has dropped in the last 2 quarters.
If the price per SF you want or think you can achieve is at the highest point in your sector
As always we provide the above for different price ranges to better differentiate the different market segments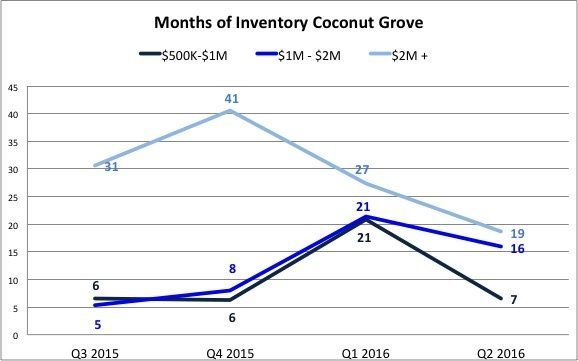 The inventory of Coconut Grove houses below $1M shows low inventory. Actually the market is in perfect balance with a tendency to become a sellers market. Even though the market experienced a little high in Quarter 1 of 2016.
The market of $1M – $2M increased significantly in Quarter 1 2016 and even though Quarter 2 shows a slightly lower number, the market is still showing high inventory.
The $2M+ market is showing the highest level of months of inventory but the lowest number of sales. After all there are less buyers available at this price point then at any other price point. Furthermore, the $2M+ market saw a significant decrease in inventory in the last few quarters but also very few sales
In the last three quarters we saw a significant rise in the number of sales for the $500K – $1M and the $2M+ price range. The range of $1M – $2M properties saw decreasing sales in the first two quarters of 2016.
Highest achievable price per SF 
This is an estimation of our market experience and data analysis. There are always properties that might get more than the indicated maximum price. Please contact the David Siddons Group for more information +1.305.508.0899
Badly finished or dated property: a property that would sell for land value or a property that hasn't been updated for at least 10 years or more. The property might not be in good state or does not comply with what modern day buyers are looking for. Think also of dated kitchens and bathrooms or old roofs.The new owner would have to remodel the house or do severe work to make it compete with other properties in the area.
Well finished property: A property that is move-in ready with up to date floors, roof, bathrooms and kitchen. Unless the new owner likes another style there wouldn't be a reason to update right away. The property is well maintained.
A very well finished property: A just remodeled or rebuilt property that offers the latest in luxury finishes. A property that has been finished with great detail.
Please fill in your details and David Siddons will contact you
Get our

Newsletter

No Thanks
Get the latest news from Miami Real Estate News
Email to a Friend
Recomend this to a friend, just enter their email below.
Your email was sent succesfully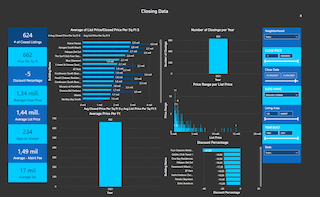 COMPARE WITH CONDOGEEKS

Meet our Team