Cocoplum Miami – The Older Cocoplum Homes for Sale are Tremendously Under Valued
Cocoplum Miami – The Added Value of Renovating a Cocoplum Home
As you drive or walk through any given street in Cocoplum Miami you will be hard pressed to find a block that does not have some sort of construction in progress.  Some of this construction is to improve the streets and help with drainage issues, none more evident than the work currently in progress down Los Pinos Blvd (Phase 1).  But more than anything you will see that 95% of the construction work is home renovations.
Easy to notice are the roof repairs and the redesigning of front facades, but look more into the homes and you will see reflooring, new kitchens, new bathrooms as well as additions.  Homes in Cocoplum Coral Gables are falling into 2 categories; The Older and the Newer Cocoplum homes.  Most of the homes were built in the early 80s to about the mid 90s.  These more dated houses are tremendously under valued as a result of owners not updating their homes.  Many families that have lived in Cocoplum for over 2 decades had performed little to no updates thus leading to unrealistic ideas about what their homes are worth.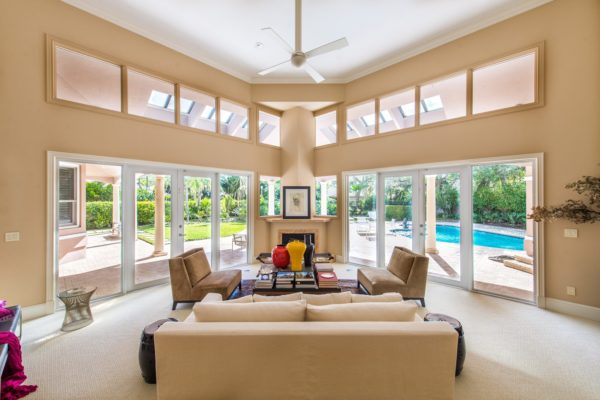 Over the last year the newer homes in Cocoplum Miami, those built from the late 90s to the 2000's are selling at a higher Dollar amount.  The price per square foot on new homes has increased most notable on waterfront homes.
– Click on Image to enlarge –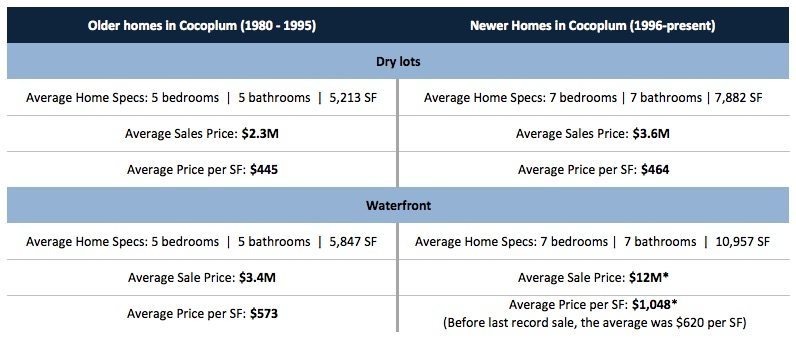 The numbers show that during the same amount of time, the homes built after 1995 have sold at a much higher value than those of the homes built before 1995.  It is also worth mentioning that the newer homes are bigger in both room count and living area SF.
In the last 2 years of closed sales in Cocoplum, 45 homes have sold (non REO or Short Sale) and approximately 27 have gone through major renovations after purchase. Permits that have been pulled through the city of Coral Gables for these homes include work such
as:
Major electric
Plumbing
Kitchen renovations
Lighting
Garages
Driveways
Front gates
Swimming pool reconfigurations
This list of home improvements goes on and on. Of the other 18 homes that closed in the last 2 years, half of them already had some or major updates. The highest sales of Cocoplum homes in the last 2 years all had major home improvements. If we compare two likewise homes, both waterfront properties in Cocoplum Coral Gables, we see the below sales price difference between a more dated home and a renovated home.
It is my observation that Cocoplum homes are in transition.  If you are educated about what the true home values are you can make a great investment in what I consider the most desirable community in Coral Gables.