What is the Best Island Living in Miami? Fisher Island Vs Key Biscayne
Island living and waterfront real estate are some of Miami's most desired characteristics. Miami offers some great island communities for both single-family homes (Indian Creek, Venetian Islands, La Gorce Island) and for condos (Brickell Key Island, Venetian Islands, Fisher Island).
Most of Miami's islands however are small enclaves that can be easily accessed and are not fully self-sufficient. For those that really want to live on an island that is self-sustaining and "away from it all", there are really only two options: Key Biscayne and Fisher Island.
We will now discuss the differences between Key Biscayne and Fisher Island Fl. and its real estate options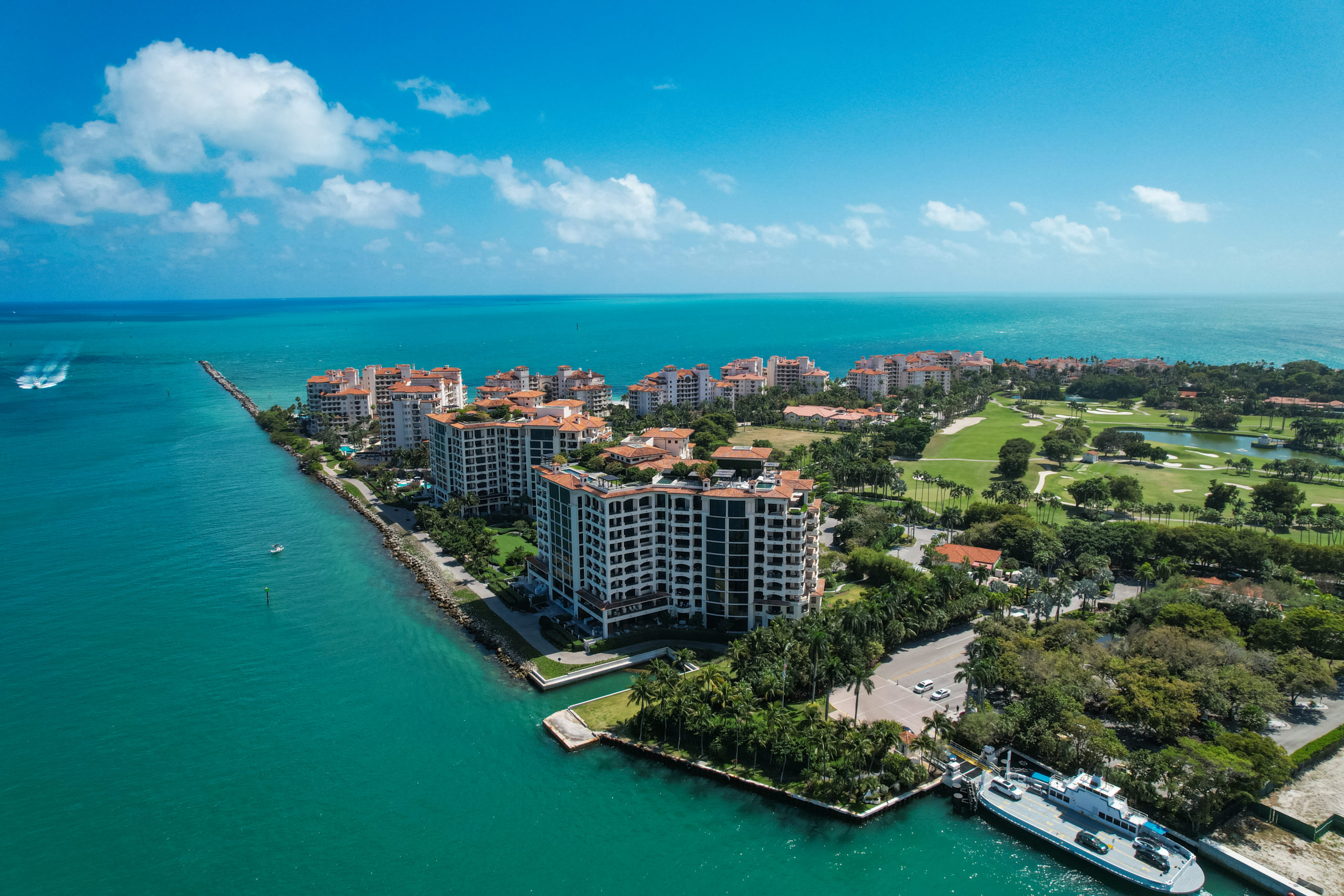 Accessibility, Security and Privacy: Key Biscayne Vs Fisher Island
Key Biscayne is located on a barrier island just across the Rickenbacker Causeway from Miami (Just off Brickell/Coconut Grove). The Island measures 1,092 Acre (1.7 Sq Mile or 4.42km2) and is home to approximately 15,000 residents. Key Biscayne can be reached by car via the Rickenbacker Causeway or by boat. Everyone can enter the island, there is no guard-gated entrance and many places are public.
From the start of the Rickenbacker Causeway to the middle of the Island (The Ritz Carlton Hotel was taken as a point of reference) it will take you 14 min by car with normal traffic.
Fisher Island is also a barrier island, located just south of South Beach, situated on the Government Cut where the Biscayne Bay meets the Atlantic Ocean. The resort community measures 216 Acre (0.3375 Sq Mile or 0.874121 km2) and is home to around 700 – 800 families, most using the island as a second or third home. While in the past only 10% of Fisher Island's residents called the resort community its primary residence, nowadays we see a shift with more year-round inhabitants. The island is only accessible via boat/yacht or the Fisher Island Ferry since there are no roads to Fisher Island. The heavily-secured ferry can only be accessed by residents, guests of residents or hotel guests, the island cannot be accessed by outsiders without an invitation.
The ferry leaves every 5 minutes and takes around 7 minutes to arrive. Ferries are available all year round. New ferries are expected soon with more capacity and commercial traffic will be separated from residents' transport. Ultra-luxury condo Palazzo della Luna on Fisher Island is even offering a private boat for residents to leave the island.
Real Estate Options and Prices: Key Biscayne Vs Fisher Island
Key Biscayne is a market for single-family homes and condos. Key Biscayne homes for sale start selling at approximately $1.2M for dry lot homes and at $4M for waterfront homes. Although some homes are located on very large lots, most lots range between 7,500 SF and 12,000 SF.  Waterfront homes on the island are very desired by boaters, as these homes offer easy and direct access to the open ocean. Another reason why Key Biscayne is desired is because of the excellent a-rated public school on the island. In previous years Key Biscayne saw a large price gap with other desired areas such as Coral Gables and Coconut Grove, but with recent price corrections on the island this gap is now more bridged. Key Biscayne homes are still slightly higher priced than counterparts in Coconut Grove and Coral Gables, but with the excellent public school the area may keep its competitive advantage, allowing for a higher price per SF.
The condos on Key Biscayne are slightly dated. Besides Oceana Key Biscayne, they island didn't see any new condos in the last 14 years! For those who want to live near the beach and don't mind an older building and a unit that needs upgrading, this market will offer some great opportunities. For buyers looking for true luxury, there is limited choice with Oceana Key Biscayne being the only option.
Fisher Island's real estate market is dominated by condos. Fisher Island offers only 8 homes, which aren't waterfront. Most of Fisher Island's condos for sale offer a good amount of SF, with 3,000+ sf and 3+ bedrooms. Many buyers of Fisher Island buy a condo here, as they feel it is the perfect replacement for a single-family home, but with more security. You will notice that all Fisher Island condos are built in the same style in conformity with Fisher Island's construction codes. Fisher Island condos start selling at $1.2M, although most Fisher Island condos are in the multi-million dollar range.
Download the Fisher Island Presentation
Fisher Island is home to two brand new construction projects: Palazzo del Sol and Palazzo della Luna, both offering the highest standards in finishes, 3+ bedrooms and 3,700 SF or more of interior SF.  These two ultra-luxury condos will be delivered in 2019 and belong to Miami's top 10 luxury condos.
Self-Sustainability and Schools: Key Biscayne Vs Fisher Island
It is nice to be disconnected, but how often does one need to go to the main land? One does not need to leave Key Biscayne for daily activities. The island offers a CVS and several supermarkets such as Winn-Dixie and The Golden Hog, a gourmet market for imported goods. There are several banks, a post office, marinas, several restaurants, parks, beaches, a fire rescue department and (urgent care) medical facilities.
For families with children Key Biscayne offers several schools including St Agnes private school (Grades Pk- 8), the public and A-rated Key Biscayne K-8 Center (Grades Pk- 8) and public, magnet school Mast Academy, which is also A-rated and serves grades 7 to 12.
When it comes to everyday needs on Fisher Island, one has access to a small bank, a post office, a grocery store, several dining facilities, a fire rescue station and emergency medical services. The island is also home to several playgrounds for kids, marinas and beaches. The island has no pharmacy however and although the supermarket offers a good amount of products, the variety of products is not as wide as on the mainland.
For children, there is a private accredited day school on Fisher Island; Fisher Island Day School is A-Rated and serves grades PK till grade 8.
Boater's Paradise: Key Biscayne Vs Fisher Island
Key Biscayne offers many homes with a boat dock,  so for those who want to dock their boat in front of their residence, this can be an ideal option. None of the Key Biscayne condos offer a private marina. The island does offer several public marina's such as Rickenbacker Marina, The Key Biscayne Yacht Club Marina and the Crandon Marina
Rickenbacker Marina, is a 600 slip, full service, dry and wet storage marine facility with fuel dock facilities, onsite marine retail store complete with any and all of your boating needs, fine restaurants with in walking distance, 24 hour security as well as digital surveillance cameras recording at times, certified & insured mechanics professionals and parts and service dealership all located onsite. They also offer boat charters for fishing or cruising
The Key Biscayne Yacht Club Marina offers 100 slips from 20 to 60 feet with amenities (water, ice, sewage pump), Dry slips for smaller craft, Two launch ramps, Hoist for boats up to 6,000 lbs., Courtesy docks for stays under two hours (located by the seawall), O-rings for short-term berths are close by and Fuel dock dispensing Rec 90 and Diesel.
Fisher Island offers two surge-proof marinas with over 100 slips, including one deep water marina. None of the condos offer an on-site marina, but Fisher Island does offer one residents-only marina and one deep-water marina accommodating yachts up to 250 feet. The marina also offers a dock-master store and a seaplane ramp. Marina slips are available for sale or for rent and there are yacht and fishing charters available. Fisher Island's brand new luxury condo Palazzo della Luna will even have a boat available to transport residents to their desired destination within Miami.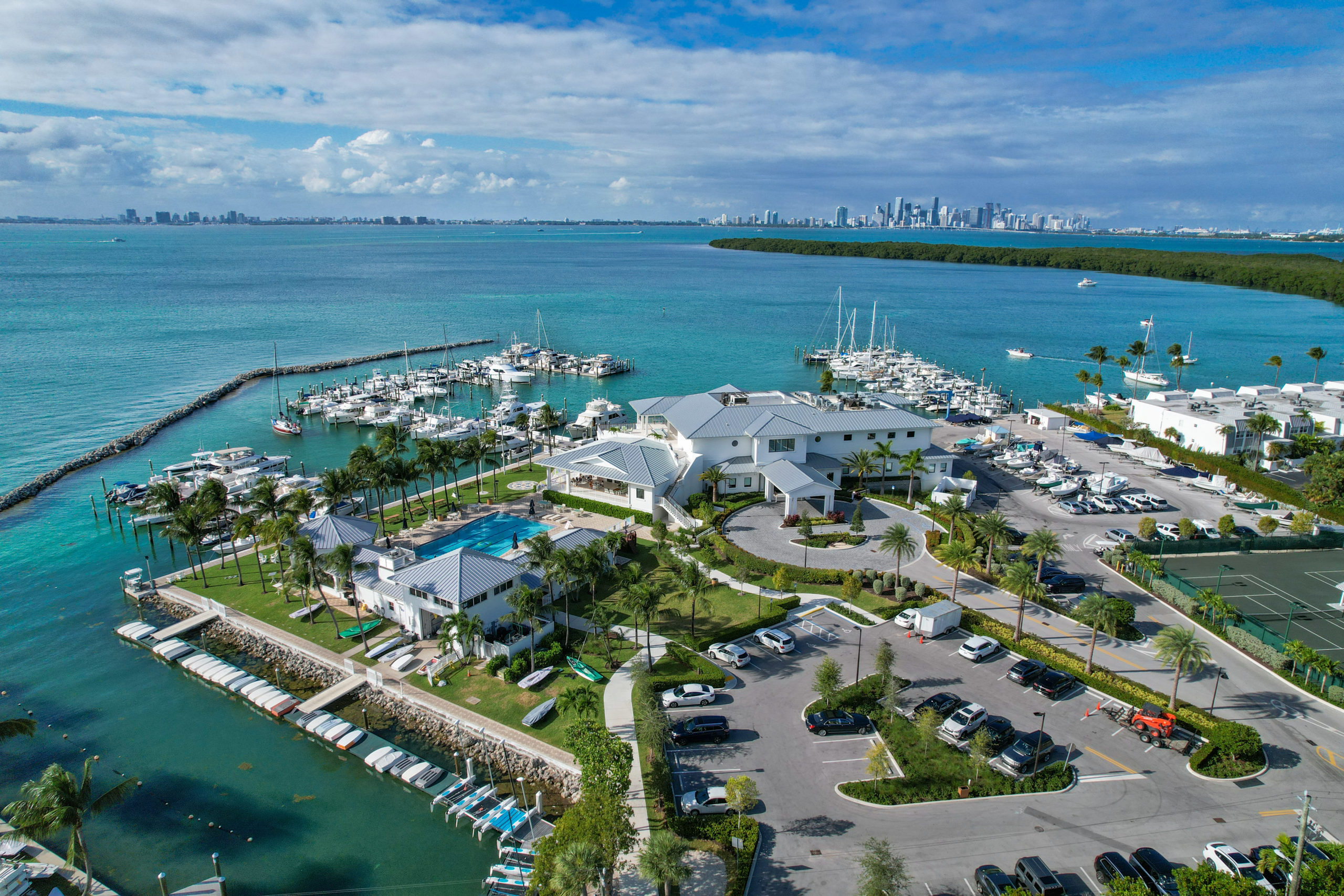 Key Biscayne Island's Rickenbacker Marina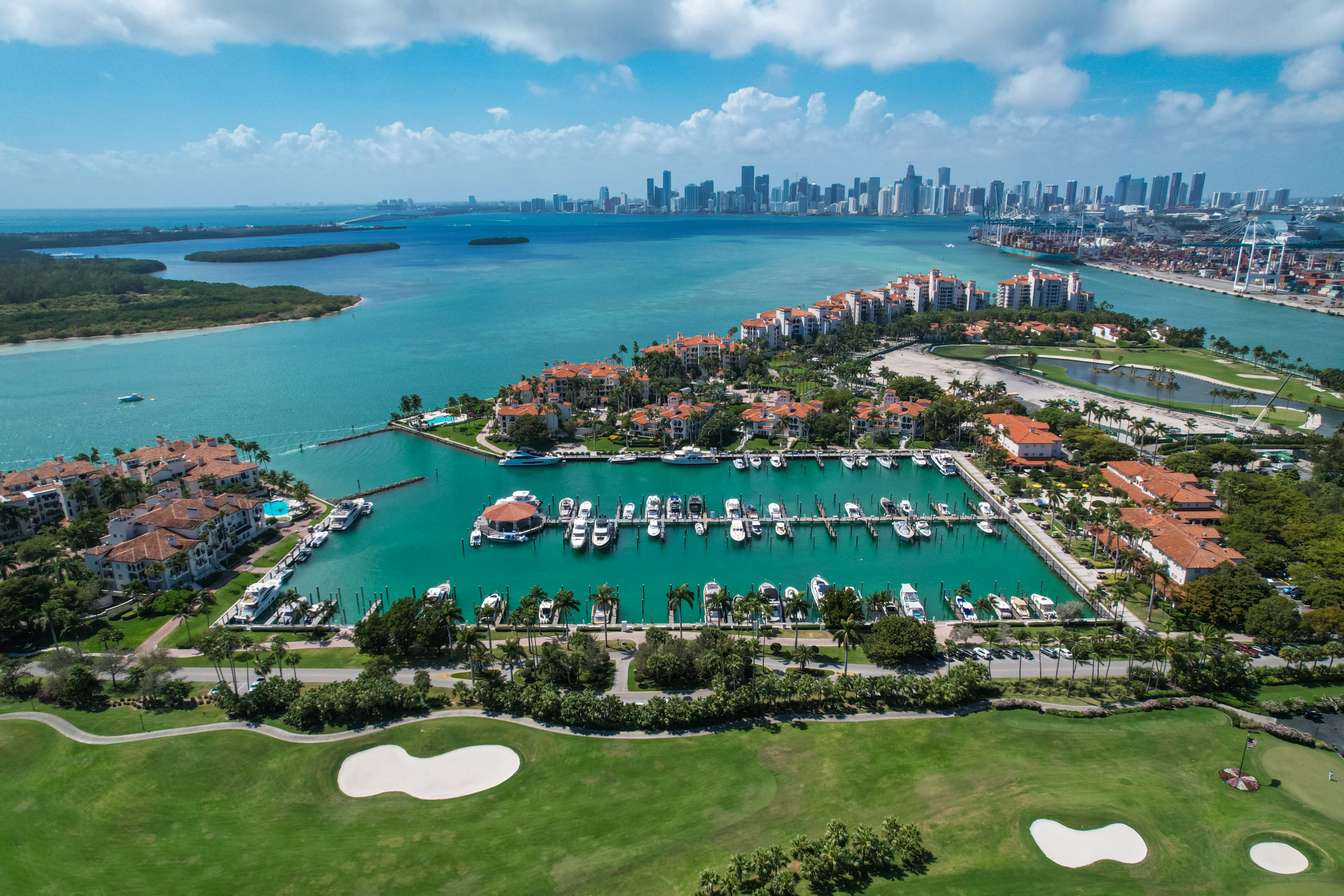 One of the two Private Marinas at Fisher Island
Island Amenities: Key Biscayne Vs Fisher Island
Most amenities from Key Biscayne will be dependent on the condo you live in. The island itself is not managed by an association like Fisher Island (for which you pay HOA) and therefore does not offer actual amenities. There are several great public activities though such as Crandon Park, several public beaches, the Crandon tennis courts (26 courts, including 13 that are lighted. Lessons are offered, reservations are accepted and the courts are wheel-chair accessible), Crandon Golf (a championship 18-hole golf course), marinas, restaurants & bars and a community center.
Besides the individual condo amenities and services, Fisher Island offers a myriad of island amenities.
The island is home to a Par 35, nine-hole championship golf course by P.B. Dye with a Golf Club house with a pro shop. There are also 18 tennis courts with 8 professional professors. Fisher Island's Spa Internazionale is the premier full-service spa in Miami. Housed in a 24,000-square foot facility offering a full range of rejuvenating and indulgent treatments to promote relaxation, anti-ageing and beautification. Spa Internazionale is also home to an extensive "wet area", including a lap pool, hot and cold plunge pools, Roman waterfall, steam rooms and an infrared sauna. Perfect for preparing for a special night out or simply as part of one's regular routine, the full service salon offers a complete set of services, from hairstyling to skin and nail care.
The island also comes with private beaches and a beach club with imported Bahamian white sand, seaside pavilions with beach attendant service and a casual beachside restaurant.
For those who like to work from the island, there are meeting facilities. Furthermore there are 8 restaurants or dining options on the island and finally we have the Vanderbilt Mansion, a historic 1936 Mediterranean mansion with a lounge and Piano Bar, fine dining options, a library, a Drawing room and salon, a grand ballroom available for club and private functions, snooker and billiards and dining room for equity members only and a heated saltwater pool with attendant service.
On Key Biscayne the level of amenities depend on the condo you are buying into
Fisher Island offers many amenities such as a Golf Course, Tennis Courts and Private Beaches
Please fill in your details and David Siddons will contact you

Subscribe!
Get uninterrupted access to our entire articles and blogs database.
Get our

Newsletter

No Thanks
Get the latest news from Miami Real Estate News
Email to a Friend
Recomend this to a friend, just enter their email below.
Your email was sent successfully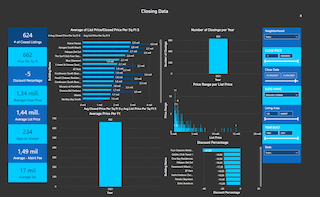 COMPARE WITH CONDOGEEKS

Meet our Team