The Villas at The Ritz Carlton Residences Miami Beach | Ritz Carlton Branded Waterfront Homes in Miami Beach
The Ritz Carlton Residences Miami Beach is now offering Waterfront Homes
The Ritz Carlton Residences in Miami Beach are offering 15 unique villas (8 waterfront and 7 dry lot homes) designed by Piero Lissoni. Located at 4701 Meridian Avenue in Miami Beach these waterfront homes will offer 3,4 and 5 bedroom layouts, ranging from 3,263 to 4,643 interior SF on 7,000 to 10,000 SF lots.  The homes are scheduled for delivery in Q2 of 2022.
This is really a project for those that want the best of two worlds; A luxury waterfront home, but with the amenities and services of a 5 star condo. The project allows you to enjoy single-family home life with a maintenance-free lifestyle, because these services are included with the association dues. This means your private pool, backyard, landscaping and private dock are all being maintained by the association. Furthermore, insurances for wind, flood and hurricane are included in the HOA fees as well. Although several Miami condo projects offer townhomes, none of them offer actual single-family homes on the water, with the services of one of the world's most exclusive hotel brands. This is a truly unique concept and we can't wait to see how fast these will sell. The residences will be developed by GFI Development Company and Cheoff Levy and Fishman is the architect firm behind these homes. Below we are sharing the very fist round of information for the Villas at The Ritz-Carlton Residences. This is very basic information as we are waiting for renderings and further details.
The Ritz Carlton Residences in Miami Beach with on the right hand side of this rendering the location of the waterfront Villas at the Ritz Carlton Residences Miami Beach
Features of the Villas at the Ritz Carlton Residences in Miami Beach
Custom Two-Story Residence Designed by Piero Lissoni
Waterfront Villas With Private Dockages
Air Conditioned Two Car Garage
Private Pool
Variable Refrigerant Flow HVAC System
Lualdi Solid-Core Oversized Doors
Expansive Hurricane Resistant Windows and Doors
Laundry Room With Electrolux Front-Loading Washer
and Dryer
Fenced Private Yard
Piero Lissoni Custom-Designed Kitchens
Boffi Kitchen by Lissoni
Expansive Stone Countertops
Gaggenau Built-in Fully Integrated Side-by-side
Refrigerator and Freezer
Gaggenau Gas Cook Top
Elica Range Hood
Gaggenau Microwave Oven
Gaggenau Stainless-Steel Wall Oven
Gaggenau Full-Size Fully Integrated Dishwasher
Gaggenau Wine Cooler
Gaggenau Coffee Maker
Fantini Plumbing Fixtures
The Master Bathrooms
Lissoni Designed Bathroom
Fantini Fixtures
Stone Floors and Walls
Oversized Glass-Enclosed Rain Shower
Soaking Tub
Residential Amenities at the Villas at the Ritz Carlton Residences
Tropically Landscaped Half-Acre, Roof-Top Pool Deck with Stunning Views of Miami Beach, Downtown Miami and Biscayne Bay
Private Frauscher Day Yacht
Private Residents' House Car
Private Boat Dockages
Beach Concierge Services for Beach Club Access
Two 24-Hour Attended Lobbies
24-Hour Valet Parking Service
Waterfront Social Room with Bar, Catering Kitchen and
State-of-the-Art Entertainment System
Expansive Infinity-Edge Pool with Waterfall
Spacious Private Poolside Cabanas
Whirlpool Spa
Poolside Grille Restaurant
Private BBQ/Dining Area
Meditation Garden
Club Room with Bar, Multi-Sport Simulator and
Pool Table
Cinema-Style Screening Room
On-site Spa with Steam Room, Sauna and Treatment Suite
State-of-the-Art Fitness Center
Indoor & Outdoor Yoga Studios
Boardroom/Library
Art Studio
Kids' Room
Carwash Facilities
Pet Grooming Room
As part of real estate ownership at The Ritz-Carlton Residences, Miami Beach, the knowledgeable and experienced concierge team is available to assist with personal arrangements.
The Site Map of the Villas at the Ritz Carlton Residences Miami Beach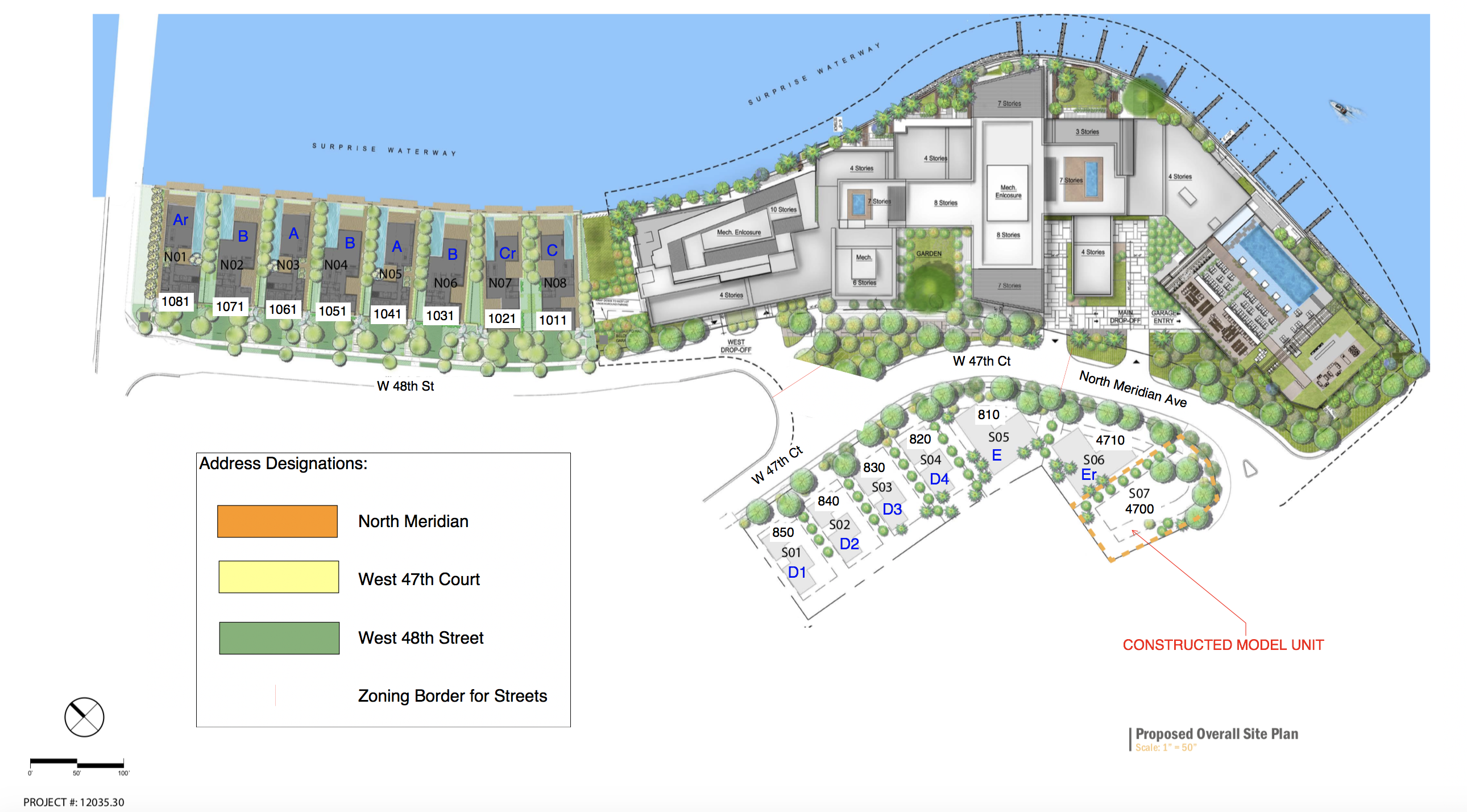 The location of the villas at the Ritz Carlton Residences in Miami Beach offering both dry lot as well as waterfront homes
The Prices and Price Comparisons
Preliminary prices show that dry lot homes will be marketed for approx. $4M to $5M or about $850 to $950 per SF if you take the garage and the balcony/decks into account. If you just look at interior SF (which is common) than the price per SF ranges between $1,320 and $1,520 per SF. The waterfront homes will be listed for $6M to $7.5M and this includes the dock. With 4,300/4,600 SF of interior space the listing price will be $1,400 to $1620 per SF. (Prices are subject to change)
Comparing this to closed sales of newer Miami Beach waterfront homes
In the last 2 years, 3 newer homes sold, two of which were located on Prairie Ave. Both were built in 2018 by the same architect as the Villas. These 6,000 /7,000 Sf waterfront homes offer a dock and are located on a 12,000 SF lot. They sold respectively for $6.7M ($978 per SF) and $7M ($1,112 per SF).  5191 Pine Tree Drive sold for $6.3M ($1,080 per SF) also including a dock. This 5,829 SF home is located on a 12,000 SF lot and was built in 2016. The listing prices of the Ritz Carlton villas are in line with these sales prices, although these properties are larger and located on larger lots. Today's market however is very different than the market in the last 2 years. Buyers are screaming for waterfront homes in desired areas of Miami Beach and prices are increasing.
Looking at brand new (2020 or more recent) waterfront homes that are currently for sale on the beach we see that homes start selling around $5M, but not in the more desired areas of La Gorce and Nautilus. The brand new waterfront homes in the most desired areas start selling just above $10M (Asking prices) or $2,000 per SF! In the area the project is located they currently start selling at $15M.
This project offers the opportunity to buy a Miami Beach waterfront home below the $10M mark in one of Miami's most desired neighborhoods. Not only does the project provide you with great views, amenities and services it will also keep up your garden, dock and backyard. It really is a perfect combination. Ps: The project hasn't officially launched and already sold 3 homes!