The Best South Florida Beachfront Homes for Sale
Everything you need to know about beachfront homes for sale in South Florida
Have you ever imagined walking out your backdoor and stepping onto a sandy beach? Finding the right beachfront property can be challenging due to limited available inventory and higher price points. That said, once you find the perfect beachfront home you'll be living in paradise. In this blog, the David Siddons Group will examine beachfront living in South Florida and review some things you should know. This blog covers everything from Miami beachfront homes for sale all the way up to Vero Beach beachfront homes for sale. As always, call us with any questions regarding buying and selling beachfront property.
Our Featured South Florida Beachfront Homes for Sale
640 Reef Road in Vero Beach. This Gated West Indies-inspired 5-bedroom smart house offers 8.200 SF of living space with ample ocean views. Well elevated & situated on a 1+-acre lot with 104'+/- ocean frontage. Safe & secure with steel-reinforced concrete block construction, impact windows/doors & a camera security system.
1744 S Ocean Blvd in Palm Beach. One of the most unique oceanfront homes for sale in South Florida and the only "ocean to lake" estate encompassing almost two acres currently available for sale on Palm Beach Island. Sitting atop one of the highest elevations, this contemporary residence has been masterfully created to capture the mesmerizing views of the Atlantic Ocean and the intracoastal waterway.
3056 N Atlantic Blvd in Fort Lauderdale is tagged as one of the best South Florida beachfront homes for sale. Malibu Modern architecture meets the incredible oceanfront of Fort Lauderdale beach. This 6,400 SF home offers 5 bedrooms 
7833 Atlantic Way in Miami Beach. A spectacular brand new modern construction in gated Oceanfront community. Amazing tri-level smart-home features stunning direct oceanfront views to the beach & Atlantic Ocean. One of the most unique Miami Beach oceanfront homes for sale.
Beach Erosion and Nourishment
Beaches vary and the choice of beach can be as important as your choice of a home. Several beaches in South Florida made the top 20 list for the state including Fort Lauderdale Beach, South Beach in Miami & Delray Beach to name a few. Things to consider include public access to the beach and whether the beach is "accreting", (the natural process of beach growth) or prone to erosion. If the beach is eroding don't despair. Many municipalities provide beach "nourishment" to replenish any erosion that naturally occurs. This is important information to know before purchasing. Below is a video showing the Miami Beach before and after nourishment.
The process of beach nourishments protects Miami Beach Oceanfront homes for sale, which are directly located on the sand.
Important Considerations when purchasing a beachfront home in South Florida
Now let's take a look at the different elevations along the South Florida coastline. In the chart below it details the different elevations which range from 0 feet to 13 feet. This is an important consideration when purchasing any waterfront property. New guidelines have increased seawall height requirements from 3′ to 5′ in the coming years. Any elevation below 5′ could be susceptible to flooding. We strongly advise our buyers to understand elevations prior to a purchase decision. This chart below also details the average price per square foot for currently listed beachfront properties by neighborhood.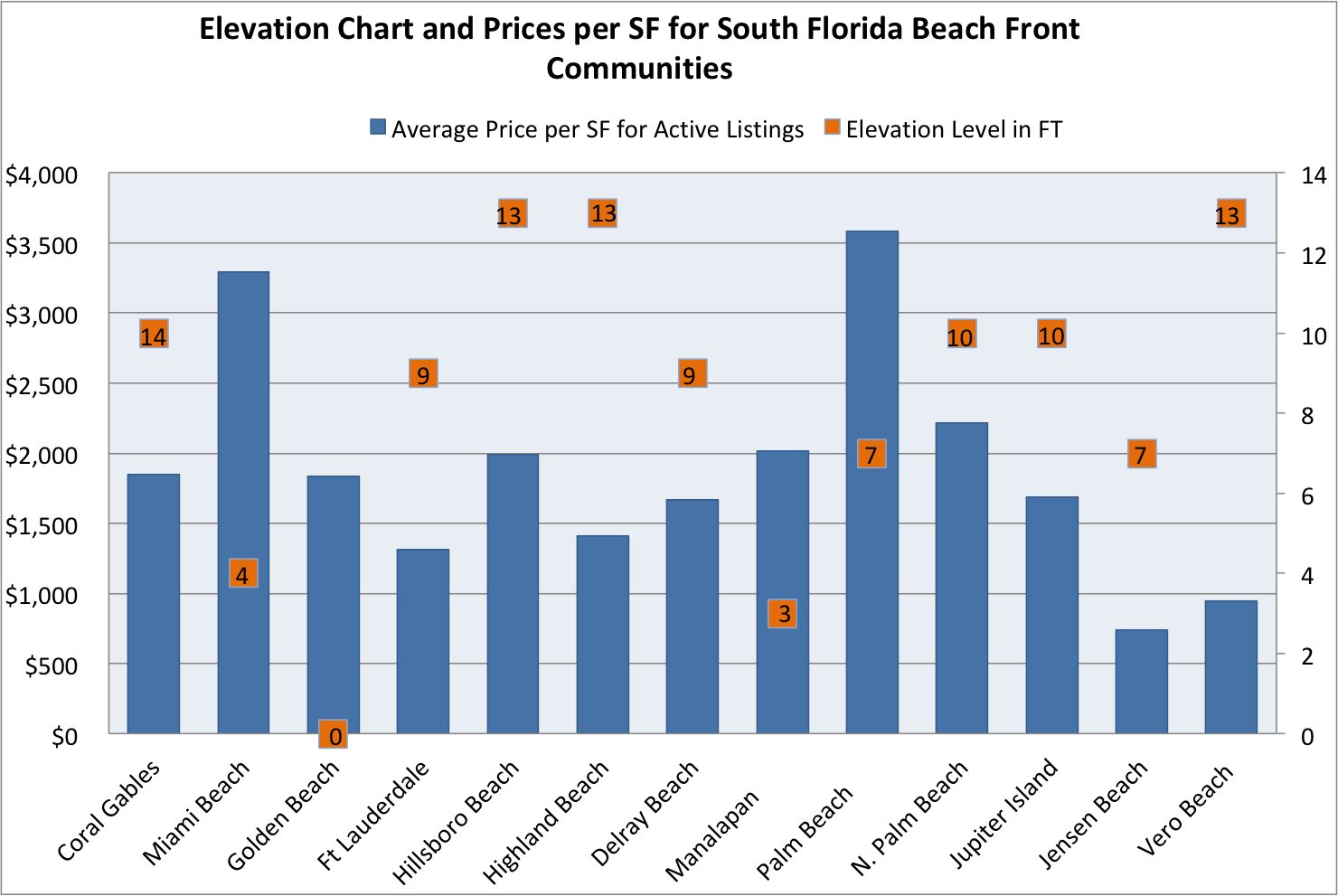 Some additional considerations when seeking a beachfront home include construction details such as: How many Auger Pilings were used to secure the structure?  Is there a generator? Does the property have a propane tank? Are the windows impact and do they filter the UV rays? What type of roofing material was used? Was waterproof paint used? Does the home come equipped with electric shutters or panels? When you work with the David Siddons Group we will get you the answers to these questions and more.
Now relax and let us find you a beachfront paradise to call your own.