Aventura Condos – What are the Best Condos to Invest in?
Prices of Aventura condos have stabilized as inventory increases in Aventura.
Looking for a luxury Aventura condo with expansive floor-plans, open kitchens in large living areas and two to four bedrooms plus separate dens? The best value per SF in a 5 star amenity rich condo in Aventura is Peninsula I and Peninsula II located right in the entrance to Williams Island. The location is superb! There are 50 unit in the market out of which 18 units have 4 bedrooms /4.5 bathrooms plus a den in approximately 3500 SF. These units have a fantastic floor plan.
Peninsula Condos Aventura
Take advantage of the all time high inventory!
One of my favorite units is Unit 406 at Peninsula II, listed at $1,295,000, fully updated with marble floors and electric shades throughout. If you are looking for a home-like feeling and want a move-in ready unit, this one is a great buy at $365 per SF. If you prefer panoramic water views, love higher floors and prefer to pay for your own upgrades, there are more than a few options also in great value.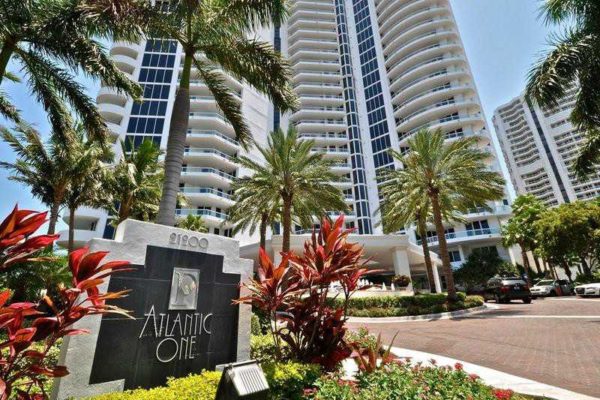 Peninsula I and II are undergoing some renovations which are already paid by mostly the condos reserves. These sister buildings share two state of the art gyms, spas, tennis courts, pools and a numerous amount of social rooms.
If you are looking for a great buy and prefer smaller units but still want a full service 5 star complex, South Tower at the Point and North Tower at the Point are great condos in an excellent price range. There is a variety of 1,2 and 3 bedroom units with less than 2,000 SF ranging from $335,000 to $975,000. Also at The Point we find 3 additional towers, Atlantic I, Atlantic II, Atlantic III  and a group of 60 Town homes encircled by the water ways. Its location is very centric as it sits right in between the city of Aventura and Hallandale Beach. You are a few blocks away from the Aventura Mall and a block away from Gulfstream Park.
Their state of the art gym has recently been renovated so no need to belong to an outside gym. You may also play a tennis match, get a massage, go to the beauty parlor and enjoy a nice lunch without having to get into your car. There is a new development at walking distance called Aventura Parksquare that is going vertical at this time where you will be able to wine, dine and shop. Much is going on in Aventura, the city of excellence!