Coral Gables Real Estate News and Market Trends for 2018
A Review of the Coral Gables Real Estate Market in 2017 and Coral Gables Real Estate Outlook for 2018!
We analyze how the Coral Gables real estate market performed in 2017 and we will discuss our predictions for 2018 with useful advice for buyers and sellers. By looking at market indictors, the real estate business cycle and our daily "out-in-the-field" experience we will try to draft an outlook for 2018. This report focusses only on the Coral Gables market and divides the market into 5 different price ranges to make it extremely actionable for both sellers and buyers.
In the table above we provide you with the sales prices per SF for Coral Gables homes in 2017 and we compare these prices with previous years. Please note that for the two most exclusive categories we provided data for homes on dry lots as well as for homes on waterfront lots. The Coral Gables market didn't see large price jumps in the last few years, which results in a more stable market. Compared to other Miami markets we see less price corrections in Coral Gables. Most of the changes are seen in 2017 and mainly in the luxury markets
The two tables below indicate the months of inventory and this might be the most important indicator in the real estate industry.  Months of inventory show you the supply and demand relationship which is key in predicting future price changes. The Coral Gables market for homes priced between $500K and $1,5M is experiencing a sellers market. There is more demand than supply. The market of homes between $1,5M and $2M is fluctuating between a sellers, neutral and buyers market while the luxury end of the market is seeing more of a buyers market. We are also seeing a neutral market for the waterfront homes between $2M and $3M. As this is the entrance level for waterfront homes, the demand is high.
What does sellers or buyers market mean?
A sellers market (With 6 or less months of inventory – and 12 or less months in the Luxury $1M+ market) means that there is more demand than supply, mostly leading to an increase in prices and providing sellers with an advantage.
A buyers market (With 9 or more months of inventory – and 18 or less months in the Luxury $1M+ market) means that there is more supply than demand. Prices are likely to decrease in order to absorb the supply.
A neutral market provides for a perfect balance in which neither party has an advantage and prices are likely to remain stable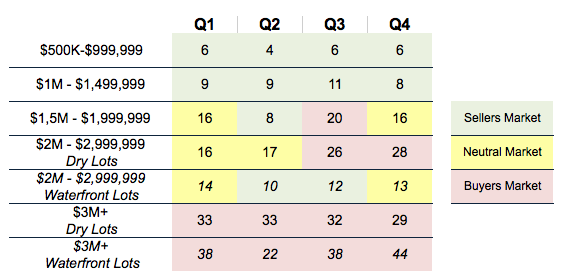 Buying a Coral Gables home in 2018
We are bullish on the Coral Gables real estate market; especially the market up till $1,5M. Values within this range are increasing while inventory levels are still low, indicating there is more room for prices to increase. The $1,5M – $2M market saw a small price decrease in a balanced market, meaning you will be ok investing in this market as long as you stay within the indicated price boundaries. The higher-end of the market ($2M+) is seeing some price adjustments. This can be seen all over Miami as buyers are more price conscious and sellers have been asking above market prices in the last few years. Staying within our suggested price ranges is essential. The table below provides you with an overview of the lowest prices per SF, the average and the highest prices per SF in 2017. This table provides you with an insight as to what you should be offering for a Coral Gables home for sale. For example a dry lot home of $4M that is listed for $750 per SF is overpriced as this is the average sales price for a waterfront home.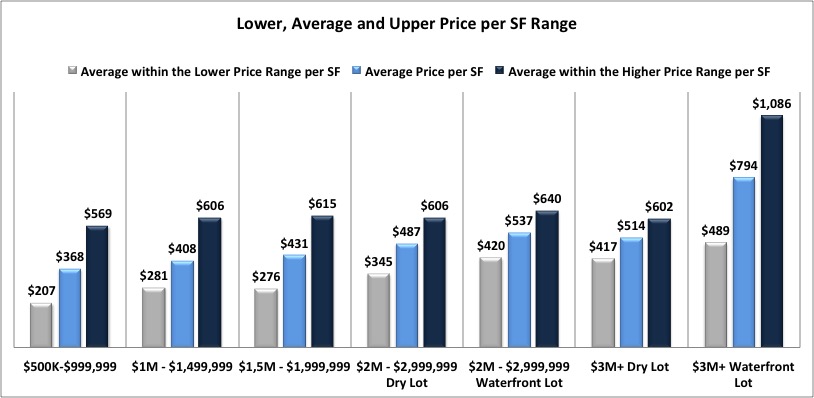 When looking to make an offer one should know the below data. These are the differences in percentage between the original asking price and the sales price. You can see that in the last years there was around 8% or 9% negotiability in asking prices.