The 2017 Market Update of Hibiscus Island, Miami
The Real Estate Market for Hibiscus Island Homes in 2017
Hibiscus Island is an exclusive and gated island, ideally located between Downtown Miami and Miami Beach. The island enclave is one of Miami's most desired areas and sees little turn-over of owners.
We decided to deep-dive into Hibiscus Island to show you the latest sales numbers, trends and much more.
For more Miami Real Estate Market Trends and Property values please download the 2017 Miami Real Estate Report
With approximately 150 homes on the island (60% of these homes are located on a waterfront lot) we see very limited sales on the island.
In the last 12 months (October 2016 – October 2017) we saw just 7 properties being sold compared to 4 in the year before. As there is limited sales activity, little statistical meaning can be given to price changes, or any other changes in sales data.
Therefore we are showing you a table that provides you with the main data of the 7 homes that were sold and what they sold for per SF.
Hibiscus Island Homes Sales From Oct '16 – Oct '17
Have a look at what closed in the last 12 months

Sales Prices vs Listing Prices of Hibiscus Island Homes
The below table shows the relationship between the sales prices and listing prices for each sold property.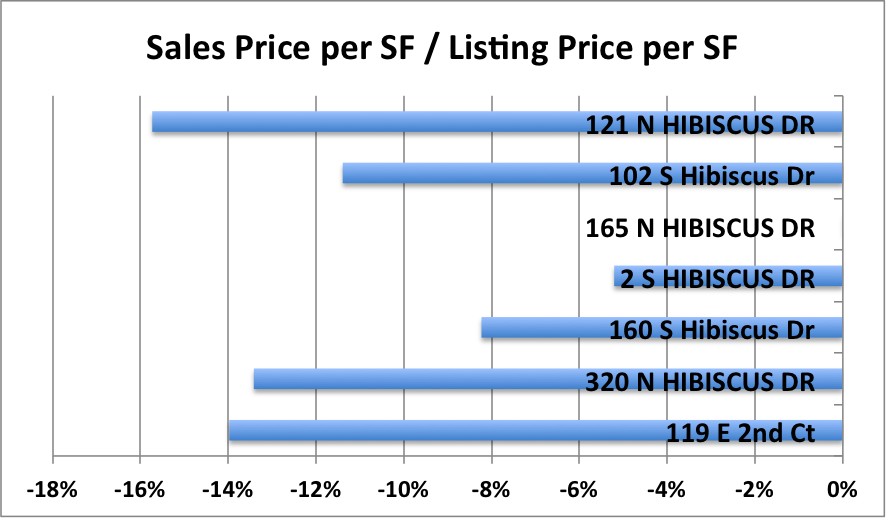 Advice for Buyers of Hibiscus Island Homes
As you can see from the table above, many Hibiscus Island homes are selling far below their asking prices. The average difference between the asking and the sales price is actually 10% with some properties even reaching a 16% discrepancy. In the luxury market (and some other overheated markets with high levels of inventory) I often advice my buyers to disregard asking prices. One should always make a comparative market analysis to see the true market value of a property before making an offer. All too often we see high sales prices per SF being paid for properties that do not have the finishes to justify that sales price. While sellers are still fishing for those really high sales prices per SF, the market is already seeing some price corrections and sellers should become aware of the fact that buyers are becoming more and more price conscious and properties priced above market value will not move.
In my 2017 Miami Real Estate report I dedicate a chapter to Miami Beach homes and the price ranges in which one should buy or sell. Download my report or call me directly at +1.305.508.0899 for more information
Advice for Sellers of Hibiscus Island Homes
For those owning a Hibiscus Island home I would advice to stay close to market value in order to sell your property. The market is still seeing a demand, but properties that cannot justify a high dollar per SF wont move. I am expecting a slight price correction in the Miami Beach market, so if you want to sell in the next 24 months, now would be a good moment.
In my 2017 Miami Real Estate report I dedicate a chapter to Miami Beach homes and the price ranges in which one should buy or sell.