The Difference in Single Family Home Prices in Miami's Top Three Residential Areas
The Gables, The Grove and Pinecrest belong to Miami's top 3 most preferred residential areas. They are known to be Miami's safest areas and the areas with the best schools, which makes them extremely attractive for families with children.
Many parents see the location of their children's school as one of the main reasons to pick one area over the other, after all who wants to sit 2 hours per day in a car to bring and pick them up from school. We decided to compare the three areas on home features and home prices.
As always we don't want to generalize the entire market so we compared homes in the $1M-$1,5M market. This is generally speaking the most desired price range for young parents who are looking for single-family homes in the area. The numbers below are taken over the last 6 months of sales.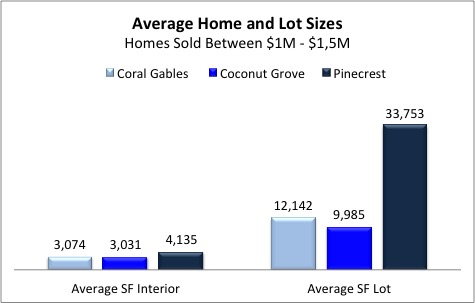 As can be seen from the tables above, Pinecrest homes for sale are the most affordable from all three areas with an average of $312 per SF in the $1M – $1,5M range. Next in line are Coral Gables homes for sale with an average of $393 per SF. Coconut Grove homes for sale top the list with an average sales price per SF of $425.
If we then compare the home and lot sizes we see that Pinecrest offers the largest homes on the most expansive lots. For the same amount of money, Pinecrest offers approximately 35% more home on a lot that is three times bigger than in Coral Gables or Coconut Grove. We also see that the Grove offers the smallest homes on the smallest lots.
For many buyers, Coral Gables and Coconut Grove are more centrally located. Pinecrest's location is ideal for those working down South or those who have children that attend Gulliver or any other top rated school in the Pinecrest area.
A Typical Coral Gables Home that sold in each area in the last 6 months
This home on 4207 Braganza Ave was sold by the David Siddons Group. This 2,564 SF home on a 10,710 SF lot was sold for $536 per SF or $1,375,000