Palazzo della Luna: Is this the Best Luxury Condo in Miami?
This article and our other associated articles will endeavor to answer the question: 'Is this the best Luxury Condo in Miami?' Our analysis of the building will break down the superiority of this building over others and provide enough data and information to help buyers recognize that we are truly analytical experts in this market with the optics that make us an essential partner when looking to buy.
Is Palazzo della Luna the Best Luxury Condo in Miami?
Let's look at the variables for the 'Best Luxury Condo in Miami', and what we score Palazzo della Luna at, along with our observations. As always it is important to recognize the line in the buildings that your looking at, because this can make or break the result.
Finishes: 9/10
The finishes are without a doubt one of the best developer finishes we have seen. Palazzo del Sol was already mind-blowing, but with Palazzo della Luna the developers brought finishes to the next level.  Think of the highest quality of Italian wood floors, Porsche lighting, book-matched marble in the master bathrooms, high ceilings, spacious hall ways etc. This condo is also furniture or move-in ready, which means that buyers do not have to waste time renovating a unit or asking for permissions. They can order their furniture and move in the day after closing. For those who do not want to pick their own furniture, Palazzo della Luna offers furnished models.
Location (proximity to main attractions of Miami): 10/10
We cannot give this anything less than the perfect score. Palazzo della Luna is located on the ultra-private Fisher Island, a small island community just south of South Beach, which can only be reached by ferry, boat or helicopter. Fisher Island is the US' wealthiest zip code and offers the best of ultra-luxury living.
Amenities and Services: 9/10
Palazzo della Luna does not just offer concierge-style services, it provides customized attention and services. Do you want to be greeted in the morning, the staff will greet you, do you want to exit the building with uttermost privacy, you take one of the private exits without seeing any of the other residents. This is a private island community with private amenties such as a residents' beach, two marinas, restaurants, tennis courts, a golf course, an A-rated day school, a supermarket, a spa and much more. Besides this Palazzo della Luna has its own set of amenities and services among which a private, luxurious Vaporetto to bring you to a your favorite restaurant or a friend's home.
Exclusivity: 10/10
I don't easily give 10 out of 10, but for Fisher Island and Palazzo della Luna I gladly make an exception. It cannot get more exclusive than this condo. The island is one of the most exclusive islands in the USA and this condo caters to the lifestyle of those who want a private lifestyle.
Views: 9/10.
Enjoy beautiful bay and ocean views as well as views of South of Fifth. Palazzo della Luna does not offer unobstructed ocean views.
Floor plans: 9/10
Very large floor plans, which can replace a single family home. From 3 bedroom floor plans to 7 bedroom floor plans, Palazzo della Luna caters to large families and does not feel like your average condo. The floor plans offer great flow and lots of light. Some of the floor plans offer extremely large terraces as well.
Walkability: 9/10
Fisher Island and Palazzo della Luna are very walkable, as they are located on a small and private island. You barely see any cars driving around as most residents use golf carts as the preferred way to get around the island.
Value of Palazzo della Luna
At around $2.500 per SF this is one of Miami's priciest luxury condos. The units come furniture ready however, which means no more budget to be allocated to floors, closets, lighting etc.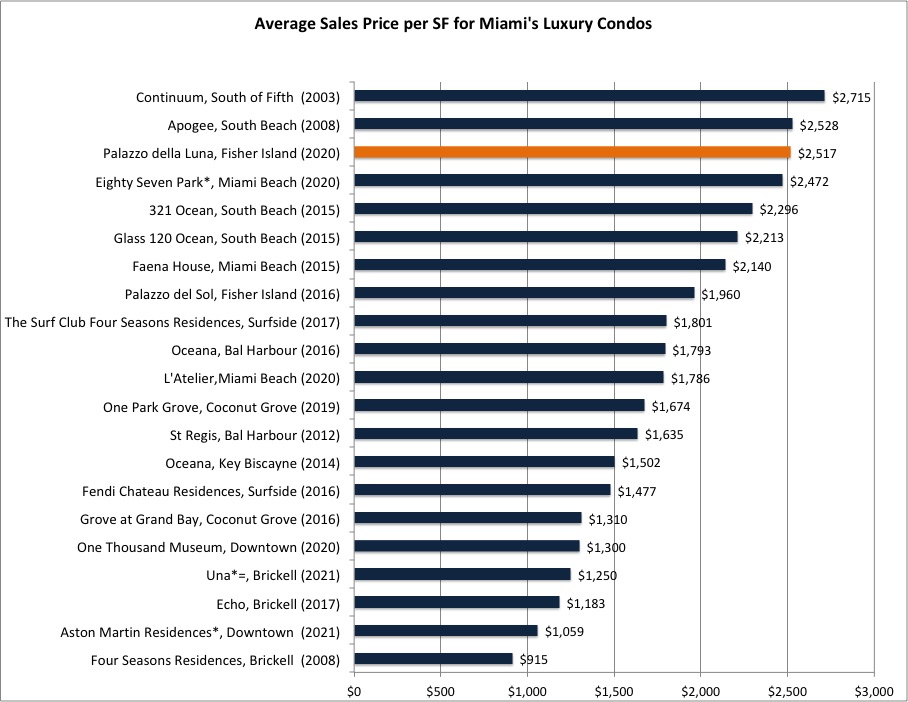 *Average price per SF based on listing prices per SF
Comparing Palazzo della Luna to other Miami Luxury Condos for Sale
The table above is our personal rating of other luxury condos in Miami. We looked at the individual factors as discussed above, while also taking its price point into consideration.
Palazzo della Luna scores 9.3 on this scale. We hold this condo is very high regard as well as the island it is located on. It ranks extremely high on privacy, exclusivity, finishes, amenities and its large floor plans. The only downside might be the lack of units with direct and unobstructed ocean views. Palazzo della Luna sells on average for $2,517 per SF, which means it belongs to some of the pricier condos in all of Miami. As mentioned before the units come completely finished and are move-in ready so there are no hidden costs to finish the unit any further.