Arte Surfside: Is this the Best New Luxury Condo in Miami?
Is Arte Surfside the Best Luxury Condo in Miami?
Arte Surfside was just launched several weeks ago in the first quarter of 2020 and it already sold 3 of the 16 units in their first weeks. This article and our other associated articles will endeavor to answer the question: 'Is this the best Luxury Condo in Miami?' Our analysis of the building will break down the superiority of this building over others and provide enough data and information to help buyers recognize that we are truly analytical experts in this market with the optics that make us an essential partner when looking to buy.
Key Selling Points at Arte Surfside
We always like to look subjectively at new condo projects and compare them with other high-end Miami condos. We look at unique features, and characteristics that are hard to copy such as finishes, views and locations. The end goal is to see whether the condo's features justify its price point.
Below, I listed some of the characteristics that are standing out or are hard(er) to copy
One of the key selling points of this condo is that it is ultra boutique with only 16 units
There is 9 full-time staff members at Arte, which makes it a very service-oriented condo.
The condo is all wrapped in glass ensuring spectacular views over the beach and the waters of the ocean.
There are south east and north east facing units and all units have water views
The seamless connection between inside and outside areas. The system is very visually appealing without the need to step over anything while still serving its purpose of stopping water from coming in. Hard to copy? I would say not really, but nonetheless not something we often see in Miami and therefore unique.
The customized Poliform kitchens are 'NYC-inspired' and come with a gas stove
The gridded window systems create a very secure private feature and resonate with many of the north eastern relocation buyers
The travertine ceilings, walls and soaking tub ensuring a clean palette and again appealing to those northern buyers
All fixtures are exclusively designed by Antonio Citterio
The Value of Surfside Condos for Sale
Surfside is one of Miami's favorite areas for ultra-luxury condo residences. Buyers who are looking for a beachfront residence, but who want to avoid the masses should consider Surfside. The area is also home to ultra-exclusive Fendi Chateau Residences, the Surf Club Four Seasons Residences and Eighty Seven Park (Officially located in Miami Beach, yet a literal step away from Surfside).
In part 1 of our Q1 2020 Miami Real Estate Report we discuss how Surfside and Bal Harbour are one of the hottest neighborhoods for buyers of luxury condos in Miami. In Q4 of 2019 and Q1 of 2020 17 condos sold in the $5M+ range. From these 17 more than 50% happened in Surfside and Bal Harbour (6 sold in Surfside, 3 in Bal Harbour).This does not account for developer sales at the Surf Club Four Seasons Residences. This is significantly more than other notable luxury neighborhoods such as Miami Beach, Key Biscayne or South of Fifth.
The Best Arte Surfside Units for Sale | The Arte Surfside Penthouse Collection
Arte in Surfside offers two penthouses:
The lower penthouse is a full floor unit, which offers 4 bedrooms, 5.5 bathrooms, 5,067 SF of interior space and 2,100 SF of exterior space. The unit comes with 360 degree views. Asking price is $20M (Toured in the video)
The upper penthouse is triplex unit with 2 interior levels and a roof top terrace. The unit comes with 4 bedrooms (Convertible in 5 bedrooms) and 6 bathrooms. The roof top offers a private pool, a summer kitchen and a gorgeous pergola. Asking price is $40M
Comparing Arte Surfside to other Miami Luxury Condos for Sale
At around $2,500 per SF (that excludes the Penthouse, which are asking $3,900+ per SF) this is one of Miami's priciest condo projects. Condos that are close to this price point, which are also setting the precedent as the new luxury buildings are Eighty Seven Park ($2,472 per SF), The Surf Club Four Seasons ($1,801 per SF), 321 Ocean ($2,296 per SF), Glass ($2,213 per SF), Apogee ($2,528 per SF) and Faena House ($2,140 per SF).
Do you want to know whether Arte in Surfside is worth the money and whether it can compete as an ultra-luxury condo in Miami's top echelon? Pick up the phone and call me at 305.508.0899
*Average price per SF based on listing prices per SF
Please fill in your details and David Siddons will contact you

Subscribe!
Get uninterrupted access to our entire articles and blogs database.
Get our

Newsletter

No Thanks
Get the latest news from Miami Real Estate News
Email to a Friend
Recomend this to a friend, just enter their email below.
Your email was sent successfully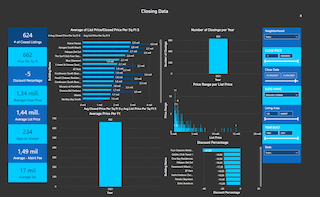 COMPARE WITH CONDOGEEKS

Meet our Team