Miami Beach Luxury Real Estate Market Report 2018
Luxury Homes for Sale in Miami Beach | The 2018 Market Analysis
Click here to see all the other videos for our 2018 Miami Luxury Real Estate Report (Videos for Coral Gables, Coconut Grove, Brickell, and Pinecrest)
A Buyers Market
Miami Beach inventory continues to rise and more options than ever before are out there. This makes it by definition a buyers market. Despite an improved price per SF through the first quarter of 2018, the increasing supply of inventory gives buyers much more choices to shop around before actually pulling the trigger. This will very likely impact the price per SF in the next portion of 2018.
With an improved price per sqft off the 2016/1017 numbers, but with a large supply of inventory, now seems like a good time to make aggressive offers and get a good deal!
Miami Beach luxury homes saw their prices peak in August 2015 followed by an increase in inventory and much needed price corrections on a solid number of expensive homes that were overpriced and sat outside the parameters of the market. Today's buyers are more price conscious and do not want to pay over-market prices. The properties that are priced at a premium have trouble selling, and sellers are noticing now that buyers are less eager to pull the trigger with so much inventory available, which makes for a more apprehensive buyers market.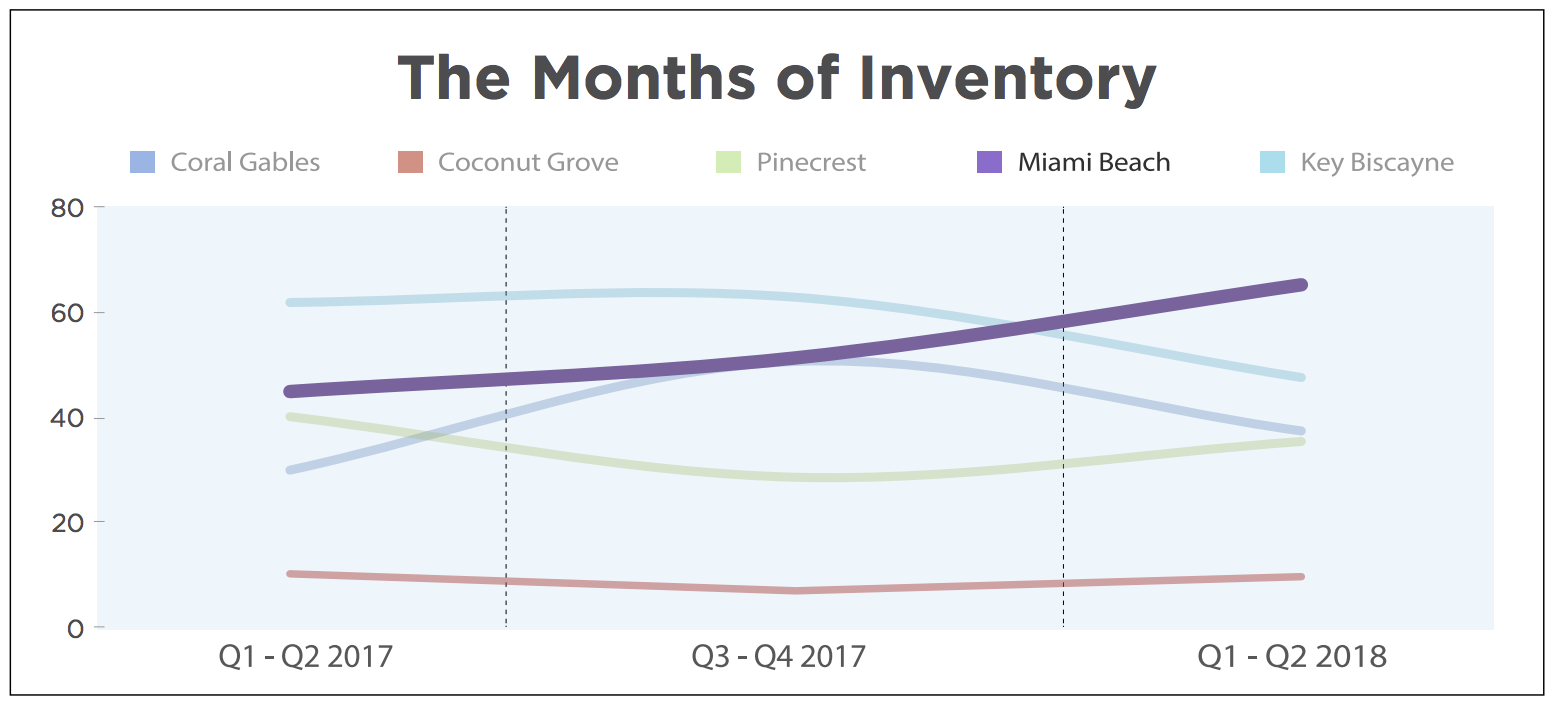 Good product sells as long as it is priced right
The Miami Beach luxury single family market certainly makes up the largest percentage of sales across Miami at 36%. This is however down from last year when it accounted for 46% of sales of all Miami Luxury sales (the increase in Coral Gables luxury homes took some of the majority of this market share difference). With all that said and done there are a lot of options. Over $3m+ you will find 110 options, this is covering the area from 17th and Collins all the way up to North Beach, which starts at 71st and Collins (this does not include Venetian Island properties).
As of the beginning of July there are 37 homes that are priced between $3m – $5m, 36 homes priced between $5m and $10m and 37 homes over $10m. This makes for a freakishly balanced spread across the luxury sector! Not top heavy or bottom heavy but spread evenly. Over 70% of the recent sales in the luxury end of the market are waterfront properties, the largest percentage of which were sold between the $3 mil and $6mil.
The properties priced at the lower or mid range per SF, are seeing a slight upward trajectory with accelerated sales. This year we are seeing more $10M+ properties under pending sales than last year. This is not because of any particular new capital injection, but merely because sellers are finally selling at the numbers that are right for the market. Good product sells as long as it is priced right, but lets not forget that 60 months of inventory is a solid 3 times that of what a balanced market would typically display. Once the price corrects with some of the speculative luxury product, we will see much more product move and inventory will be absorbed as there feels to be no lack of buyers waiting in the wings