Gated Communities in Miami – Gables by the Sea
The Gated Community of Gables by the Sea – A Complete Review
Gables by the Sea is an exclusive and gated community in Miami or more specifically, in Coral Gables. Residents of the waterfront Gables by the Sea enjoy 24/7 security, a family-friendly atmosphere and a boater's lifestyle. Many Gables by the Sea homes are located on small, deep water canals with private boat docks offering access to Biscayne Bay without any bridges on the way. Gables by the Sea is located just minutes from Miami International Airport and the business districts of Coral Gables, Coconut Grove and Brickell. Gables by the Sea is also located near the best Coral Gables Schools.
Gables by the Sea real estate, a gated community in Miami
Gables by the Sea a lot of wealthy families who appreciate the exclusivity, the amenities and the safety. Among some of the common fixtures and amenities found in estates on the scale of Gables by the Sea are boat docks, marble floors, expansive balconies, resort style pool and spas, fireplaces and guest homes. The community also has a playground for children, which adds to the family friendly nature of Gables by the Sea. Also noteworthy are the highly ranked preparatory schools in close proximity to Gables by the Sea.
Gables Estates offers homes starting from $825,000 (lowest sales price in 2015) to $6,500,000.  The average price was $2M or $512 per Sq.Ft.
The homes in Gables Estates are large. Most homes feature 4 or more bedrooms and vary in size between on average 3,500 and 4,000 Sq.Ft. The average home sits on a 12,500 Sq.Ft lot
Gated communities in Miami are in great demand with buyers and see little turnover. The safety aspect, the exclusivity of Miami's gated communities and the proximity to great schools are the main reasons they are in demand with buyers. Because of the scarcity of homes located in a gated community the demand is often higher than the supply, which makes a home in a gated community in Miami an excellent investment.
Below you will find all the data of what home values in the gated community of Gables by the Sea have done over the last few years and other important real estate data interesting for both sellers and buyers.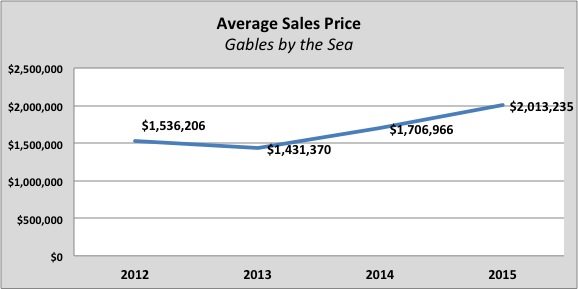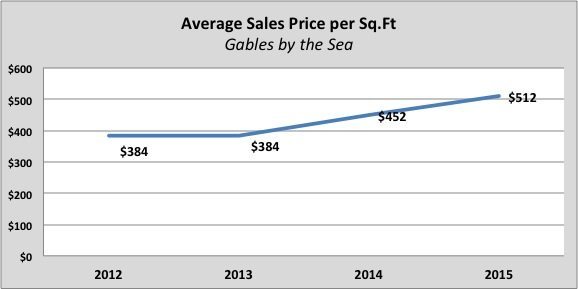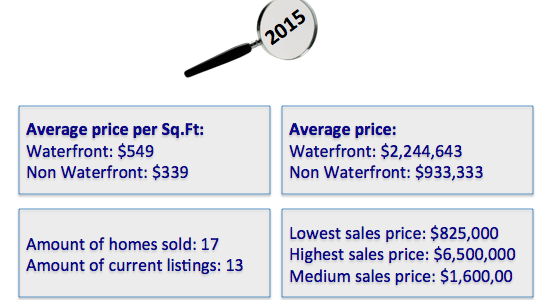 David Siddons
david@siddonsgroup.com | +1 305 508 0899
Meet the team and see our unique insights into the Miami Real Estate Market.
No generalized opinions, we offer an analytical approach.
Preferred agents of First time buyers, Sellers, Investors and Wealth Managers