Coconut Grove Waterfront Homes – A 2016 Market Update
Coconut Grove Waterfront Homes – A Market Update on this Exclusive Coconut Grove Sub-Market
Coconut Grove is a very desired location for real estate investors and families looking for that laid-back yet high-end lifestyle. Coconut Grove real estate is know for its excellent waterfront homes and many people come especially to the Grove for a waterfront property. Compared to Coral Gables, Coconut Grove waterfront homes for sale offer direct bay access without any bridges. This means that homes are either located on the bay or on a canal with quick and easy access to the open bay.
Needless to say Coconut Grove waterfront homes are less affordable than homes on dry lots. Below we provide you with the average sales prices (per Sq.Ft) for Coconut Grove waterfront homes as well as the average of the three lowest and the three highest sales prices per year.
The Average Sales Prices of Waterfront Homes in Coconut Grove
The sales prices have seen a steady increase in recent years. We always prefer to look at sales prices per Sq.Ft to make more equal and reliable comparisons. The lowest and average sales prices have increased steadily while the higher sales prices show a more dynamic incline.
Coconut Grove Waterfront Homes – Where can we find the most exclusive homes?
The most expensive waterfront homes in Coconut Grove are those that are located directly on the open bay compared to those located on a canal.  Other factors that contribute in a higher sales prices are larger lots, gated communities and overall finishes and quality of a home.
Coconut Grove waterfront homes on large lots (20,000 Sq.Ft +) are mostly sold for higher prices than those on smaller lots.Waterfront homes located in a Coconut Grove gated community are also seen as more exclusive, the additional privacy and security makes these communities very desired while the turnover of these homes is limited.
The most
The more affordable waterfront homes in Coconot Grove are often sold against a lower price because they are further away from the open ocean or because they sell for land value. In the last few years many developers snatched older properties from the market against land value and build brand new and ultra-luxurious waterfront mansions.
As can be seen from the overview here below the inventory level of Coconut Grove waterfront homes is rather low which also has a positive effect on price levels
Inventory levels of Coconut Grove waterfront homes
As indicated in the graph, Coconut Grove waterfront homes have experienced a balanced market in recent years. A balanced market means the market is in perfect harmony and neither buyers nor sellers have an advantage. In the second quarter of 2016 we saw an average of 3 months of inventory which means that there is more demand than supply which gives sellers a competitive advantage (seller's market)
Inventory levels of Coconut Grove waterfront homes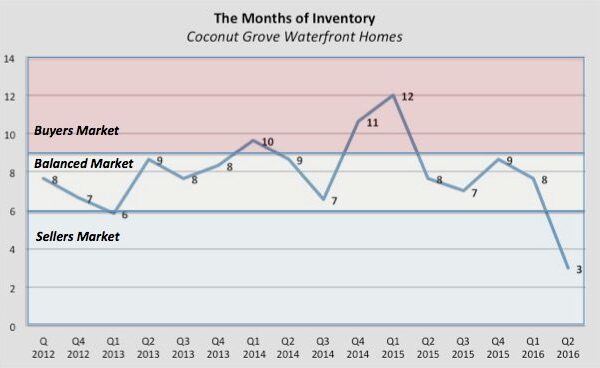 Contact me for all your Miami Real Estate Questions or for an overview of available waterfront listings