The Q1 2020 Miami Real Estate Report: How to Read our Advanced Software for Predictive Analytics
Part 5: Our Advanced Analytical Tools
Welcome to Part 5 of the Q1 2020 Miami Real Estate Report. In this section we explore the tools that myself and my team use to 'Help Clients make better decisions'. We reveal the metrics used in this report to make the narrative and conclusions over what is happening and why it is happening.
Now more than ever we need optics to understand what is going on and what could potentially happen in our real estate markets. The stock Market, Covid-19, interest rates; these all play macro roles in our real estate economy, but they are not the only forces at play. In part 6 we will explore the macro influences as well as the micro influences at play in 2020. However, please know that when we are reading and analyzing the Miami markets we are using tools that help us paint a more complete picture.
I have been studying and reporting on the Miami Real Estate market for over a decade now. Ever since my first report on Brickell in 2010 I have been searching for better ways to read the markets and thanks to technology I have not only been able to write on the market, but to create analytical tools and software in the form of dashboards to tell clients (both buyers and sellers) what is going on. As Warren Buffett so accurately put it…
"If you can't read the scoreboard. You don't know the score.
If you don't know the score, you can't tell the winners from the losers."
So here are the tools I have used in my Q1 report to help understand the markets and once you see them too you also will be able to understand the markets better!
The NEHS or Neighborhood Economic Health Score
To better understand the neighborhood of your choice we offer the Economic Health Score Indicator on our "Live Analytics" page. This neighborhood health score indicates the current economic health of an area and its likelihood to fall ill or to be susceptible to illnesses. With other words: This is a score to gauge how healthy or weak a market is. So this score does not predict the future, it merely provides the current status of a market and provides you with an indication of the market's defense mechanism aka: its strength to process future hits. It is not about bear or bull markets. It's about the market's elasticity;  about robustness and resilience of the market against economic change.
The Advanced Analytics Screens
Our advanced analytics page offers you the possibility to see the market statistics of homes or condos in some of Miami's most desired neighborhoods. You can choose the type of property, the neighborhood, the property style (waterfront, dry lot or new home -3 years or less), and a price range. The system will then provide you with quarterly data (going back 6 quarters or 1.5 years) on average sales price per SF, Months of Inventory, number of closed listings, number of active listings and days on market. As the graph shows the last 6 quarters it gives you a great idea of how the market has performed over time. For each of these screens David will add narrative with his day-to-day experience in this market or particular sales to provide you with a more holistic overview of the market.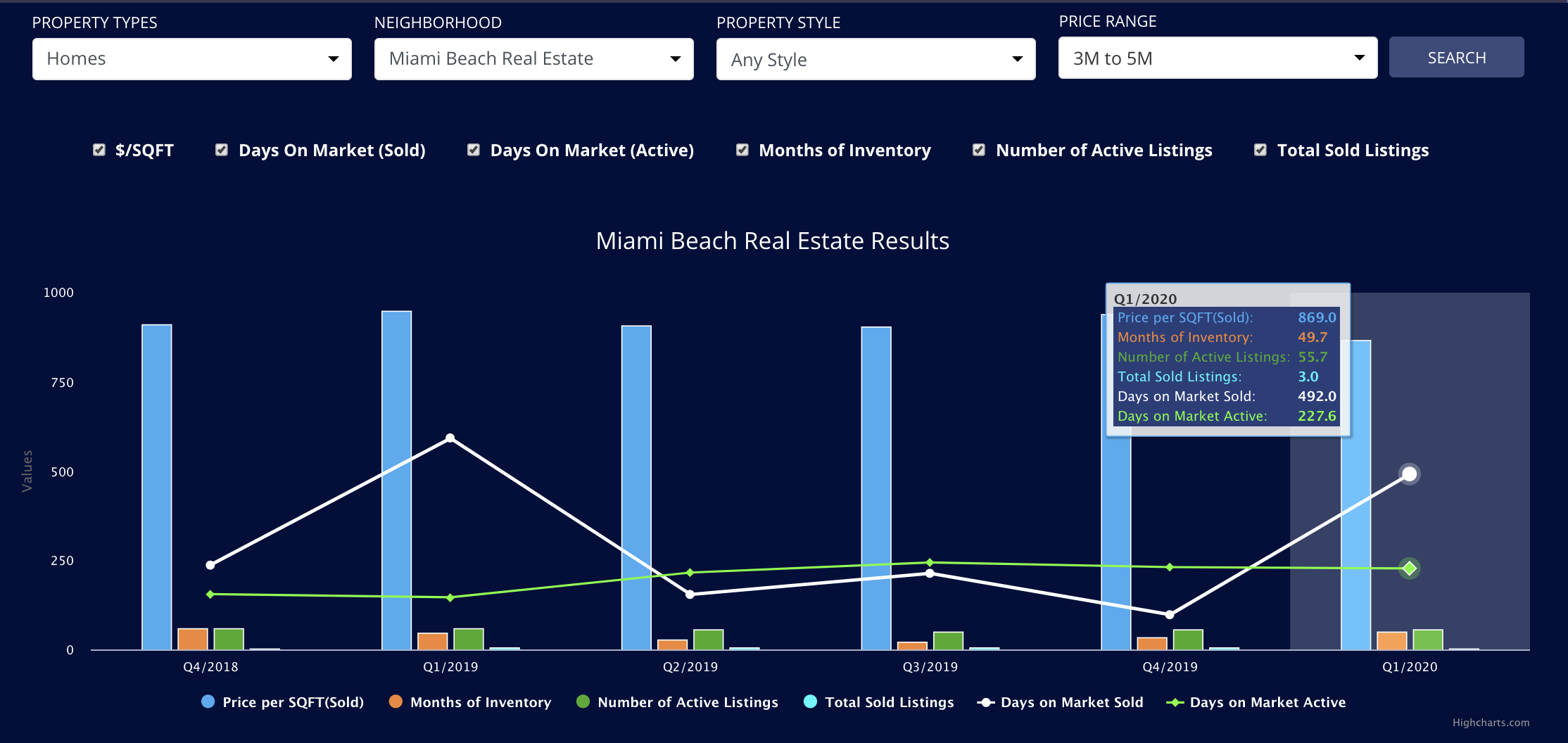 Condo Geeks Dashboard
The Condo Geeks dashboard is by far the most advanced of the tools we have created. This is the brain child of my partners and myself to create a visual representation of the markets and specific condos. What would have previously taken hours or more likely days to analyze and format, can now be accomplished in mere seconds! This tool is not simply pulling data live from the MLS and collating it into easy to understand charts. It has been scrapped meticulously to remove anomalies as well as filling in gaps that the mls did not record through cross referencing with the Florida Tax Role. Simply put it's much more accurate.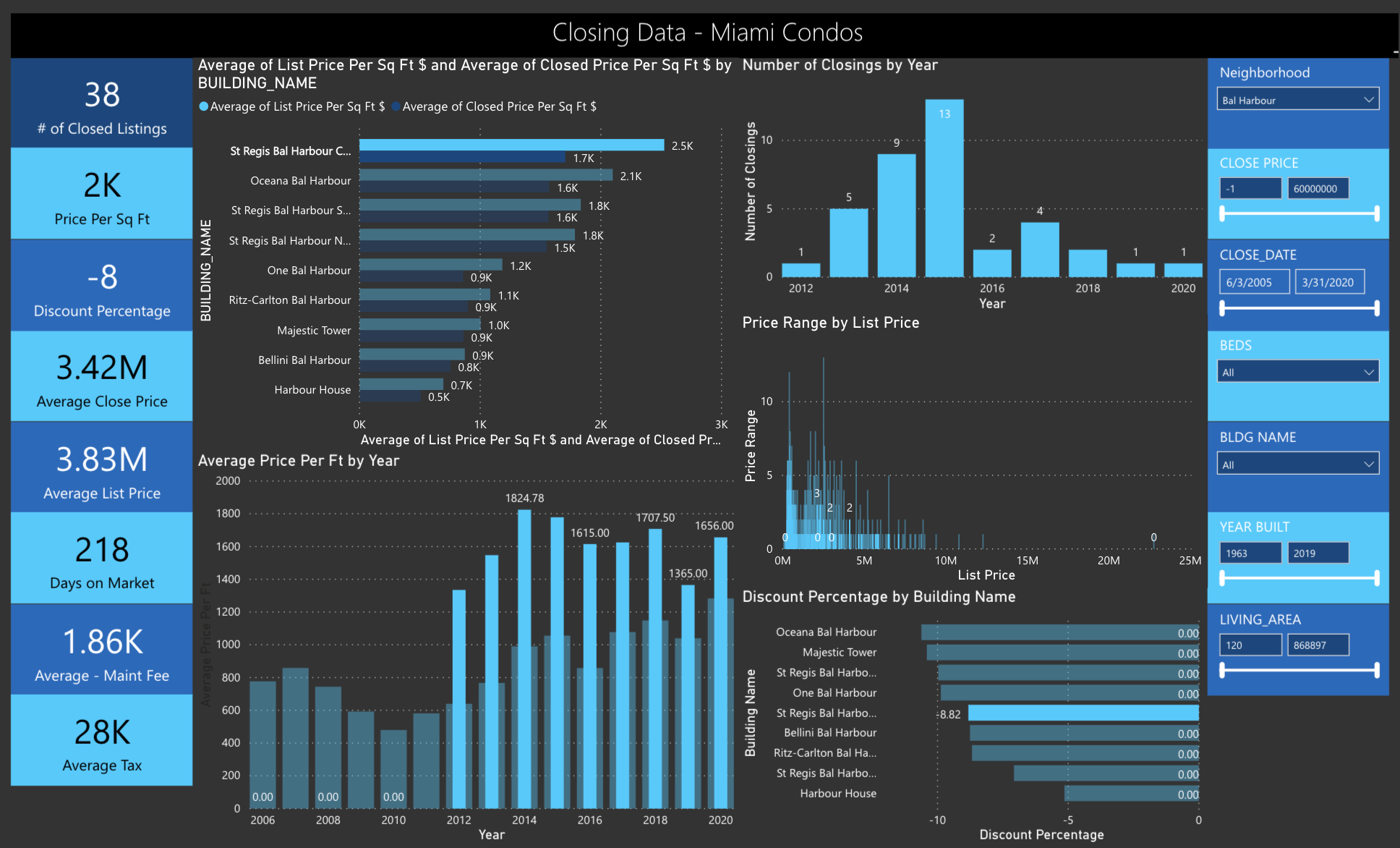 Please fill in your details and David Siddons will contact you
Get our

Newsletter

No Thanks
Get the latest news from Miami Real Estate News
Email to a Friend
Recomend this to a friend, just enter their email below.
Your email was sent succesfully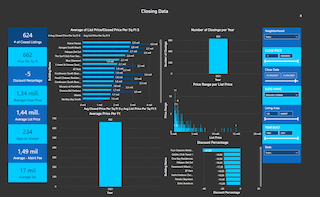 COMPARE WITH CONDOGEEKS