The 2020 Miami Real Estate Report: The (Socio) Economic and Demographic Influences in the Market
Part 6 of the 2020 Miami Real Estate Report: Explaining the 'Why' of the market not just the 'What'
Typical real estate reports talk a lot about what is happening, but few address the social narrative of WHY it is happening. This is not one of those reports. We decided to take a good look at what has happened in the last 3 months (and in many cases 6 months) and compared it to the year before while bringing into focus the ENTIRE economic cycle since 2008. We then discussed both positive and negative influences in the market, as well as potential economic sides effects that could come about from the current climate. As I have said the 'Why' is just as important as the 'What'. If you apply the below observations to the markets you can better appreciate why some markets are simply flying and others are far more static, but could change soon!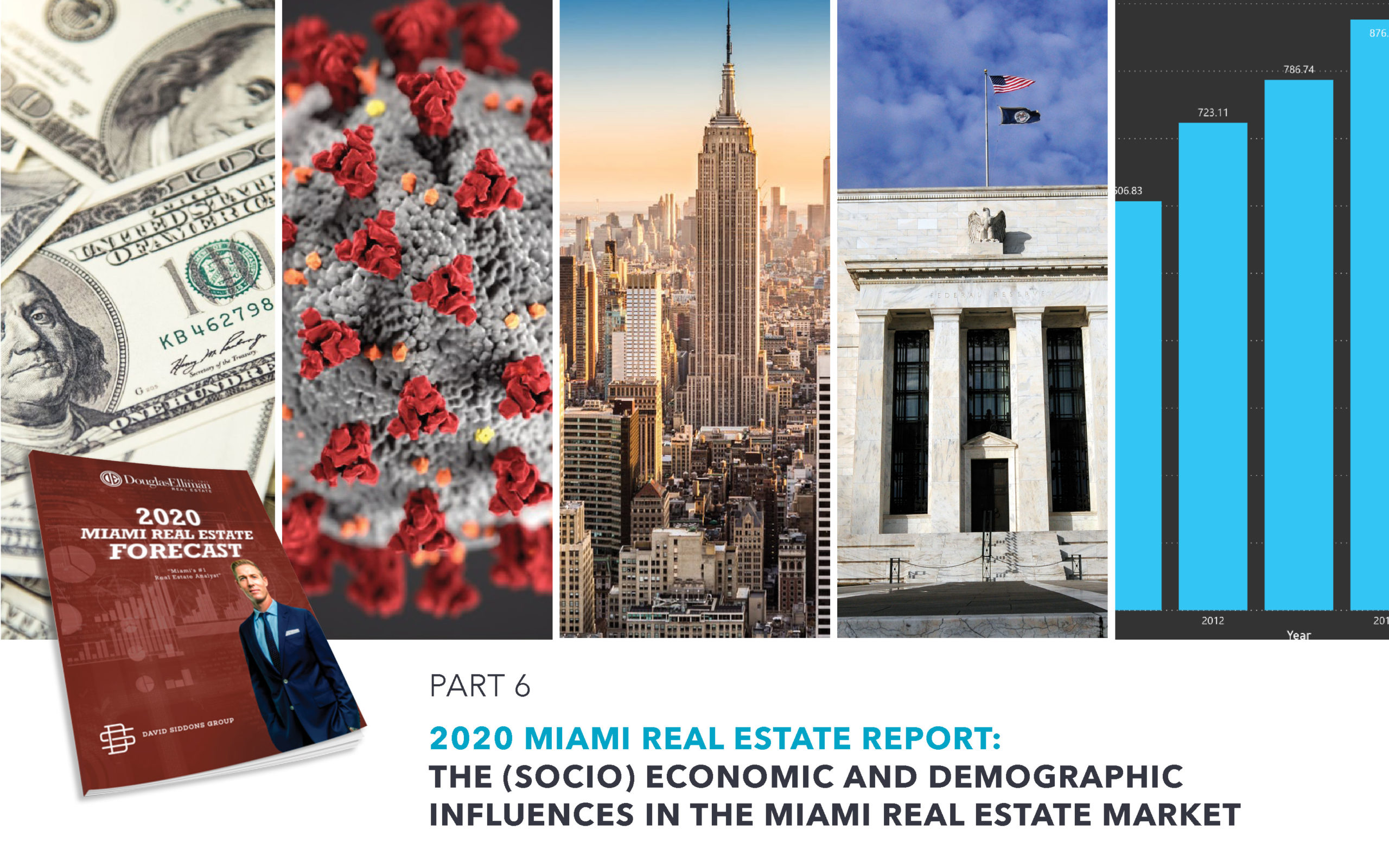 The 2020 Miami Real Estate Report: The Market's main influences in 2020
The 2020 Miami Real Estate Report: Where are we in the economic cycle?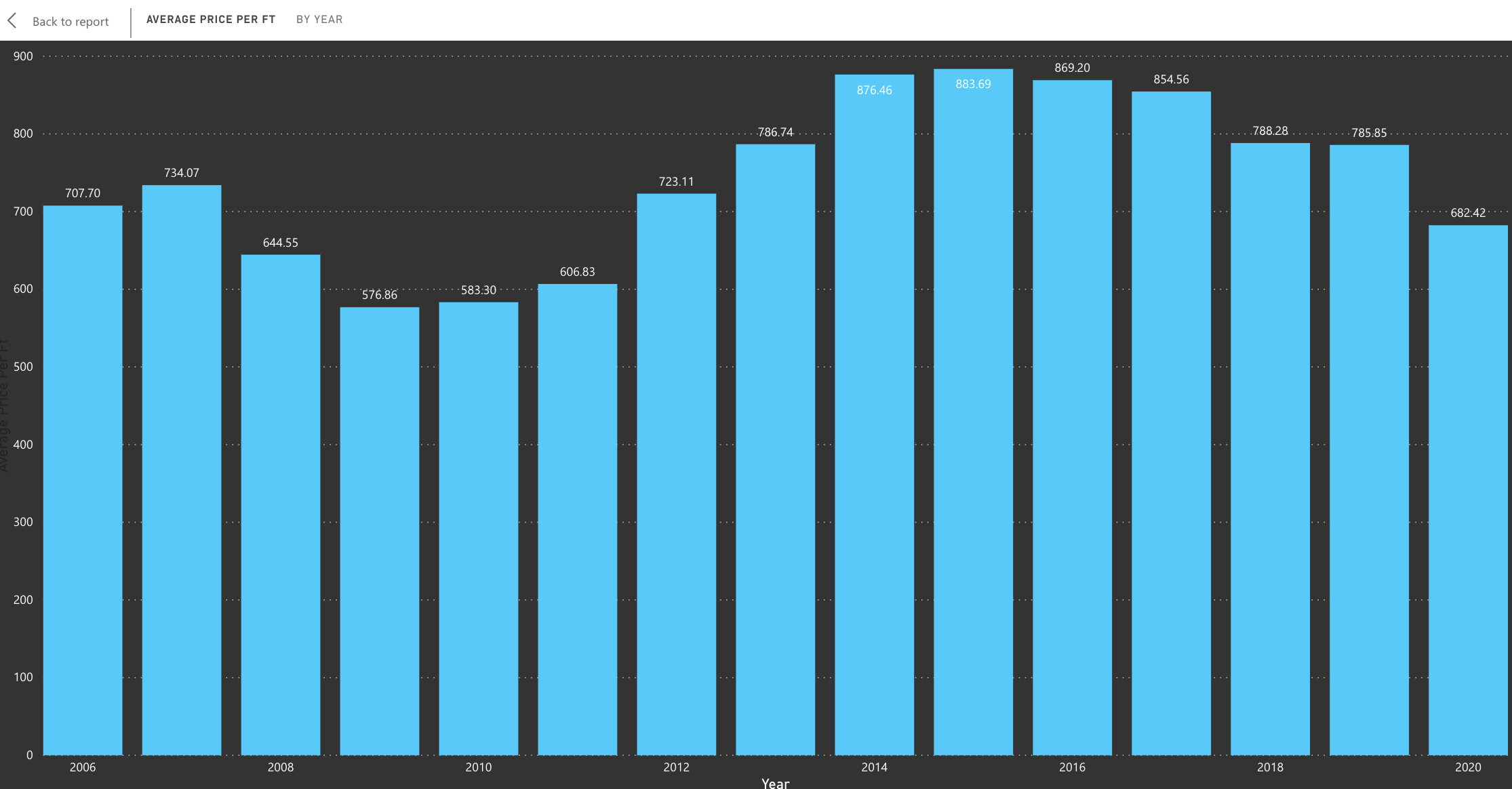 For many neighborhoods the peak of the market was not 2019, it was back in 2015 / 2016. This is particularly true for the condo market, where it peaked and then corrected. Some of those condo markets have dropped so significantly that it could be observed they are now getting to the low point in the economic cycle and 2020 could see the bottom before they rise again into 2021. For others (the primary single family markets of Coconut Grove and Coral Gables for example) the markets peaked in 2016 then bubbled along only to start to jump again in 2019/2020. These economic cycles look very different according to our data sets.
It's important to recognize the clear difference in the performance across these markets. So much of this has to do with demand and supply. Below we show two markets and how different they have behaved. This is why over economic cycles homes do and have outperformed condos in appreciation.
The 2020 Miami Real Estate Report: The Months of inventory – Demand Vs Supply.
The fundamental behavior of any economic cycle is an illustration of: 'supply vs demand'. Although this is not an influence, it is a side effect of economic behavior. This effect is 'demand' on one side of the equation and rate of new construction 'supply' on the other side. If you focus purely on the economic influences of just 'demand' you are missing half of the equation. This is why so many buyers make the terrible mistake of asking questions like 'How is the Miami market behaving?'. This is a totally erroneous question, because this throws both condos and homes into the same equation which is impossible. Many observations I hear in the field focus on buyer confidence but not developer /builder ability, and the rate of supply is very different in the condo market compared to the single-family home market. Consider this; when new homes get built, older homes have to be torn down. In landlocked 'single family' neighborhoods with clearly defined boundaries, you simply won't and cannot see an increase in the actual number of homes that exist (unless zoning changes are made and lots are subdivided but this rarely happens) just the quality of those homes change and thus the price. New homes cost more than old homes pure and simple. Consider the condo market on the other hand. An old 30 unit condo is torn down, a car park is bought or old commercial office is bought then a 300 unit condo tower is erected. The supply curve totally changes! Take one look at the Brickell skyline today and compare it to 10 years ago.
New construction in the condo market has now slowed down and almost all new condos in Miami have been delivered. There are no more cranes to be seen in the skyline of Brickell or other neighborhoods, but some markets definitely have empty lots sitting and very old buildings. We know there is going to be another wave and this WILL come in the next 10 years, we just don't know when. Take a drive through some neighborhoods and you will still see likely lots just waiting to be developed. Now drive through the single family neighborhoods of Coconut Grove or Coral Gables. Recognize that, if anything, the land available may be receding. As we observe climate change we see the appetite for buyers looking in flood zone areas receding, which means a contraction of available land and property in parts.
The 2020 Miami Real Estate Report: Tax Relocations
Unless you've been living under a rock for the last year you will have noticed the incredible velocity of tax relocating buyers moving down to South Florida. Because of Miami's very multicultural base and highly developed infrastructure we find that this is the No1. choice for buyers from New York, New Jersey, Connecticut, DC and even LA.
Consider this equation of taxes and cost of living:
A NYC condo owner that earns $3M per year decides that he/she doesn't like paying city and state tax (10%) and decides to move to Miami. They sell their NYC apartment for $10M and buys a slightly smaller property for $6M in NYC as they would like to keep a base there for business. Given their lifestyle they would like to buy a similar property in Miami of $10M (although your dollar stretches further in Miami than in NYC and $ per sqft in luxury condos is almost 50% of NYC). They use the balance of $4M as down payment on a Miami property and mortgage the rest. A $6M mortgage equates to $25k per month – exactly what they save in taxes by relocating.
Conclusion: This NYC buyer could now own 2 properties, with a cumulative value of $16M for the same price as their initial condo. The Miami Condo is way nicer than an equivalent Condo in NYC. They get to experience the best of both cities for the same cost. This scenario is happening every day and only grows as business also see the savings and motivations of their staff to live in South Florida.
What is driving these buyers and where are they focusing on?  For mid level families it's quality of life, single-family homes in close proximity to good private schools in the primary markets of Coconut Grove, Coral Gables and Pinecrest. No surprise then that these markets are performing so well. For the Condo buyers and empty nesters its the urban core of Brickell or the less touristic yet beach communities of Bal Harbour and Surfside followed by South of Fifth. For those with the deepest pockets: Venetian Islands, Indian Creek Island or the gated communities of Tahiti Beach and Gables Estates.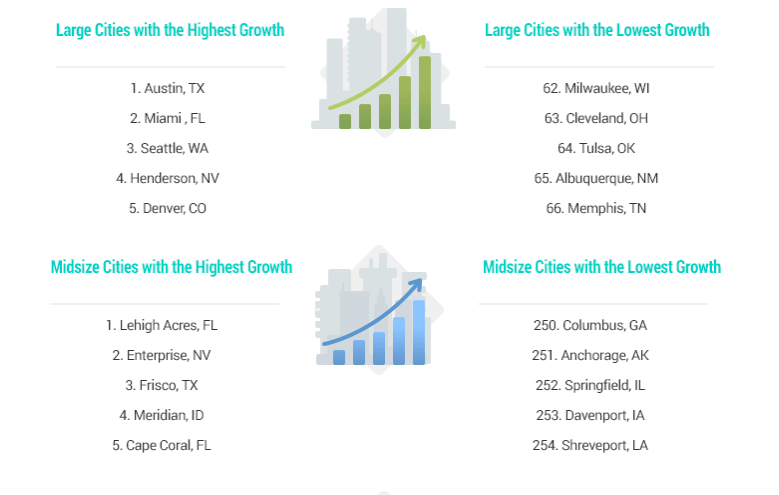 The 2020 Miami Real Estate Report: A large part of Miami's growth numbers are caused by tax migration
No one could ever see this macro influence being part of this report 6 weeks ago, I certainly did not! But here we are and this pandemic is of course a primary influence to all of the other parts of our real estate economy: Fed's decisions, potential currency movements and EVEN THE SPEED OF RELOCATIONS. Interestingly, not all properties are being affected in the same way in Miami by Covid-19, but it is worth addressing what we are noticing:
Rate of sales and Listings:
Condos: With social distancing we are of course now seeing the rate of sales slowing down, particularly in the condo market where laws are currently prohibiting realtors from showing property. This slows down our sales, but lets not forget the other side of the equation: supply. In the same way that it is hard to show property it is hard to list too! Social distancing means many home owners do not want to have people coming through their condo or home for safety reasons. This means shooting photos and video is hard.
Homes: I have observed however that single family home owners have been more willing and able to allow agents and buyers into their homes as well as photographers and videographers. They also don't have the same restrictions enforced by condo associations so video tours and virtual tours are far more easy to do. With that said we are of course seeing a drop in listings. Several reasons why, not just the fear of contagion. A seller is likely to be looking to buy another home and the prospect of listing without having somewhere to go or the ability to find a home to move to can be less than appealing.
I am predicting (as many other agents are) that when the market does open up again, we will see a flurry of new listings met with a flurry of buyers. The first week that 'open houses' are allowed, I foresee an absolute feeding frenzy, and even if it's in the middle of the summer, it's going to happen. Don't think that waiting for the market to soften in the primary single family markets of Coconut Grove and Coral Gables is going to happen, because I doubt it will. We just don't have enough supply. Some dialogue has been had that we can be in economic freefall with growing rates of unemployment but this is not caused by a weak economy but by a global pandemic putting THIS business in what has been classified by Economist Paul Krugman as a 'self induced Coma'. The difference is that Miami is not NYC or any other city, it sits right now in a very very unique space. The question remains that with so much tourism in Miami and many people working in hotels, restaurants, bars, clubs how will the rental market hold up? How will rents get paid, and if they don't get paid how do you collect rent? How long can owners go on without collecting rent? Certainly the lower end of the Condo market could be most affected as could condos that have very very high levels of rentals.
Single family owners: If you are thinking of listing and will be open to showings consider that you won't have a lot of competition and buyers are busy online looking right now. Please call me if you are one of these people!
New Construction (single family): Consider this; there are still homes being built but a large number of job sites have been closed down by order of the city. Some of these builders are feeling the pinch and you will not see as much new product enter the market as usual, because inspectors and TCO's time is as much an asset to builders as is cash. For some builders the appeal of having buyers take a home in a more raw state and finishing it can be highly appealing. For a buyer it can also be appealing, because it can allow spec homes to be turned in custom homes by the end user. We are dealing with a number of these situations right now and they are allowing for some excellent opportunity.
The psychological impact of Covid – 19. 'An existentialist awakening!'
We spend so much time talking about the mathematical and statistical effect of Covid-19, but what about the psychological effect? Miami I feel is in a very unique position right now. What I have noticed is that since the outbreak the level of buyers engaging with us through email and phone has gone UP NOT DOWN! After talking to these buyers several things have become apparent. They are a) mostly relocating families or b) buyers who have liquidity looking for opportunity. Many who have been looking to move next year have now sped up their timeline. The realization that they have not been living their best life has led many to call me and after seriously questioning their life choices have realized that when you don't know how much 'quantity' of life you are given you become far more aware of the 'quality'. Miami offers no doubt incredible quality and realizing that there are motivated sellers out there in the Condo market further stimulates the opportunity investor, but don't think this extends to the single family sector – particularly the 'working wealthy category of $1m – $3m and even in the $3m to $5m which is highly digestible to North Eastern buyers. We will touch this in more detail in Part 8. At this moment in time we are experiencing a very unequal balance 'globally' between people being negatively affected by the global economics and Covid-19 and those who are not. At the same time we also see huge amounts of liquidity still floating around.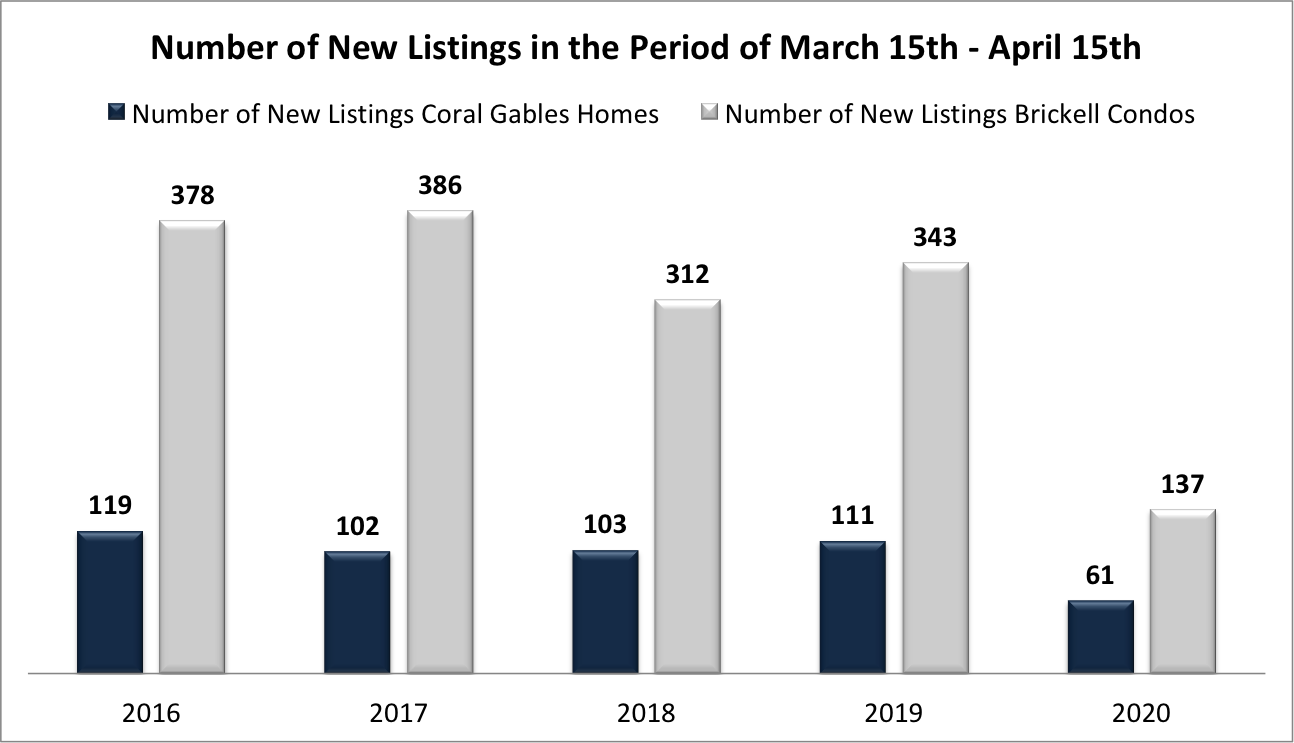 Please compare this year's new listings entering the market between the 15th of March and the 15th of April and compare this to these dates in previous years. We took the Coral Gables home market and the Brickell condo market to make this comparison
The Influence of Currencies
Let me take you through the journey of the last economic cycle in Miami. In 2010 we saw Miami re-emerge out of recession. Inventory was running at unprecedented levels and then units were slashed in price (by as much as 50% in some cases), absorption shot up and all the inventory was absorbed in less than 18 months as units became incredibly cheap. At the same time the dollar was not particularly strong against foreign currencies and at the same time those economies started to do well. New construction started and hungry buyers happily bought up new Miami condos with the view of renting them out when finished or having them as a second home. Of course a number of them recognized either the strength of the US economy and the dollar or more accurately the fragility of their domestic economies. Role forward to 2015 and looking forward to 2020 and two things happened: currencies moved – the $ grew in strength and real estate became too expensive for many foreign national buyers and the rental inventory started to grow beyond the rate of absorption. Take a look at the table below and imagine your position if you think and work in the Brazilian Real.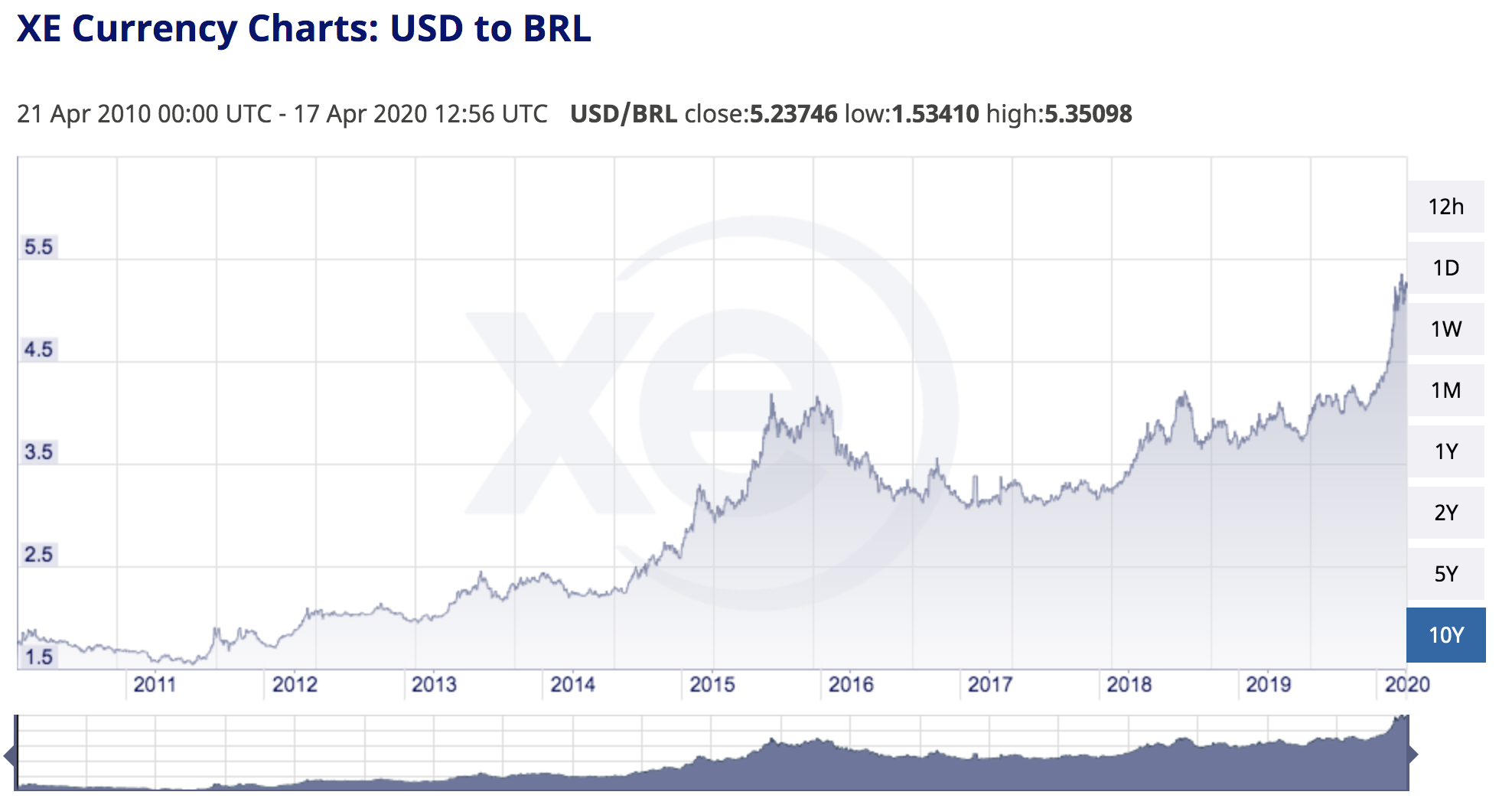 Now run through this scenario in your mind. You bought a $2m unit in Miami in 2012 when the Real to the dollar was 2: 1. You spent R$4000,000 on the property. 8 years later you sell that unit for $1500,000 making a loss of $600,000 if you factor in commissions and closing costs. Sounds unbearable right? Now, convert that $1400,000 back to Reals. You get R$7,400,000! You lost on the dollar but you nearly doubled your investment on the currency. Not so terrible now is it! With so many foreign nationals having bought properties over the last economic cycle it is no wonder why such incredible deals can emerge! The neighborhoods that were driven by non-domestic buyers like Sunny Isles, Aventura and even Brickell took the biggest hit and if you refer back to part 1-4 of this report  you can see that clearly.
Now consider the single family market, which also saw foreign national buyers. Many of these were buyers who came with investment visas, student visas and eb-5 with the focus of many to relocate and many did with many still here today. However when the foreign buyers slowed down due to the currency and weakened economies of those countries,  the emergence of the domestic 'Tax Relocation' buyers took up the slack. (mainly into the primary single-family markets although some luxury condo purchases happened too; look at Surfside and Bal Harbour).
Now let's look forward past 2020 and consider what will happen if the US economy experiences inflation? The Feds print money to handle the cost of the $15 trillion dollar stimulus package and some of the $25 Trillion of loans held by foreign countries is recalled. The dollar could weaken once again and this could then create a similar situation to 2010 where US real estate becomes cheap again. As the saying goes: "History does not repeat itself but it certainly rhymes!"
Government Tax Policy
Under new policy for very high-end real estate transactions there are significant deductions that can be made. For 2020, if you have a large real estate portfolio ($6,875m per individual) you can make much larger tax deductions. You can depreciate an unlimited amount now – defendable against the IRS.
I met with my my financial advisor David Gruen CFP & ChFC who is an Estate & Business Planning specialist and asked him three questions:
What happened in the new stimulus bill that will have an effect on real estate?
What is the fed doing that will have an impact on the real estate market?
Any other things you find interesting to look at?
Fed's decisions
I spoke again with my financial advisor David Gruen on what the FED is doing that will have an affect on the real estate market?