The Miami Condo Market: What to be aware of when Buying a Condo in Miami?
Miami Condo Investments; The Miami Condo Market and its Pitfalls
Being over 10 years in the business and having gone through two real estate cycles I have experienced a fair share of overwhelming and underwhelming condo constructions. Education is the pillar of my career and the main reason why clients choose to work with us. Education on the market and providing clients with the most useful information is what instills trust in a professional and what drives my business.
I am known for being honest and I like to "tell it like it is", also when it comes to the Miami condo market. I cannot always freely write what I want (for fear of being slapped with a defamation law suit), but I would like to provide you with my opinion on what to be aware of when buying a Miami condo.
Specially when one is looking for new construction condos in Miami it is important to work with a seasoned professional to not get swept away by sexy sales pitches, initial renderings, promises of luxury finishes and hidden details.
One phone call with me will allow me to voice my concerns and opinions and I encourage anyone who wants to get a sincere inside opinion on the market to call me at 305.508.0899
Stay Away from Generic Products
When looking at the Miami condo market look for non-generic product! What is generic product? Generic condos are those thirteen in a dozen condos that do not offer anything unique. They do not have exceptional features such as large balconies, great views, superb locations, high-end finishes etc. Standard condos (often still sold as luxury for elevated prices) are those who will suffer most when the economy suffers. It is the kind of product that is bought up in mass by investors and is destined for the rental market. These units are often characterized by more affordable finishes that might look expensive for those without much experience. These generic, rental type of units have shown to remain at the same price level without much appreciation. Especially in a bearish market, many investors will offload these generic products leading to a large oversupply of basically the same generic product.
Unique product are condos that are destined for end-users or primary residents, that offer unique features that makes them stand out in the crowd: condos in superb locations, unobstructed water views, condos that offer unique floor plans or buildings with high-end finishes. For specific units you should focus on flow-through units, corner units, units with extra high ceilings, large terraces, the best views and penthouses. Unique, stand out product will appreciate over time, because what is hard to replicate is most desired and scarce!
Look at the Individual Floor Plan
A condo is only as good as its floor plan. High-end condos might still have less desireable lines and therefore I always provide my buyers with the best condos for sale and the best floor plans within these condos.  A condo may outperform all other condos with certain lines, but if you own the least performing line this doesn't give you much of a benefit when selling. As I always say: "It is better to own the best line in the third best building, than the third best line in the best building"
Define the Miami Condo Market Strength per Neighborhood and per Condo
How often do we hear comments like: I heard the Miami Condo Market is not doing very well. If you have read one article by a journalist who generalizes the entire Miami condo market then you will be completely misinformed. Miami offers various areas and while some condo markets are experiencing a high level of inventory, others are seeing a seller's market. Therefore one should compare the different neighborhoods and then check whether that area is healthy or not. On the other hand, there are condos in areas that are seeing high inventories that are still selling and appreciating and there are condos in economically healthy neighborhoods that are experiencing decreasing prices and slow sales. Do not generalize the market, look at the different areas, condos, floor plans and price levels.
Do Your Research or Engage with a Seasoned Realtor
A buyer's realtor is for free in Miami! Yes, the seller or the developer pays our fees meaning you get experience and education at zero additional costs. A good realtor knows the different Miami condos and will be able to compare different condos and their prices per SqFt. They will know how the condo is administered, how financially stable its management is and what are the most desired lines. A good realtor or research is even more important when dealing with new constructions in Miami. You will need to know the developer's experience; does his end-product look like his renderings? Does he walk the talk when it comes to high-end finishes? Are the HOA fees in line with the level of amenities they promise? Industry experience and education is everything! You want a realtor who investigates for you, someone who helps you protect your investment.
Please fill in your details and David Siddons will contact you
Get our

Newsletter

No Thanks
Get the latest news from Miami Real Estate News
Email to a Friend
Recomend this to a friend, just enter their email below.
Your email was sent succesfully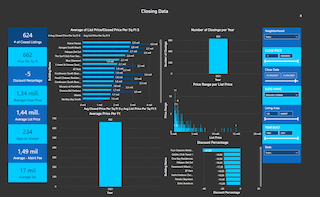 COMPARE WITH CONDOGEEKS