The 2022 Key Biscayne Condo Market is Setting New Highs after a Record 2021
The 2022 Key Biscayne Condo Market is Setting New Highs after a Record 2021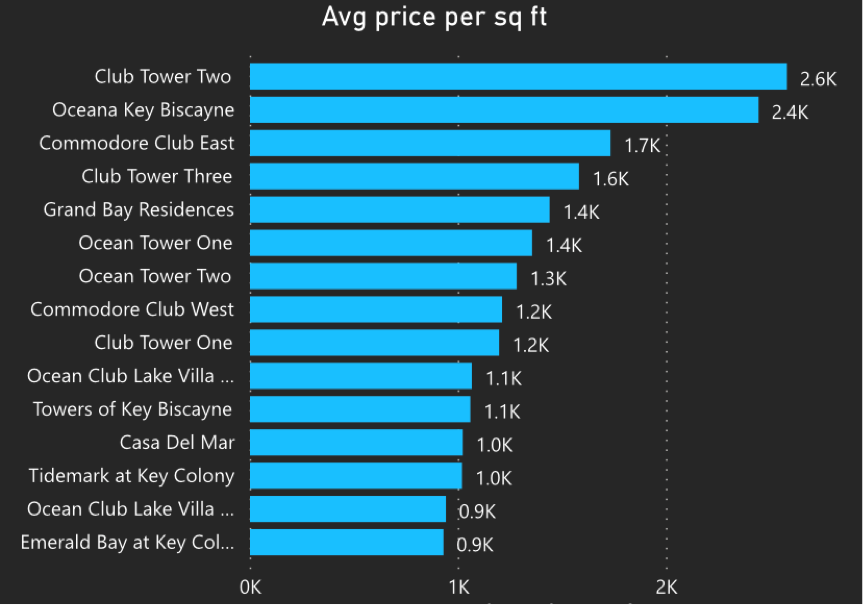 Key Biscayne Condo sales in 2021 shattered historical records
2022 Key Biscayne Condos built on record 2021 sales across the board; definitely a year to remember for owners, realtors and everyone in the Key Biscayne real estate industry!!  The island witnessed a historic boom by any metric you can imagine: averages, median values, number of sales, sales prices, sales price per square feet, etc. An impact felt across the entire island, most buildings and all price segments that drove some key takeaways:
Number of condo sales more than doubled
Condo sales Price per SF increased by 16%
In 2021 it took less than half the time to sell a condo compared to 2020
Slightly over half of total Key Biscayne real estate dollar volume traded ($690 million) corresponds to the 517 condos sold
Number of sales is up 243% compared to 2020
No wonder this is a boom, which everyone is talking about and these are the top line Key Biscayne Real Estate condo numbers for 2021:
Key Biscayne Condo Sales in 2021 are historically Significant
Real Estate performance tends to be measured quarter to quarter or year on year. The increases in Key Biscayne condo sales from 2020 were so dramatic it begs the question: "Was this due to an abnormal 2020 impacted by Covid or are the results part of a broader, historically significant impact?". Well the answer, as you can see in the charts below, is the later. By any measure 2021 was a historical event, surpassing any previously recorded sales and inventory numbers in Key Biscayne Real Estate.
Specifically, while inventory of Key Biscayne condos for sale decreased by 60% from 2020, it actually decreased 69% from 2017's high inventory levels and decreased 42% from the previous 2013 low inventory levels.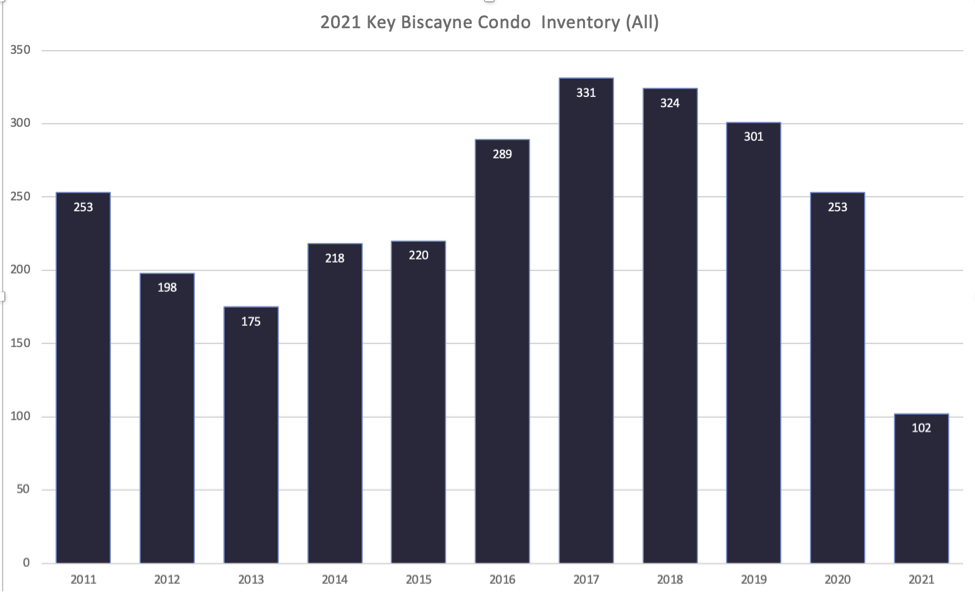 On the sales side the impact was equally dramatic. During 2021, Key Biscayne condo sales was 2.4 times higher than in 2020 and 1.7 higher than in 2012, which was the previous peak in Key Biscayne condo sales. Amazing numbers any way you put it!! Granted, monthly sales have slowed down since September 2021 to 25-30 units per month which are still considered historic highs. Most of this decline can be attributed to historical low inventory levels.
Significant differences across Key Biscayne Condo price ranges in 2021
Averages typically don't tell the full story. This is why we like to drill deeper by price segments.  The most dramatic change is that Key Biscayne condos under $1M are disappearing. If we look at condos sold in 2021 for $1M or more, the number doubled compared to 2020 and 2019, leaving the current inventory under 30 condos. If you look across all segments, inventory levels are low but not as low as this one in proportion with sales. The pricier segments at $3M+ recorded substantial increases in sales, yet inventory remain quite healthy compared to historic levels.
Sales were fantastic across the board but clearly the bulk of the Key Biscayne condo market activity is moving to the $1Million to $3Million range, where 2021 Key Biscayne Condo sales more than tripled over 2020, a major change in historical activity. In fact, and as described in my recent blog, Key Biscayne may still be Miami's beachfront neighborhood with the best upside in 2022, per analysis of Q4 2021 statistics by my brokerage, Douglas Elliman.
The spike in condo sales above $5 Million also is a clear reflection of buildings like Oceana selling as one of the top Miami Beachfront condos; as well as top buildings like Ocean Club and Grand Bay, improving their performance dramatically towards the end of 2021 after a rather  slow start of pricing and condo sales in the first half of 2021. 2021 sales price records above $1,000 per square foot in Towers of Key Biscayne, The Sands, Island House and Key Colony also helped shift pricing upwards.