Crash, Correction or Continued Growth? | Miami Real Estate Market Report 2022/2023 (Part 4)
Part 4 of our Miami Real Estate Market Report 2022/2023 | Predictions and Actionable advice for sellers and buyers
Recap of our Miami Real Estate Market Report 2022 / 2023
So we have now covered data and analytics for the primary and secondary markets in part 1, we have discussed the Miami rental market in part 2 and in part 3 we saw the influences of the wider economic market on Miami real estate. Overall the market might feel like its softening, but it's just slowing down in many cases to a more normal speed. Everything feels slow when you come down from 250mph. Although we don't expect the market to go up by 30% as it did last year, it can very likely and is currently tracking against inflation. To conclude our Miami Real Estate report for 2022 and 2023, we give more granular advice to both buyers and sellers across our markets and answers depend on many things including price point, geography and product type.
Advice for BUYERS
Home buyers – Recognize that in many single family sectors we still have very low inventory levels. Particularly in the $1-3m range recognize that even with all the negative macro-economic forces at play it is still a seller's market and will remain so for quite some time unless something changes.
The upper mid-range ($5m+) and luxury Home buyers ($10m++). These sectors are softening a little. This does not mean a crash, it just means we should see more normal behavior and less crazy 10% over asking bidding wars.
To the ultra-high net worth buyer. Recognize the inventory across this sector (see part 1), but bear in mind that stats within this market can be easily swayed as you are dealing with a very small dataset. Recognize that Miami is not a huge city and the migration of ultra-wealthy has made it very competitive, so be cognizant that ultra-prime properties such as direct waterfront homes in gated or island communities are firstly not widely available and secondly that you will not necessarily be the only buyer with pockets that deep! Off-market trades are not uncommon and to my wealthiest of clients its very much part of the business to bring bespoke off market opportunities to you, that will not be readily available on Zillow.
Buyers looking for a new(er) single family home. For those looking for a new home we are bringing out to our audience a book of new homes being built and finished over the next 6 month to 36 months! This is a compiled list of new homes not currently listed on the MLS. New homes are in very very short supply and due to supply chain issues will remain so.
Condo buyers – If you are focusing on a condo purchase make sure to avoid condos that have a very high percentage of rentals in the building, focus on building of a primary nature. Avoid generic product (we can provide examples of what is generic and what is not).
Luxury Condo buyers of existing and new construction. Get granular. Using our software like Condo geeks, which allows you to get to the specificity of your product. Use Zillow to search, use us for verification! Developers will not openly tell you what's available elsewhere or how their product stacks up against the competition. We will!
Advice for SELLERS
LUXURY HOME SELLERS – Be aware of the impact of the stock market and how it affects perceived wealth. Also appreciate the current and future inventory levels across your market. Make sure to read the neighborhood reports.
MID-LEVEL HOME SELLERS Don't overreach your values. Now is not the time to try to push the envelope. That's a mistake. Be aware of what is coming into the market and understand how it works in relationship to what you own.
LAND SELLERS For those who are sellers of land – be aware of the supply chain issues and how that affects confidence. More importantly when bringing your land to market partner with an expert (like us) that can give confidence to buyers by providing execution solutions; the right GC, the right designer, the right architect!
MID AND LOW LEVEL CONDO SELLERS Get granular. Using our software like condo and home geeks allows you to get to the specificity of your product. Use Zillow to search, use us for verification!
If you own a somewhat generic product prepared that will get hammered sometime in the future. Call me and I can give you the list of mid-range generic condos!
Printscreens of our CondoGeeks tool showing you the performance of all Miami condos, Brickell condos in the $500K-$750K range and all of Bal Harbour's condo market. The tool allows you to compare condos, compare neighborhood performance and to review a condo's historic movement.
LUXURY CONDO SELLERS – Be aware of rising inventory. As shown and mentioned in Part 1 and part 2. If you own a condo in Brickell, Downtown, Edgewater and Sunny Isles prices can certainly go down if inventory continues to grow in the mid to high price ranges.
Also be aware of the competition coming from the new luxury construction condos across Miami – check out our article of the best 5 new construction condos and the best existing condos.
Advice for INVESTORS
Avoid saturated rental markets. Single family rental market is in many cases better. They are more labor intensive but yield higher returns with less risk long term.
Don't let the tail wag the dog! It is possibly not the best time to buy into certain condo markets if you are a short term investor (less than 3 years) as prices can and will likely come down. Short term returns may be attractive but if values come down your end result will be negative. Go back and study Part 1 of the report. You can also use the Condo Geeks tool or just call me!
Recognize the absolutely bonkers rental markets (see part 2) where returns are staggeringly good. Observe the primary home markets as they always have less inventory.
Advice for RENTERS
If you are renting at current rates, from a long term perspective it makes little sense. You are in many cases better off buying than renting.
If you are part of the mass migration families to South Florida and are a family renting a single family home, look to rent close to where you intend to buy. Also recognize the very high rental rates and perhaps compromise on the quality of home you might rent to avoid cash burn. Also try to implement a 6 month break clause in your lease so if you do find something you want to buy you can step into it quickly without suffering from the market continuing to go up or further cash burn on rent. Our territory managers are experts and live and work in the neighborhoods they sell.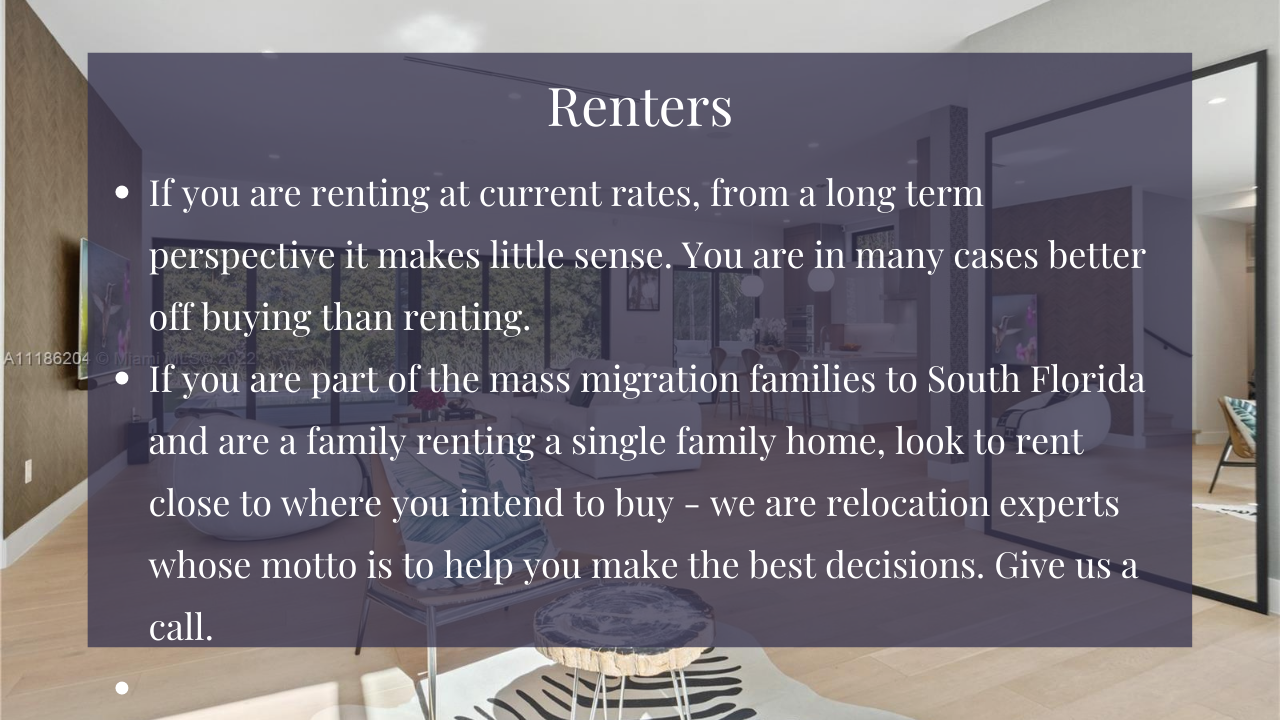 Please fill in your details and David Siddons will contact you
Get our

Newsletter

No Thanks
Get the latest news from Miami Real Estate News
Email to a Friend
Recomend this to a friend, just enter their email below.
Your email was sent succesfully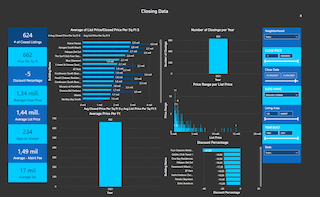 COMPARE WITH CONDOGEEKS