The 2020 Q2 and Q3 Miami Real Estate Report. An Analytical perspective.
Part 1. An economical and analytical discussion of the Miami Market During the Last 6 Months of COVID between two top analysts.
The 2020 Q2 and Q3 Miami Real Estate Report will give you the best optics on the Miami real estate market whether you are relocating, looking for a second home or just looking for opportunity. In this section Ana Bozovic and myself, two of Miami's most influential real estate analyst and experts, will clarify what happened during these last 6 months. We will discuss the macroeconomic factors that played a role and how these have affected Miami's micro markets. After watching our video you will have a clear idea of what is happening in the Miami real estate market; how the condo market differs from the single-family home market, which markets are performing stronger than ever and which markets provide for great opportunities.
This complete Miami market report consists of 4 parts of which this is the first one. In parts 2 and 3 of this report we will deep dive into the Miami condo market and the Miami single-family home market and we will provide you with the key statistics and narrative on the different sub-markets. It will show a clear difference in performance between condos and homes and identify the strongest and weakest sub-markets. The fourth and last part is another interview, this time with South Florida's top performing realtors including agents from Fort Lauderdale and Palm Beach in which we clarify the difference between the various South Florida communities. We will discuss what you can expect to pay in the different communities, where you can find the best beachfront homes, where you can find the best ultra-luxury condos, the different lifestyles, the best schools, the inventory of new construction homes & condos and much more.
The Miami Condo Market Before and During Covid-19
This market had already experienced a high level of inventory and a decreased level of transactions since its market peak in 2015/2016. Covid-19 just rubbed salt into the wounds. Although there might be bullish sub-markets, generally speaking the condo market has not been a very strong market and has behaved completely different than the single-family home market.
One of the main reasons the condo market is not faring well is because this is more of an investment market, one that relies heavily on outside money and is less of a necessity and more of a discretionary purchase. These markets suffer most from macroeconomic changes as these assets are easiest to offload without affecting someone's life. Add to this the fact that many investors are foreigners and therefore currency fluctuations come into play. Finally, the condo market has seen a large amount of construction over the last years until they reached the point at which the market could not absorb this supply anymore. Once these new construction condos started reselling it became apparent that at this inflated price point the demand was very low. Prices were very high and were not in line anymore with local income levels; so this market, heavenly depending on investors looking to rent their units, saw that local tenants could not afford these high rents anymore, which caused more downward pressure.
Living in times of Corona, many buyers are now looking for different features in a property. Buyers realized they need indoor and outdoor space, they want to avoid density and the home office has become more important than ever. These latter features are more commonly seen in a home than in a condo. Furthermore, many of the potential buyers could not travel into Florida or were not allowed into condos because of safety measures. So besides an increased desire for single-family homes, the condo market suffered from travel bans and safety measures making it harder for buyers to come into town.
Taking Advantage of a Bearish Market: What do I buy and at what price?
South Florida and specifically Miami is a desired destination. We see an increase in net migration as Florida is the number one recipient of those moving because of taxes and Covid-19. Tax migration was already a hot topic in the last few months and Covid-19 has accelerated this move for many. Besides the desire to leave dense city cores, social tension is also a catalyst for people to move to Miami. The need to move and to feel safe is real. As we see increased demand for Miami real estate, we notice that the demand for Miami condos is high (we get many daily inquiries via our website), but the price needs to be right. Buyers know this market is inflated and they do not want to overpay.  Of course not all Miami condo markets perform the same way and even in a downward market there are good opportunities and there is "the right price".
I rather warn my readers and clients about what is really happening in the market than to pretend all Miami investments are safe. I highlight markets with high inventory and downward prices, but that doesn't mean one should not buy. There is actually a lot of opportunity out there and the time to make great deals is now!
One should follow the Miami condo market as a stock and study the real estate cycle. Although you will never know the next low or peak of the market you can look at previous bottom prices and previous peak prices to anticipate where the market is heading. Looking at the last cycle Ana Bozovic and myself agree on the fact that paying 2012 /2013 prices is a safe place to be. Assuming you buy a good quality property.  If you buy at the price levels of 2012/2013 it is safe to say you are paying prices that are close to the bottom of the market and there is room for your asset to appreciate. At this very moment we are approaching a point in the condo market where prices are going towards the 2012/2013 bottom prices. The moment we are close enough to the numbers of the 2012 market is a safe market to buy good quality product.
Looking at the below example of the Miami Beach condo market in the $1M-$2M range we see that the previous peak was reached in 2015/2016 and we do not recommend to buy a condo at these prices. In 2020 the price levels are equal to those reached in 2012/2013 so this is a good and safe moment to buy a good quality condo. These prices are used as a guideline for you to know that an average condo should trade at this price level . Please be aware these are average prices per SF, meaning a professionally designed, ocean facing unit with superb finishes might trade for more than that, while a dated unit without good views should trade for a significantly lower price per SF. In section 2 of this report we discuss the condo market in further detail deep diving into the different neighborhoods and price ranges.
The Miami Single-Family Home Market Before and During Covid-19
The single-family home market behaves in a completely different way than the condo market. Single-family homes represent the primary markets and this is a necessary purchase. Not only do they cater to local families, they cater to relocation families (the largest chunk of buyers right now) and the investor classes. Buyers in this market need to find a home for their family and during Covid there is more and more need for indoor and outdoor space as well as a home office. While before Covid many buyers were indecisive between a home and a condo, these days a home will win it from any condo. This market is seeing increased interest from relocation buyers (the majority of buyers right now) from the northeast or other high-tax states such as California. As mentioned before Covid-19 sped up the need to move to Florida and to get away from dense city cores or small inner city condo units.  The pandemic made people to start looking at their lives and realize Miami might give them a better lifestyle. If you can work from anywhere; why not Miami? No taxes, good schools, more affordable real estate, a great lifestyle and summer all year round. Another important aspect is that this market caters to the investor class. As the feds intended to increase economic activity by injecting more cash into the system, the stock market rallied and investors saw their net worth surge. These higher-income classes suffered least from the economic impacts of Covid-19 and their line of work generally allows them to work from anywhere in the world.
The Best Performing Single Family Markets
Most of these buyers, whether they are local or relocation buyers, are looking at the $1M-$3M dollar range in Coral Gables, Coconut Grove, Pinecrest, Ponce Davis or Miami Beach.  People are looking for safe neighborhoods with a sense of community near the best private schools and therefore these markets are very strong right now. While we received many requests for these homes before Corona, our website recorded 800% more registrations during the pandemic than before and 75% of inquiries are for the above markets. Good quality homes are sold in record time, sometimes with back up offers in place. We see a limited inventory of good quality homes in this price range and buyers need to be ready to make a strong offer right away, in order to not loose out.
Browse properties for sale in these neighborhoods:
The tax migration also resulted in a strong increase of ultra-luxury home sales across Miami Dade. We saw an increased amount of $10M+ sales with most of these homes selling in exclusive communities such as Gables Estates in Coral Gables, Miami Beach and the Miami Beach Islands. Compared to many US markets Miami is still very affordable and many tax refugees from LA and NYC are looking for large and ultra-luxurious waterfront mansions.
One market that is very strong and that is experiencing a lack of inventory are brand new homes. The majority of today's buyers want new construction homes and while the supply is limited across all price ranges, it is particularly scarce in the lower price ranges. Buyers, now more than ever, need to be connected to good agents who can tell them about new product before it hits the market (these homes often sell among top agents before they can even hit the market).
Please fill in your details and David Siddons will contact you
Get our

Newsletter

No Thanks
Get the latest news from Miami Real Estate News
Email to a Friend
Recomend this to a friend, just enter their email below.
Your email was sent succesfully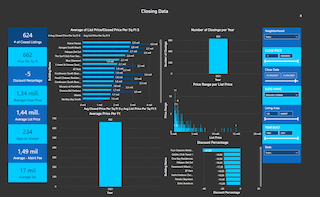 COMPARE WITH CONDOGEEKS

Meet our Team