Miami's Ultra-Luxury Condos – A Market Update Q1 2017
What is the Status of Miami's Ultra-Luxurious Condo Market ($5M+)
There has been a great deal of speculation regarding Miami's condo market, especially the higher end of the market. In the last few years, the Miami market experienced an increase in demand with some substantial price increases resulting from it. As the market started to cool down in 2015 – 2016, we saw rising inventory and sellers forced to lower their prices.
As we experienced an increase in clients asking for ultra luxury condos and ultra-luxury Miami homes, we expected the market might be bouncing back after a period of correction. We decided to have a look at the actual numbers and to put our findings, combined with our day to day experience in the ultra luxury market, on 'paper'.
The Average Prices in the Ultra – Luxury Miami Condo Market
The luxury condo market saw some heavily inflated prices in the last few years. Buyers were flocking in and bought properties that were priced far over market value. This real estate boom cooled down in 2015/2016, as the market was seeing a decline in buyers and an incline in inventory. As a consequence of this, sellers needed to adjust their prices in order to attract the increasingly price conscious buyers. As can be seen from the graph below; 2016 was a year of price corrections, while 2017 (First 4 months) is showing a recovering market with increasing prices. Key Biscayne shows a lower average price per SF in 2017 but it needs to be noted that only 1 property was sold in 2017.
As can be seen from the table on the right hand side, the average active listing prices are mostly far above the average sales prices. This means that sellers are very positive about the market, but those who want to sell quickly better price their units close to market price.
Months of Inventory for Miami Luxury Condos
Months of inventory is an important indicator to know where the market is heading. A high inventory leads to a buyers market and decreasing prices while low inventory leads to a sellers market and increasing prices.
As you can see from the graph below, most markets including the overall Miami market is experiencing a strong buyers market with 18+ months of inventory. Brickell and Coconut Grove are experiencing a neutral, almost sellers market. Especially Coconut Grove is showing a high demand for ultra luxury properties with a limited supply.
Miami Luxury Condos Sold Versus Luxury Condos for Sale
In the table below you see how many ultra-luxury condos sold in each Miami neighborhood, with Miami Beach being the largest market. You can see that 2016 had a slight decrease in the number of sales while 2017 seems to be picking up again (2017 is only taken over the first 4 months).
Regarding the listings in each market we also see that Miami Beach is in the lead with 161 ultra luxury condos being listed for sale.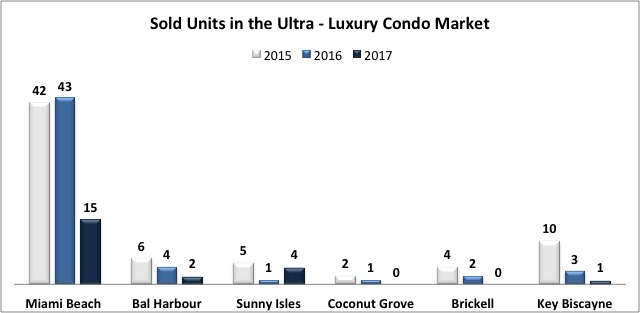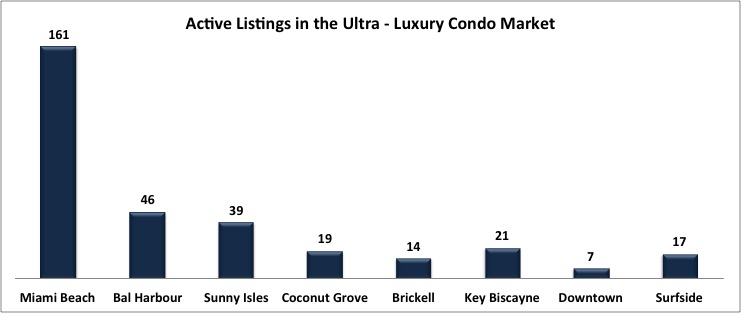 Average Days the Miami Ultra-Luxury Condos stay on the Market
The table below shows how many days it takes on average before a property is sold. We only took the overall market into account as the limited numbers of properties sold in specific sub-markets would skew the numbers too much and give an erroneous perception of the market.
In 2017 we see an average of 240 days or approximately 8 months before a ultra luxury condo is sold. This was respectively 164 and 282 days in 2016 and 2015.
New Ultra-Luxury Condos to enter the Miami Market
A handful of brand new and super exclusive condos are being developed at this moment or are just starting to resell their units. Please find some of the most prestigious new condos below.
Some of the Newest Ultra-Luxury Condos in Miami Beach
Eighty Seven Park: Eighty Seven Park (87 Park) by Renzo Piano is a selection of private Miami Beach oceanfront residences designed to seamlessly embrace park and ocean in Miami Beach's newest neighborhood. The first residential project in the United States created by Pritzker Award-Winning architect, Renzo Piano. Located on an oceanfront 3 acres lot, the residences will be located on 1 acre while 2 acres on the north side will be a private park for the building.
Other Desired Luxury Condos are:
Some of the Newest Ultra-Luxury Condos in Coconut Grove
Park Grove – Tower 1:  Park Grove in Coconut Grove is a new architectural masterpiece by Rem Koolhaas' Office for Metropolitan Architecture. The Park Grove Condo project will feature 3 towers and 298 completely finished residential units located in a 5.2-acre waterfront park with over 50,000 Sq.Ft of amenities and a major collection of Art, displayed throughout the property.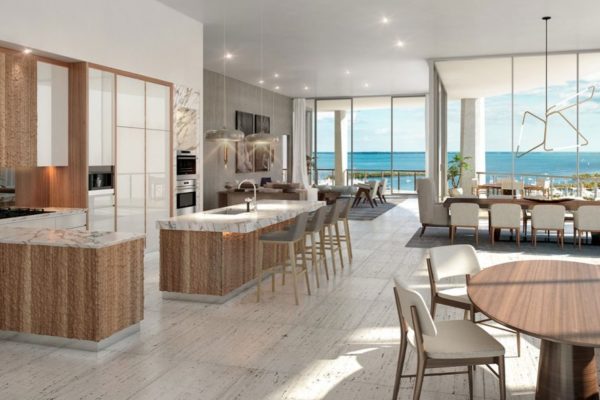 Some of the Newest Ultra-Luxury Condos in Sunny Isles Beach
The Porsche Design Tower is Sunny Isles Beach is the first Porsche Condo ever built in the world, appropriately named P001. The Porsche Design Tower is unique in its kind with its Robotic parking system that will allow its residents to transport and park their cars in their own private Garage (2 -4 Car Garage) at the door step of their residence. This basically means that nobody ever needs to see you coming in and out of your unit. This privacy aspect makes the building highly desired by high profile people. The tower is the first Porsche Designed Tower in the world and in case you are interested: 2% of the world's billionaires own in this building (that will be some impressive networking). The tower is expected to be delivered in 2016
The residences,  which range between 4,750 Sq. Ft. and 14,000 Sq. Ft, feature private elevators,  private plunge pools and outdoor kitchens. Exclusive enough? Read more about this unique luxury condo here below
Another Luxury Condos is:

Armani Residences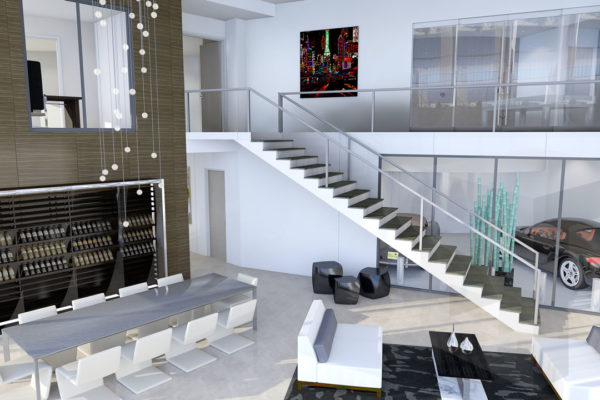 Some of the Newest Ultra-Luxury Condos in Surfside
The Surf Club Four Seasons Residences:
The Surf Club Four Seasons Private Residences is situated on eight acres of oceanfront gardens, palm stands and pathways. Designed by Pritzker Prize-winning architect Richard Meier, in collaboration with architect Kobi Karp, two transparent 12-story residential buildings and an intimate Four Seasons Hotel incorporate the historic 1930 Russell Pancoast-designed Surf Club, preserving its legendary past. Combining luxury and legendary Four Seasons service and tailoring it to match the understated elegance of this seaside location, The Surf Club Four Seasons Private Residences caters to residents' every whim, whether they are lounging in a cabana by one of four pools or dining with unimpeded vistas of the ocean.
The Surf Club Four Seasons Private Residences offers abundant options. Elegant venues in the historic Surf Club for intimate entertaining. Idyllic oceanfront public spaces and lush landscaped gardens for socializing. A sumptuous Four Seasons Spa and Wellness center with customized treatments for rejuvenation and relaxation. Yours to enjoy.