Best Realtor in Coconut Grove? Why Choose the David Siddons Group
Discover why we are the Preferred Coconut Grove Realtor for our Clients
Are you looking to buy Coconut Grove real estate or to sell your Coconut Grove property? Ensure yourself you are working with the best real estate agent in Coconut Grove.
In case you have never been to Coconut Grove, I uploaded this video for you, which will give you a better feel of the Grove. Go to our Coconut Grove neighborhood page to get more information, news and market reports
The Best Coconut Grove Realtor – How to choose your agent wisely
Buying or selling real estate is one of the most important investment or divestment decisions in one's life. Just like with other investment decisions one should rely on an expert with a great insight into the numbers of a certain market.
Most people in Miami know more than one realtor and many will use their contacts to help them in their real estate transactions.  While your motives might vary from using a friend, referral or family member or saving yourself the trouble of going online to find a good agent, the most important aspects or qualities of an agent are often overseen: 'Market knowledge', 'Marketing Knowledge & Means' and 'Resoucefulness'.
Why our clients think David Siddons is the best realtor to buy or sell in Coconut Grove?
David works and lives in the Grove
David Siddons has lived and worked in Coconut Grove for almost a decade and he knows Coconut Grove like the back of his hand
⇒ David knows the market and has published several market reports like the Coconut Grove Luxury Market report, pictured on the right hand side
David is known for his market knowledge and analytical skills
The David Siddons Group knows the market like nobody else. Besides our day to day experience of living and working in the Grove we study the numbers and we track the market on a daily basis. We authored several investment guides on the Coconut Grove real estate market and have been quoted by multiple media outlets such as Bloomberg, BBC, The Real Deal and the Miami Herald.
♦ Read some of our Coconut Grove material by scrolling down to "Interesting Reads on Coconut Grove"
♦ The David Siddons Group in the media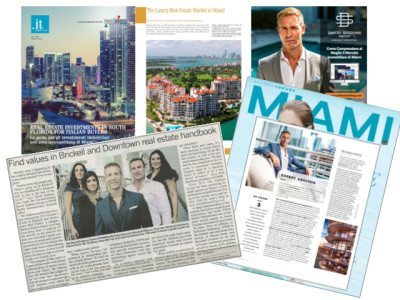 David thinks out of the box
David Siddons is resourceful and thinks out of the box when it comes to satisfying his client's need. David found several of his clients off-market properties based on their specific requirements and wishes.
This is how we will sell your property
We are not too big to ignore your listing needs. We organize open houses, we are willing and able to show your property in the weekends and evenings and we make sure your listings gets the attention it needs. Have a look at the listing video we made for this Coconut Grove property in Entrada Estates
Interesting reads on Coconut Grove
" My wife and I sold our town home of 5 years and bought a house less than a week ago. We used David as our relator on both transactions. Within 9 days of listing our town home we had 2 open houses and 2 serious bidders. We were under contract within 15 days and closed within 25 days. David brokered and sold our town home for the highest price ever recorded for a three bedroom town home in Coconut Grove. We were beyond thrilled. Simultaneously he found us a 6 bedroom home in a gated community in our desired location. We went under contract in 3 days and closed last week. With David's organization, understanding of the market, and guidance we are living in our Dream Home."
Alex and Carmen Gonzalez
"We listed our home for sale with David. David's prep work, showings and open house were a hit taking him one week to sell the home and we got within 3% of our asking price. We could not have been happier with David's performance".
David Siddons
david@siddonsgroup.com | +1 305 508 0899
Meet the team and see our unique insights into the Miami Real Estate Market.
No generalized opinions, we offer an analytic approach.
Preferred agents of First time buyers, Sellers, Investors and Wealth Managers