The David Siddons Group Thanks You For The Successful 2017!
Here is to a Successful 2017 and an even Better 2018
This is the month of reflections, of looking back at what happened and strategizing the year to come. As I think back of the last year, I am extremely proud of what me and my team have accomplished. 
2017, A Year in numbers
We closed $65M in Real Estate transactions this year. That is an 167% increase compared to last year!  This makes us one of the most successful real estate teams in Miami.

We represented a buyer who purchased the entire L'Uccello boutique condo and rented all his units within 3 months after closing
We sold two of the Penthouses at Carbonell, one for a record breaking sales price in Carbonell
We broke a sales record on a Miami Beach, Coconut Grove and a Palmetto Bay Dry Lot


We closed on 7 properties, representing both sides of the deal

We found 3 clients a home that wasn't even on the market.

We added three outstanding realtors to the team, expanding our expertise to Palmetto Bay and Miami's Upper East Side

We wrote 127 blogs (that is more than 2 blogs per week)

We launched the 2017 Miami Real Estate Guide which was downloaded more than 10,000 times and covered by the Miami Herald
We created a successful Miami Relocation Guide for everyone moving to Miami
We started making client testimonial videos to show sellers and buyers how the David Siddons Group works
The David Siddons Group would like to thank you for your business and continuous trust in 2017 
We are extremely proud to serve the needs of the local and global Miami real estate market. Thanks to you we have generated $65M in sales this year, making the David Siddons Group one of Miami's most successfull real estate groups
Whether you are looking for a home, selling a home or preparing to close on a property we hope we can be of further service to you in 2018. You hope you will continue to use us, refer us, and our site for what has become an ever expanding wealth of tools and information. We appreciate you as a valued customer. 
TO ALL OUR READERS AND CLIENTS
WE WISH YOU HAPPY HOLIDAYS AND A PROSPEROUS 2018!
Why Buyers and Sellers Should Choose The David Siddons Group?
Please fill in your details and David Siddons will contact you
Get our

Newsletter

No Thanks
Get the latest news from Miami Real Estate News
Email to a Friend
Recomend this to a friend, just enter their email below.
Your email was sent succesfully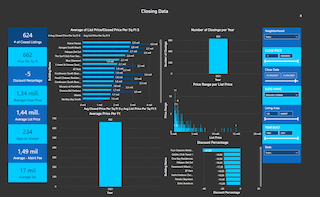 COMPARE WITH CONDOGEEKS