How Saturated is the Brickell Condo Market?
What Brickell Condos are a Good Investment at this Moment?
Much has been said about the Brickell condo market in the last few years. The David Siddons Group has warned clients and readers about certain Brickell condo investments, while also acknowledging that not all Brickell condos can be generalized. In this blog we will discuss which Brickell real estate investments are a good idea and which are not.
What Brickell Real Estate to Avoid?
Last week we wrote an article about which Miami real estate not to buy. In this article we argue to be cautious with the very generic Brickell condos, which have been entering the market in the last few years. Many of these condos are new and well-branded or themed, but they don't offer water views, unique features or high-end finishes. Many investors bought these units at the height of the market with the intention of selling them again after the units were delivered. This has resulted in an abundance of these kind of units (mostly priced between $500,000 and $800,000) on the market. In this buyer's market, where buyers have the upper hand it is not easy to sell a generic unit. It is for this reason that the market is seeing price corrections and high levels of inventory. In our article (Linked above), about which Miami real estate to avoid you can read more about what type of real estate you should not invest in.
Please contact me to discuss this into further detail.
For legal reasons I wont name any condos here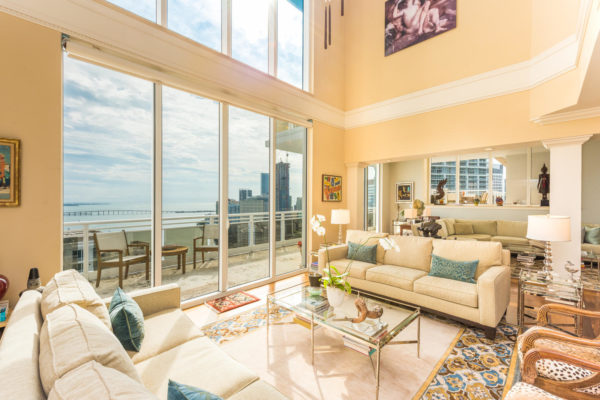 The David Siddons Group sold this Brickell Penthouse for $932 per SF. The highest price per SF in the building ever achieved. Good quality condos are still selling, it is the generic kind of condos that are causing the high amount of inventory.
What Brickell Real Estate to Invest in?
The David Siddons Group always advises to invest in Brickell condos with waterviews (If your budget allows for it) or unique features such as large terraces, high ceilings or corner units. It is also advised to invest in a condo that has a low renter to owner ratio, these condos are less volatile in case the market slows down.
As we mentioned in several other blogs on the Brickell market, good quality condos that are well priced and offer unique features are still selling, even in a buyer's market. Yes there is a high inventory, yes the market has slowed down, but this does not mean that there is no demand. A certain section of the market is actually still doing very well.
The David Siddons Group just sold PH3703 at Carbonell Brickell Key for a record price per SF in the building and one of the highest sales prices in Brickell in the last 6 months. Because of this sale we decided to look at several other buildings with water facing units to see how they performed in the last two years.
We looked at several of the oceanfront condos in Brickell that sold waterfacing units in the last half year (Nov 2016 – May 2017) and compared those to sales data of the same condos in the same period last year. All these condos were constructed before the last condo boom with Asia (2008) being the newest of the list.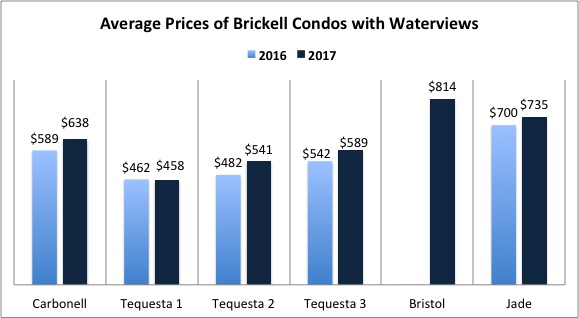 Prices were rising or remained stable. A contrast compared to the more generic Brickell condos that saw declining prices. As mentioned above, these condos have in common that they are in desired (Desired over a long period of time, not just a temporary fashion) and waterfront condos, that are well managed and offer high-end finishes. These condos are seeing a high amount of owners and less investors or renters. Brickell Penthouses for sale are also seeing great values and interest from buyers.
For Sale: Professionaly Designed Penthouse at Carbonell with Breathtaking Water and City Views
3 Bedrooms | 3,5 Bathrooms | 2,818 Sq.Ft In | 1,834 Sq.Ft Terrace
Listed for $2,700,000 
Magnificent Brickell Key Penthouse with Water Views of the Biscayne Bay and The Miami River together with Downtown Miami Skyline. This professionally designed unit offers 2,818 SF of interior and 1,834 SF of terrace with manicured garden and built-in out-door grill, ideal for entertainment. The residence features 3 Bedrooms + Den, 3.5 Bathrooms, marble floors, marble bathrooms, a large chef's style kitchen with Miehle appliances, surround sound system in media room, centrally controlled sound system in