Everything You Need to Know About Moving to Miami Beach
A Must Read Guide Before Relocating to Miami Beach Florida
Miami Beach is arguably the best known area of Miami. The ultimate combination of beautiful beaches, great entertainment and superb real estate is what attracts many buyers to the Beach. Miami Beach is a large area and many people find it difficult to know where on the beach they really want to settle. Therefore, before moving to Miami Beach you might want to read this guide.
Relocating to Miami Beach – Why do you want to live on Miami Beach?
Often associated with a pure holiday and party destination, Miami Beach offers so much more than just beach and nightclubs. Many people don't know that certain parts of Miami Beach are very tranquil and desired with families and boat lovers. The Beach is home to very high-end homes and condos and for families with children Miami Beach offers some great schools. Miami Beach is home to a diverse demographic and before you move to Miami Beach we will show you the different parts of this area.
We can divide Miami Beach is Fisher Island, South of Fifth, South Beach and the Islands, Mid Beach and North Beach.
⇒ By Clicking on the colored sections in the map you can see which are the different areas ⇒
Fisher Island 
Average Condo Sales Price: $6,250,000 | Median Condo Sales Price: $2,650,000
Fisher Island is a very exclusive and private island just below South of Fifth. This 216 acre island community is one of the US' most exclusive and expensive areas and can only be reached – upon invitation by one of the residents- by boat or by ferry. Although most of Fisher Island are second or third homes, the island still counts with a great number of families that reside here all year round. Fisher Island offers many upscale condos, a golf course, 24/7 police control, two Marinas and there is a private school on the island. For those who are looking to move to Miami Beach while maintaining the highest standards of privacy and exclusivity, Fisher island condos for sale might be the best option.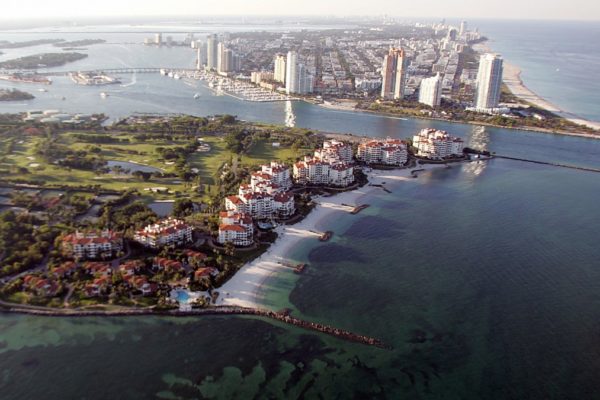 South of Fifth
Average Condo Sales Price: $1,65,000 | Median Condo Sales Price: $950,000
South of Fifth is the most southern point (The area South of 5th Street) of Miami Beach. This area is known for its flashy and ultra-luxurious condos and is home to many international jet-setters. The area is home to a marina and to many high-end restaurants and other types of entertainment. The area is less quiet and provides a home to many young professionals, entrepreneurs, jet-setters and second home owners. South of Fifth condo for sale belong to Miami's most exclusive real estate
South Beach
Average Condo Sales Price: $600,000 | Median Condo Sales Price: $360,000
South Beach Condos ranges between $200,000 and $25M+. The more desired, oceanfront condos however are selling for $750,000+
South Beach is the area within Miami Beach that is best known by most people around the world. It is here, where we find most of the famous Art Deco Hotels, restaurants, pool parties, night life and shopping. South Beach offers few single family homes and plenty of high-end condos with superb views over the ocean and/or the Brickell / Miami Downtown skyline. This part of town is the most flashy, touristy and the least tranquil. Those who opt to live here need to keep in mind that this is the playground for tourists, models and a more flamboyant crowd than anywhere else in Miami. South Beach Real Estate for Sale is exclusive and very desired. It also includes some very high-end condo hotels like the W, The 1 Hotel and Homes, The Edition and the Setai, which are very desired with investors. The west side of South Beach (along West Avenue), offers more tranquillity than the east side, where we can find the most exclusive condos along Collins Avenue.
The Islands of South Beach
Star / Hibiscus and Palm Island Homes: Average Sales Price: $5M | Median Sales Price: $4,6M
The Venetian Islands Homes: Average Sales Price: $5,7M | Median Sales Price: $4,5M
Star Island, Hibiscus Island and Palm Island are three very exclusive islands between Miami and the Beach. This area offers very high-end and often waterfront homes. Many of these homes are owned by celebrities and captains of industry impressed by the waterfront mansions and stunning skyline views. Star Island / Hibiscus Island and Palm Island homes for sale belong to Miami's most exclusive real estate options.
Even though the Venetian Islands do not belong to Miami Beach, it is often considered part of it and therefore we decided to mention it. The Venetian Islands offer a few, more dated, condos but the Islands are mostly known for their superb waterfront mansions. Many of the older homes have been bought up and brand new luxury homes have been built instead. The Venetian islands homes for sale are becoming more and more a preferred option for investors looking for luxurious waterfront mansions for sale.
Mid Beach
Homes: Average Sales Price: $2,5M | Median Sales Price: $1,5M
Condos: Average Sales Price: $900,000 | Median Sales Price: $500,000
The more desired, oceanfront condos as well as most of the brand new condos are selling for $750,000+
Mid Beach is a more quite part of Miami Beach, especially the northern part of Mid Beach. This part of town offers more options for families relocating to Miami Beach with plenty of options for Single Family homes. Desired areas with superb Mid Beach Homes for sale are the Sunset Islands, The areas along North Bay Drive, Alton Road and Indian Creek Drive as well as the areas around the La Gorce Golf course. Many of these are Miami Beach waterfront homes for sale which belong to Miami's most desired real estate. If you prefer a Miami Beach home which is close to the beach, but with serenity and privacy, than this is one of your best options. On the other hand, this part of the beach also offers great condos in the southern part of Mid Beach. If you want to be part of the action, yet not in the middle of it, this is your best choice. Desired condos here are Faena House, Mei, The Fontainbleau Condo Hotel and the brand new Ritz-Carlton Residences.
North Beach
Homes: Average Sales Price: $2,2M | Median Sales Price: $1,25M
Condos: Average Sales Price: $640,000 | Median Sales Price: $451,000
North Beach is the most northern part of Miami Beach, just South of Surfside. The Mid/North Beach Area of Miami Beach is seen as an upscale seaside village with fewer tourists, less crowded beaches, less traffic on the streets and generally speaking a more laid back lifestyle. Lately, we have noticed a true migration of wealthy families from all over Miami including Miami Beach towards the North Beach area. The area is getting more and more of a name for itself and received a handful of brand new luxury names in the last 6 months including the high-end new luxury condo Eighty Seven Park by Renzo Piano, the Ritz Carlton Residences and the Surfclub Four Seasons Hotel and Residences. Please click on the link for North Beach real estate for sale.