Everything You Need to Know About Moving to Brickell [Updated for 2020]
All the information you need before making the move to Brickell
Brickell is the second largest financial district of the United States and therefore also called the 'Manhattan of the South'. Brickell's high concentration of international banks are mostly focused on wealth and investment banking. Many Latin American financial institutions are opening a branch in Miami, bringing young foreign professionals with them or providing jobs for locals. At the same time many multinationals are opening offices in Miami to function as their hub of the Americas. All of this has made Miami a more attractive job market for young professionals who mostly choose Brickell as their preferred residence.
Why would you relocate to Brickell?
Brickell is a real estate market characterized by high-rise condos. The area experienced massive growth during the last few years. With an enormous influx of investors, the supply side of the market could not keep up with the buyer's demand, which resulted in the development of about a dozen brand new luxury condos as well as rising prices. Brickell's expansion didn't stop with the condos. Miami's fastest growing community welcomed many new restaurants and businesses while becoming more self-providing on a daily basis. The latest of these developments is Brickell City Center, a $1.05 billion mixed-use development offering a luxury shopping mall with high-end retail, restaurants, a hotel, a cinema and much more. This 24/7 ongoing cycle of business and pleasure attracts many young professionals who are looking for the best of urban living. Brickell's demographic is therefore best characterized by young professionals or young families with or without children.
So when you ask people why they moved to Brickell their answer mostly involves: "Because I can work, live and have fun without having to take a car". It is the combination of being close to your job, but also to restaurants, shops and other forms of entertainment while living in a luxury condo with superb views. Being located in the center of Miami, Brickell is a quick ride from Coral Gables and Coconut Grove as well as Key Biscayne and the beaches.
What to know before relocating to Brickell?
As mentioned before, the Brickell condo market experienced some booming years, but the market is currently experiencing a correcting market. The market got thousands of new condo units and prices increased rapidly. In 2015/2016, many of Miami's foreign investors saw their currency decrease in value compared to the Dollar, which resulted in a stagnation of the investment flow. With many units still under construction, the Miami market experienced a steep rise in inventory. At the same time many brand new units were already delivered and listed for resale (as the Brickell market is an investment market, many owners tried to flip their units). This increased the inventory even more while the demand was limited and buyers were more price conscious.
At the moment (Q4 of 2020) we are experiencing a very high inventory in the Brickell market together with downward prices.  This combination does not mean one should not buy. There is actually a lot of opportunity out there and the time to make great deals is now. Have a look at our 2020 Q2 and Q3 Miami Real Estate Report.
Please fill in your details and David Siddons will contact you

Subscribe!
Get uninterrupted access to our entire articles and blogs database.
Get our

Newsletter

No Thanks
Get the latest news from Miami Real Estate News
Email to a Friend
Recomend this to a friend, just enter their email below.
Your email was sent successfully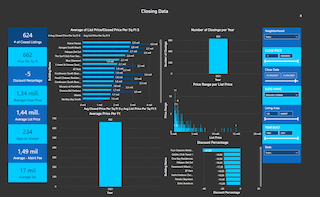 COMPARE WITH CONDOGEEKS

Meet our Team