Building a House in Miami – The most important questions answered.
A must read for building a House in Miami!
When Building a house in Miami home there are a lot of things you need to take into consideration. It is worth stating that it takes more than an eye for finding the land. You have to know zoning regulations, construction costs and permit requirements. Furthermore you must consider conditions of the land, meaning if a pool could be built), topography and type of soil. Also, water levels (WASD) which will tell you the water lines and drains allowed to the houses on the street, elevation above the water table and so much more.
Below we ask the most crucial questions to several of Miami's most renowned experts.
Luciana Fragali (LF) from Design Solutions
Dany Sebaaly (DS) from Builcore. Also check out my one on one podsast with Dany
We also lean into answers from my preferred Architect. Cesar Molina.
What is the cost per SF of construction in Miami from a normal spec home to a high luxury home?
DS: The average is approximately $500-600 per SF depending on finishes and appliance package. When we deal with luxury the sky is the limit.
LF: Because we do custom interior finishes our luxury single family homes can hit $1000 per sqft.
What are the other lesser known costs in construction that people need to be aware of? (architectural fees for example)
DS:

Architectural Fees

Permit Fees

Utility hook up and inspection fees such as DERM, WASA

Tree mitigation and protection plans and associated fees

Shop drawing review and permit fees for specialty trades

Construction Survey costs throughout the construction life cycle

Permit Expediting fees for the person running the permit through the municipality.

LF: In new construction be sure to do your due diligence during the inspection period. WASD (Water and Sewer Department) very important to check with them to see what their requirements will be from you at your new site.
Whats the difference between spec homes and custom homes?
DS: A Spec home is a home that is being built on speculation of the market and more of an investment vehicle. The plans are available and the buyer can moderate them slightly. A custom home is more for an end-user and is designed in conjunction with user, architect, and design team.
LF: Spec homes are definitely more common when seen as homes being sold on the MLS. Custom Homes are rarely if even seen on the open market for sale. When we design custom homes the owners spend so much time invested they rarely want to part from them.
How much of the lot can i build on? (Coconut Grove vs Coral Gables vs Miami Beach)
DS: This depends on the type of lot and the zoning designation of the lot.  Corner lots are different that interior lots or waterfront lots. This should be one of the first orders of due diligence.  Perform a feasibility study and have a Massing of what can be build done.  Make sure a FAR (Floor Area Ratio) is provided and studied. Grove is very generous and allows up to 80% built.
LF: Everything depends or different cities. Gables is very strict. they allow around 45% and the beach is much the same. We deal with them all.
What's 'in' or desirable right now?
DS: Thats a question for Luciana!
LF: Transitional is very desirable now. Of course organic and natural homes that integrate well with the environment. Natural stones and wood. Please check out our website for examples.
What are the biggest mistakes you see when people construct a home?
DS: Not putting enough thought into the quality of labour and finish. Completing level 5 for example requires a very skilled workforce and many GC's have a hard time pulling this off, but it makes an enormous difference.
LF: I agree with Dany. In addition we also recognize the need to factor in elements such as stonework, millwork and lighting design. It is complex and there is a lot of moving parts but in short appreciate the need for attention to detail in order to get the right end result. This may make the process longer but it makes a huge difference.
Building a new house from scratch or renovate – which way to go?
DS: This depends on location, market, and if you are building spec or custom home.
LF: Depends on the budget but I like building from scratch
David Siddons – Having done both, i far prefer building from scratch.
How long does the typical permitting process take for a new house?
DS: It used to take 3-4 months but now it can be as much as 9 months.
LF:  Yup 9 months is what we are seeing
How long does it take to build a home from an empty lot to a completed home with Certificate of Occupancy?
DB: This depends on the type of home, the size of the home and the level of details and finishes however we are seeing on average it taking 3 years.
LS – Given the high level attention to detail a good number of our projects will take 3.5 years to go from buying the lot to moving in.
What is your best success story?
DS: Every time we complete a new home and hand over the keys to a happy client we count that as success. Most of our clients become friends throughout the process and subsequently maintain the relationship past turn over.  The building process can easily take up to 2 years from the time you start design and this relationship is a daily and constant interaction. It is important that you work with someone you like and you get along with and we strive to do that not only during the process but afterwards as well.
LF: Every project is personal but a few like this one stands out!  It was a home on Venetian that came out beautifully, So much so it made the front cover of Lux magazine.
David Siddons. I have helped so many clients, but my recent project of my own home is very special. Every time i come home Im happy and thankful for the peace it gives me and my family.
Please fill in your details and David Siddons will contact you

Subscribe!
Get uninterrupted access to our entire articles and blogs database.
Get our

Newsletter

No Thanks
Get the latest news from Miami Real Estate News
Email to a Friend
Recomend this to a friend, just enter their email below.
Your email was sent successfully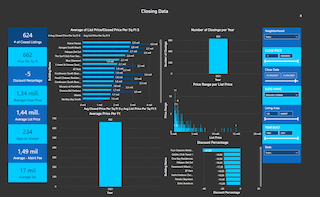 COMPARE WITH CONDOGEEKS

Meet our Team