The Art of Living at the The Aston Martin Residences in Miami
Living in the Condo of your Favorite Luxury Car Manufacturer
Have you ever wondered how it is to be James Bond? Now you can live his live in Aston Martin Residences condominium in Downtown Miami.
Did you miss your chance to buy in the Porsche Design Tower? Then you still have another option to live your dream. Aston Martin, the British luxury car brand is now developing a high-end residential tower in Downtown Miami.
Aston Martin is the most important accessory to James Bond film, Goldfinger, the fictional character using its DB5 model in 1964 and making it look great on the silver screen.
The Aston Martin Residences is the first condo tower ever branded by the British car maker. The perfectly designed Aston Martin's style residences offer luxury, refinement and sophistication
Developer: G&G Business Development
Architect: BMA & Revuelta Architecture International as main architects with some interiors designed by Aston Martin.
Public spaces / Common areas BMA:  Bodas Miani Anger Architects Aston Martin Design
Scheduled delivery: 2022
Stories: 66
Residences: 391
Residence Mix: 1- 5 Bedroom Residences, Duplexes, Penthouses,
and Triple Penthouse

Levels 3 through 14 – River Residences
Levels 15 through 45 – Panoramic Residences
Levels 56 through 62 – Penthouses
Levels 63 through 65 – Triple Penthouse

Prices are starting at $650,000 (Prices are subject to change)
Located at 300 S. Biscayne Bay along the Miami river, the Aston Martin's residences will be situated on a 1.25 acre lot offering breathtaking views of the Miami River, Biscayne Bay, and Miami Brickell skyline.
Aston Martin Miami Residence Features
Expansive floor plan layouts
Upper Penthouse 18,811 SF
Sky Penthouses ranging from 8,977 SF to 10,463 SF
5 bedrooms ranging from 3,764 SF to 3,994 SF
4 bedrooms ranging from 3,235 SF to 4,434 SF
3 bedrooms ranging from 2,236 SF to 3,075 SF
2 bedrooms ranging from 1,317 SF to 2,143 SF
1 bedrooms ranging from 754 SF to 1,001 SF
Studios from 698 SF
Panoramic views of Biscayne Bay, the Ocean, and the iconic Miami Skyline
10 FT. ceiling height in residences
12 FT. ceiling height in penthouses
Floor to ceiling windows and sliding glass doors throughout residences
Top-of-the-line kitchens with European cabinetry and appliances
Bathrooms with European cabinetry
Premium marble flooring throughout living area, kitchen, and bathrooms
Private balconies finished with high-end porcelain flooring and glass railings
The Aston Martin Building Amenities and Services
Full Service building with concierge and hospitality-inspired services
Super Yacht Marina facilities
24-Hour valet and self parking option
Charging stations for electric cars
Bicycle and private storage spaces
10 destination controlled super hi-speed elevators and 3 separate dedicated service elevators
Digital connection to concierge and all building amenities from every residence
Pet Friendly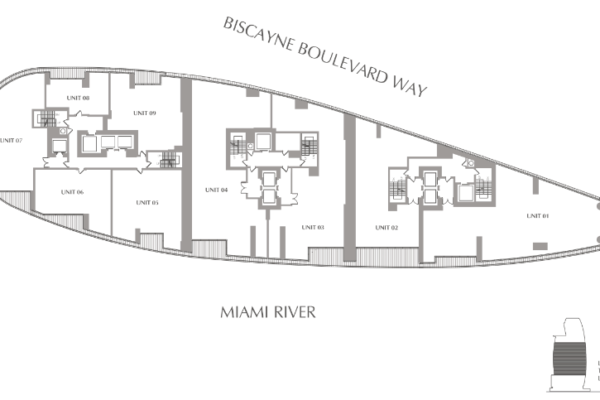 Please ask us for a specific floor plan or residence type. Because of the extensive numbers of floor plans we cannot display them on this site
Sky Amenities
42,275 SF of amenities divided into 4 floors, connected by a monumental glass staircase
LEVEL 55

Infinity Pool
Pool Deck
Pool Cabanas
Sky Bar and Lounge

Pool Concierge

Grand Salon
State-of-the-art Chef's Kitchen
Private Dining Room
Catering Kitchen

LEVEL 54

Fitness Centre (Upper Level)
Virtual Golf
Movie Theaters 1 & 2

LEVEL 53

Fitness/Spa Lounge
Spa Lobby/Shop
Fitness Centre (Lower Level)
Spinning Room
Boxing Room

SPA

Treatment Suites
Steam Room
Sauna
Meditation Room
Beauty Salon
Barber Station

LEVEL 52

Curated Art Gallery
Business Centre
Conference Room
Kids Playroom
Teen Centre
Game Room
Vending Area