Miami Beach Homes Vs Coconut Grove Homes | What Homes are Selling for How Much?
Comparing Miami Beach Homes to Coconut Grove Homes
I get daily calls from relocating families whose first question always is: "Which neighborhood should I live in?".  Coconut Grove and Miami Beach are two of Miami's most desired neighborhoods and often mentioned as a preferred residence by relocating high-net worth individuals. Both areas are known for their luxury homes, spectacular waterfront lots and sought-after private communities. Both neighborhoods offer spectacular real estate options and whatever is best for you and your family depends on your personal needs and wishes. This article is written from a realtor's perspective; we provide you with essential sales numbers and prices that show you the difference between Coconut Grove homes for sale and Miami Beach Homes for sale.
Please call me for a more personalized discussion and to gain more insights into the differences of these two neighborhoods regarding safety, schools, accessibility, walkability and much more: David Siddons  +1.305.508.0899
This blog is divided into several price ranges and offers key data per price range for sold and active listings as well as an example of two properties that sold in each neighborhood. This study is taken over sales in the period of June 1 2018 till May 30 2019
Average Sales Prices per SF  (For Waterfront and Dry lots)
Including the Average of the Highest and Lowest Three Sales Prices
The Amount between brackets (69) and (9) are the amount of homes sold
The Inventory Levels based on Closed Sales and Closed Sales combined with Pending Sales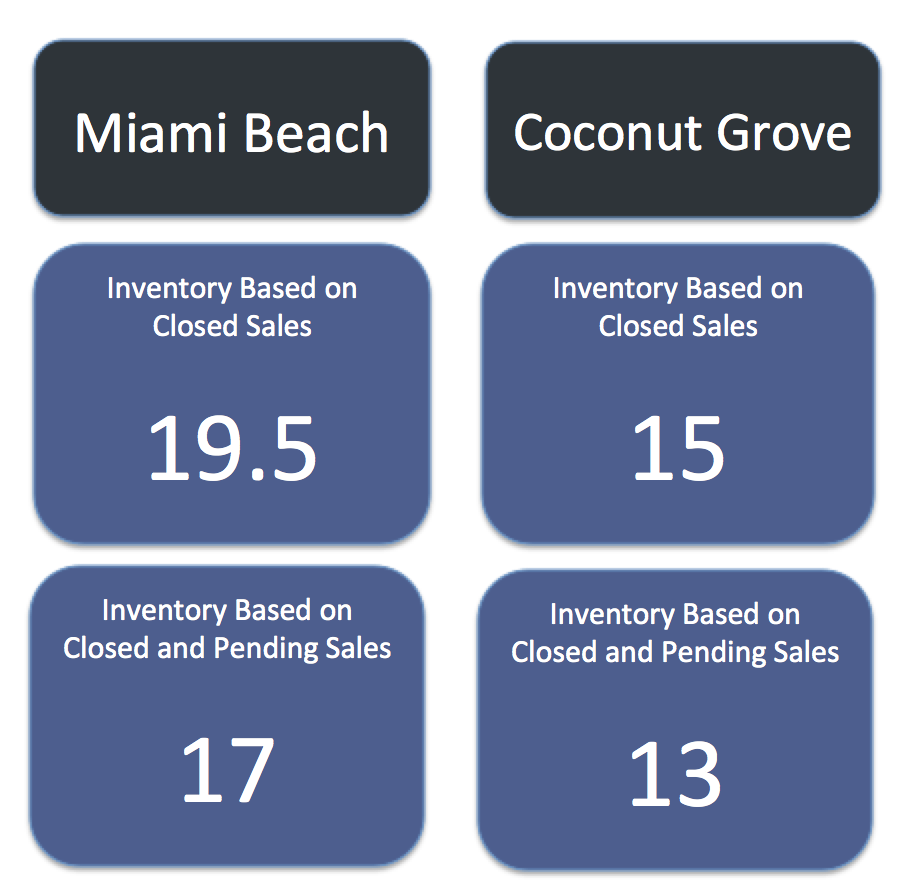 The Number of active Listings, The Average Listing Price per SF and Number of Pending Sales

Coconut Grove Homes vs Miami Beach Homes | Example of Recent Sales
3860 Wood Ave, Coconut Grove (Dry Lot)
Sold for $1,660,000 | $469 per SF 
Located in Little Woods, a gated community in the North Grove
Main House: 3 Bedrooms & office | 3 Bathrooms
Guest House: 2 Bedrooms | 2 Bathroom
3,538 SF Interior |  14,585 SF Lot
Listed for $1,799,000 | $508 per SF
707 W 54th St, Miami Beach (Dry Lot)
Sold for $1,648,000 | $483 per SF 
Located on the 10th hole of prestigious La Gorce Golf Club
4 Bedrooms | 3.5 Bathrooms
3,406 SF Interior |  7,800 SF Lot
Listed for $1,949,000 | $572 per SF
Average Sales Prices per SF  (For Waterfront and Dry lots)
Including the Average of the Highest and Lowest Three Sales Prices

The Amount between brackets (18), (2), (15) and (9) are the amount of homes sold
The Inventory Levels based on Closed Sales and Closed Sales combined with Pending Sales
The Number of active Listings, The Average Listing Price per SF and Number of Pending Sales

Coconut Grove Homes vs Miami Beach Homes | Comparing Two Homes that Closed in this Price Range
2804 Prairie Ave, Miami Beach (Dry Lot)
Sold for $2,590,000 | $632 per SF 

4 Bedrooms | 4.5 Bathrooms
3,958 SF Interior |  9,750 SF Lot
Listed for $2,740,000 | $669 per SF

Average Sales Prices per SF  (For Waterfront and Dry lots)
Including the Average of the Highest and Lowest Three Sales Prices

The Amount between brackets eg (6) and (2) are the amount of homes sold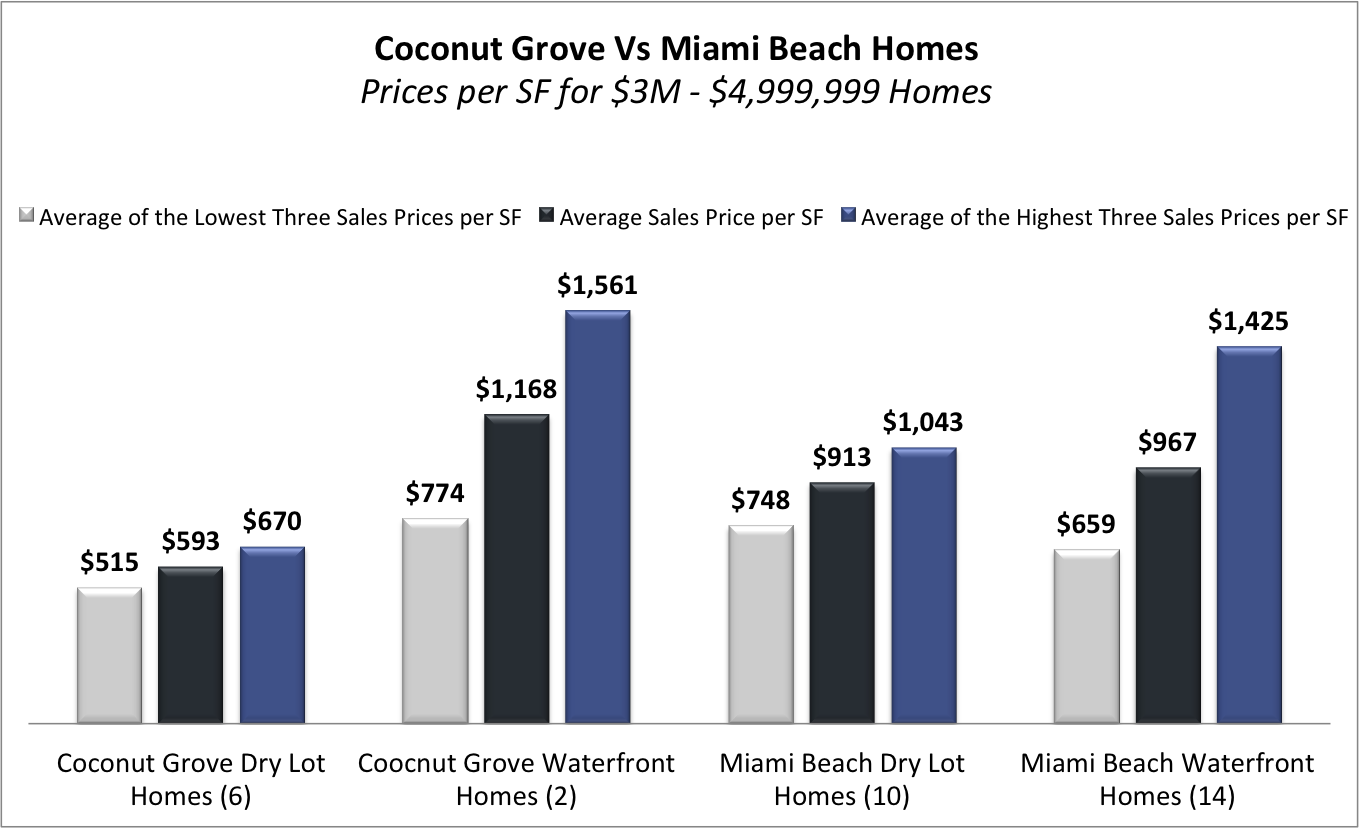 The Inventory Levels based on Closed Sales and Closed Sales combined with Pending Sales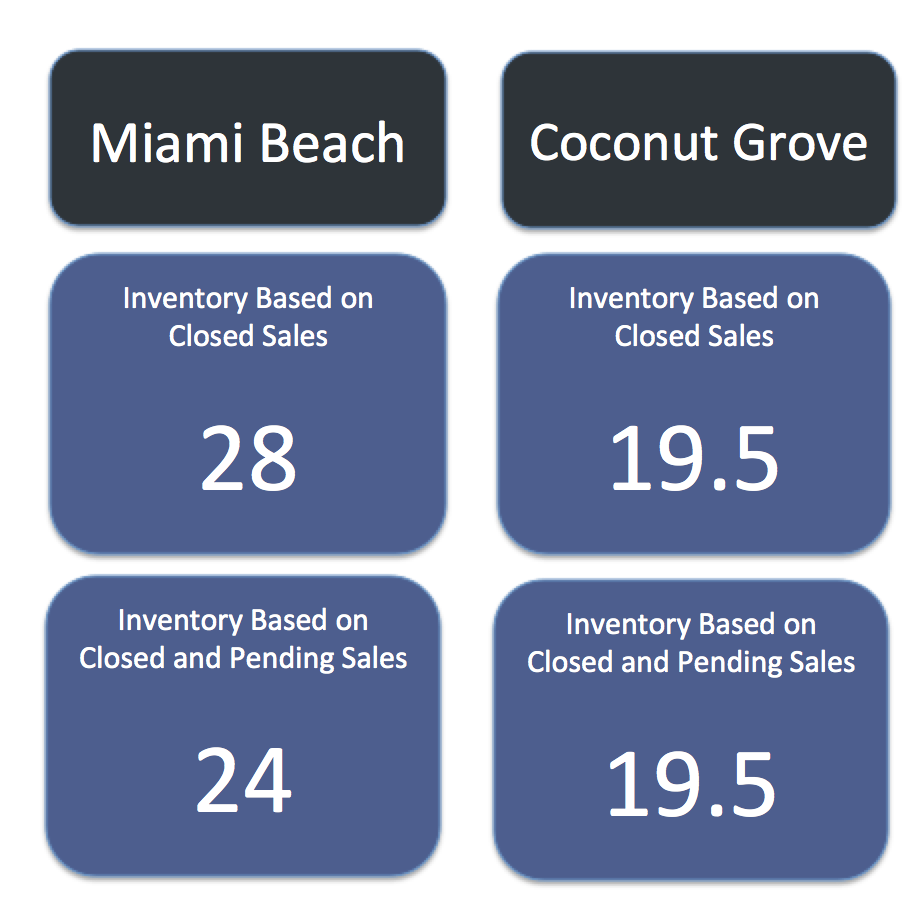 The Number of active Listings, The Average Listing Price per SF and Number of Pending Sales
Coconut Grove Homes vs Miami Beach Homes | Comparing Two Homes that Closed in this Price Range
3779 Justison Rd, Coconut Grove (Dry Lot)
Sold for $3,400,000 | $626 per SF
6 Bedrooms |7.5 Bathrooms
6,462 SF Interior |  9,740 SF Lot
Listed for $3,995,000 | $735 per SF
250 E San Marino Dr, Miami Beach (Dry Lot)
Sold for $3,500,000 | $899 per SF 
5 Bedrooms | 5.5 Bathrooms
3,894 SF Interior |  7,200 SF Lot
Listed for $3,990,000 | $1,024 per SF

4488 Prairie Ave, Miami Beach (Waterfront Lot)
Sold for $3,460,000 | $736 per SF 
7 Bedrooms | 7.5 Bathrooms 
4,848 SF Interior |  12,013 SF Lot
Listed for $3,495,000 | $743 per SF
Average Sales Prices per SF  (For Waterfront and Dry lots)
Including the Average of the Highest and Lowest Three Sales Prices

The Amount between brackets eg (1) or (2) are the amount of homes sold
The Inventory Levels based on Closed Sales and Closed Sales combined with Pending Sales
The Number of active Listings, The Average Listing Price per SF and Number of Pending Sales

Coconut Grove Homes vs Miami Beach Homes | Comparing Two Homes that Closed in this Price Range
3525 Anchorage Way, Coconut Grove (Waterfront Lot)
Sold for $8,250,000 | $1,236 per SF 
In the Gated Community of The Anchorage | On the Open Bay |  Private harbor & three boat slips.
7 Bedrooms | 8.5 Bathrooms
10,739 SF Interior |  18,583 SF Lot
Listed for $8,900,000 | $1,333 per SF