Cocoplum Homes for Sale – Everything you need to know before buying Cocoplum Real Estate
Cocoplum Buyers Guide: Everything you need to know before looking at Cocoplum Homes for sale
If you are in the market for a home in any of Miami's gated communities there is a good chance that Cocoplum is on the top of your list. By now you have hopefully done your research, read my Top 5 reasons for buying in Cocoplum and are close to making an offer on a desired property.
Cocoplum Homes: The Inventory
In the current state of the Miami luxury real estate market, the advantage goes to the buyer.  We have seen a significant rise in inventory in the $2M+ category over the last year. Regarding Cocoplum Homes, there is only one Cocoplum home for sale listed below $2M which is 8250 La Rampa St. As of this month there is 21 "months of inventory" in Coral Gables for single family homes between $2M-$5M.
Cocoplum Homes: The Closed and Pending Sales
Now that you are familiar with the inventory we need to know what sales are like. If you have read anyone of my latest blog posts you will know that renovated homes are going for a considerable amount more than dated homes, but sellers who have disregarded making improvements on their homes are listing their houses at rates of the newer more updated homes.
This is where having a Cocoplum expert will assist you. I have been in or researched every closed and/or pending sale in Cocoplum over the last year. I can identify rather easily what is what.  But to save you time use this as a guide.
The average closed sale for dry lots in the last 12 months
The Average Price per SF for a closed sale: $446
The Highest Price per SF for a closed sale: $592
The Lowest Price per SF for a closed sale: $349

*Currently there are no sales below $1.9M
–
The average closed sale for waterfront homes in the last 12 months
The Average Price per SF for a closed sale: $811
The Highest Price per SF for a closed sale: $1,906 (includes a record breaking sale / Previous high was $648)
The Lowest Price per SF for a closed sale: $552
–
The Current Pending Sales
371 Isla Dorada  |  List Price: $2.1M  –  Property needs major updating

141 Rosales | List Price: $4.8M  –  Property is a new construction

139 Rosales |  List Price: $4.9M  –  Property is completely remodeled

117 Gavilan | List Price: $2.9M  –  Property is waterfront and needs updating

6995 Prado Blvd. | List Price: $5.3M  –  Property is waterfront and is completely remodeled
Making an offer on Cocoplum Homes: Make sure you take everything into consideration
The current pending sales are covering pretty much every type of home category available in Cocoplum.  Waterfront, non-waterfront, new construction and renovation projects.  Having a realtor who has relationships with various listing agents will help you get the latest information on the upcoming sales, which in turn will prepare you to make the right offer.
Know everything about the house
Sales history

It is beneficial to know when was the last time the house sold and what did the homeowners pay for it or did the current owners put it on the market in the past, and what was their ask ing price . This intel is rather easy to discover. In any case, ensure you know it.  However remember that a home's actual true market value is strongly based on the comparables

Renovations or additions

Easy enough to determine. If the seller has revamped the kitchen, included a room, or completed renovations to a bathroom, you'll want be informed of that—and, if possible, ask to see receipts from the workers to get a number of what they paid for these updates. By and large, this will give you a ballpark on  the amount of cash they've sunk into the home—and what they want to get out. All things considered, don't expect to fork over as much as the seller put out; home upgrades for the most part procure just about 60 % profit for normal. What's more, the return differs generally in view of what was redesign ed or upgraded.

Plumbing

Many of the homes in Cocoplum are around 25 years old.  The cast iron piping used in the majority of these homes can last up to a 100 years but in some cases the cast iron can be ruined after 40 years.   You might need to put this on your rundown of things to ask your inspector.

Roof Conditions

The most common question asked about a house on the market is "How old is the roof?"  The costs and undertaking of having a roof replaced is massive. Its always a sign of relief to not have to deal with that. But take a look when you drive into Cocoplum, you will notice roof work being done on many of the homes.  There're houses in Cocoplum with roofs as old as 25-30 years which is just about the full life expectancy of any roof. Also the harsh climate in Miami could shorten the lifespan of a roof. The extreme temperatures tend to create an expansion and contraction of materials.

Property taxes

Property taxes are always available through the Dade-County Property Appraiser.  You can easily find this information at www.Miami-Dade.gov. Its important to understand that property taxes are based on a percentage of the value of your home. This will be affected by the price of which you purchased the house (generally its about 2%). For homes with the size and value of those found in Cocoplum this expense is considerable, and it is most important for you to budget for this before moving on an offer.
What are the monthly maintenance and utility costs?
Utility Expenses

It is important to learn what sort of power the home runs on, whether it be gas, oil, electric, or a combo. Also ask what the monthly expenses average, establishing the monthly budget of the home is important when making your purchase. Same goes for water, trash removal, and some other utility costs that are material. Everything needs to make sense from logistical and mathematical stand point.
Insurance

Knowing what type of insurance you need to purchase will assist you in creating a budget for your monthly carrying costs on your new home.  Some homes in Cocoplum do not require flood insurance and if you own your home out right you don't need to have any other type of insurances but it is good to have a policy that will protect you against natural disasters, fire and theft. It is important to identify if your potential new home has impact windows or shutters. This will not only effect the resale value of the property but will dramatically effect your insurance premium and mortgage
Maintenance Fees

Depending on which area of Cocoplum you are planning to purchase there is are association fees and quarterly maintenance fees as well.


Phase 1: No fee.  There is a volunteer home owners association of which they ask for quarterly contributions to maintain landscaping and the tennis courts.
Phase 2: $35,000 one time fee.  Plus a $1,000 quarterly HOA maintenance fee.
Tahiti Beach: $100,000 one time fee in addition to Cocoplum Phase 2 fee: $35,000 plus quarterly fee: $6,200 and the $1,000 quarterly fee for Phase 2.
Closing the deal: make sure your deal dose not fall apart.
Any real estate transaction has a few phases. The home stretch of a transaction is where I feel people are less knowledgeable and don't foresee possible. Having a realtor with experience in major real estate deals is most important. People tend to have faith in any realtor when things are going right but what happens when things go south? There a few things that can kill your deal and thats why you need to be ready to react.
Financing : Almost 50% of transactions issues are because of problems with financing.

Appraisal : Deals often fall apart  in light of the appraisal . The disparity of of the sales price and the appraisal number are one of the most common issues .

Inspection : A deal can turn into a total disaster after inspections.
–
Be aware of the possible issues.  If you know the pitfalls you will be able avoid them before they happen or react wisely and timely to keep your deal alive.
Please fill in your details and David Siddons will contact you
Get our

Newsletter

No Thanks
Get the latest news from Miami Real Estate News
Email to a Friend
Recomend this to a friend, just enter their email below.
Your email was sent succesfully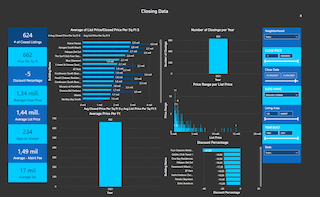 COMPARE WITH CONDOGEEKS