What Are The Best Miami Suburbs?
Which Areas Near Miami Will Best Suit your Lifestyle?
When we talk about the best Miami neighborhoods we quite often refer to the suburbs. Miami itself just a small part of the larger Miami Dade area and unless you are looking for a condo in the urban core or a home in Coconut Grove, the chances are high you will end up in any of the suburbs.
Shown above is a map of the city of Miami. As you can see the Miami area includes several desired residential neighborhoods such as Coconut Grove, Brickell, Downtown Miami, Edgewater and the Upper East side.
What are the Suburbs of Miami?
Suburbs of Miami include the desired areas of Coral Gables, which is more like a city near Miami, Pinecrest, High Pines, Ponce Davis, Key Biscayne and also cities or beach towns nearby such as Miami Beach, Surfside, or Sunny Isles.
To avoid just name dropping I will divide this blog in sections:
Best suburbs for Families / The Safest suburbs of Miami
The Best Suburbs for condo life
The Best Suburbs near the beach
The Wealthiest / Most Exclusive Suburbs in Miami
The Best Miami Suburbs for Families
The best areas in Miami for families are without a doubt the suburbs. Besides Coconut Grove, which is part of Miami, the most desired areas for families are Coral Gables, Pinecrest, Ponce Davis, High Pines, South Miami, Palmetto Bay and Key Biscayne. Why are these Miami suburbs so desired with families? These are all safe neighborhoods close to the city's best private as well as public schools and close to the financial heart of Brickell and other offices in or near the Gables area. These areas offer predominantly single family homes and many of the houses are located in gated communities. Another city or suburb of Miami is Miami Beach. Not a destination that families would necessarily choose to be close to the best schools, but its a desired part of Miami Dade with beautiful single-family homes many of which waterfront.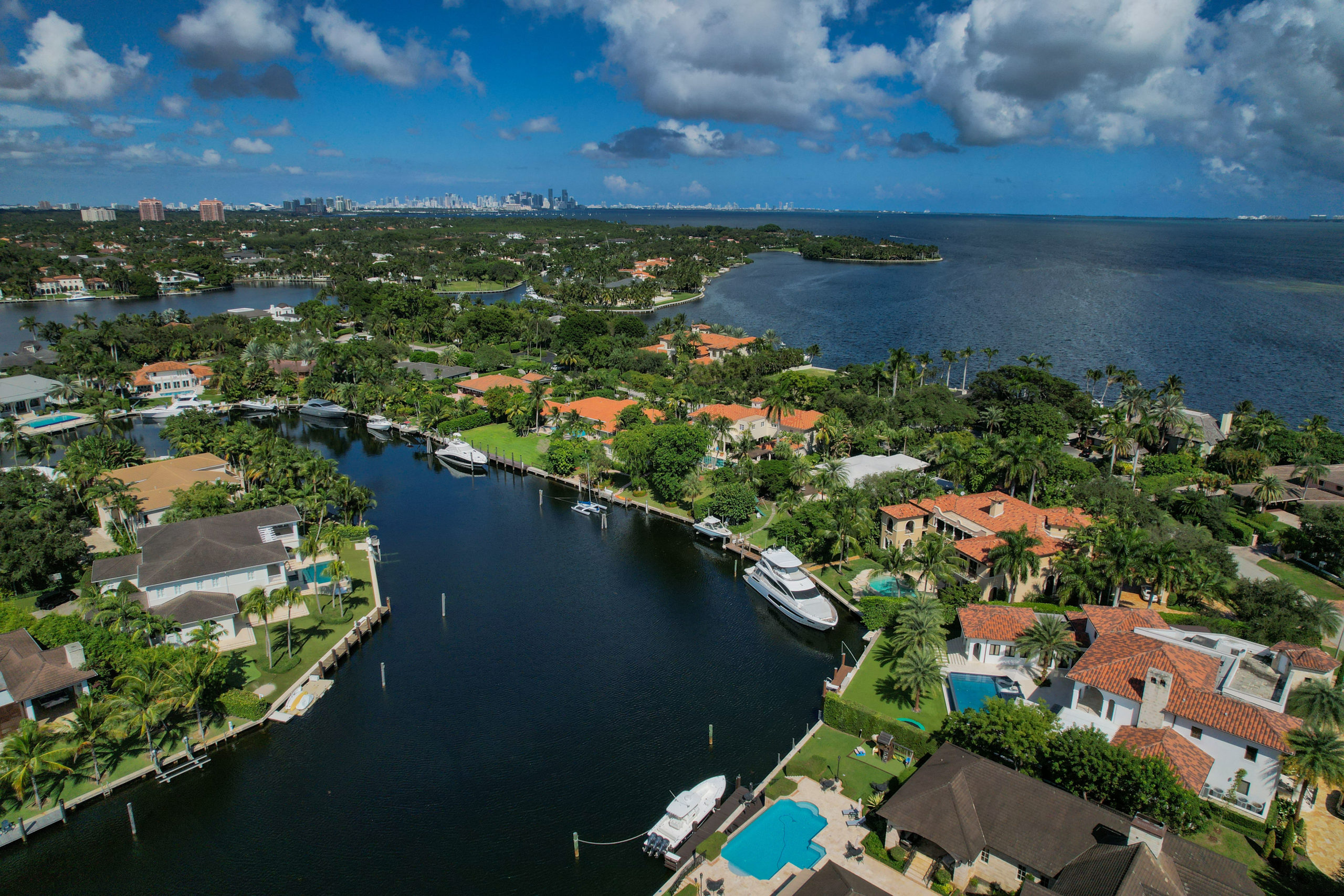 Pictured: A waterfront, gated community in Coral Gables
The Best Miami Suburbs for Condo Life
The best suburbs for condo life are Surfside, Bal Harbour, South of Fifth, Sunny Isles and Key Biscayne. These are all known for their high-end condo living with Key Biscayne arguably offering the best priced options for condos located on the sand. Bal Harbour is home to high-end condos such as Oceana and St Regis, while Surfside is an ultra-luxury beachfront destination with some of Miami's best condo options: Surf Club Four Seasons Residences, Arte Surfside, Fendi Residences and Eighty Seven Park. South of Fifth is the southernmost tip of Miami Beach and equivalent to high-end living with many very desired condos such as Continuum, Glass 120 Ocean, Apogee. Sunny Isles offer many ultra-luxurious condo residences as well of which we prefer the Ritz Carlton Residences, the Turnberry Ocean Club and recently announced St Regis. All of these are quiet towns, yet close enough to all the action.
Pictured: Surfside, a high-end beach community just north of Miami Beach
The Best Suburbs near the Beach
The beachfront suburbs are really the same areas as mentioned before for the condos. Most of the condos in these areas are located right on the sand and offer direct ocean access. Some of the condos will also offer private beach access as well as beach services. From all these markets Key Biscayne offers the most affordable prices per SF while Surfside and South of Fifth will top this list for prices per SF.
The Most Exclusive Suburbs of Miami
Most of Miami's suburbs are very exclusive and attract wealthy residents. Coral Gables, Pinecrest, Ponce Davis, Key Biscayne and Miami Beach are by far the most exclusive towns or cities close to Miami. Not all pockets are equally desired or luxurious of course. For the most luxurious areas within Coral Gables you need to be east of the US1, closer to the water where we find many gated communities along the Biscayne Bay. For Pinecrest the most exclusive homes are found North of 104th street. Key Biscayne offers many exclusive homes near the water as well, focus on Mashta Drive and Harbor Dr to find the island's crème de la crème. Miami Beach offers specific pockets that are more exclusive than others. The islands are extremely desired: Venetian Islands, Star Island, Palm Island and the Sunset Islands. Other desired locations are La Gorce Island and homes along N Bay Road.
For condos the most exclusive ones can be in Surfside, South of Fifth and of course on Fisher Island.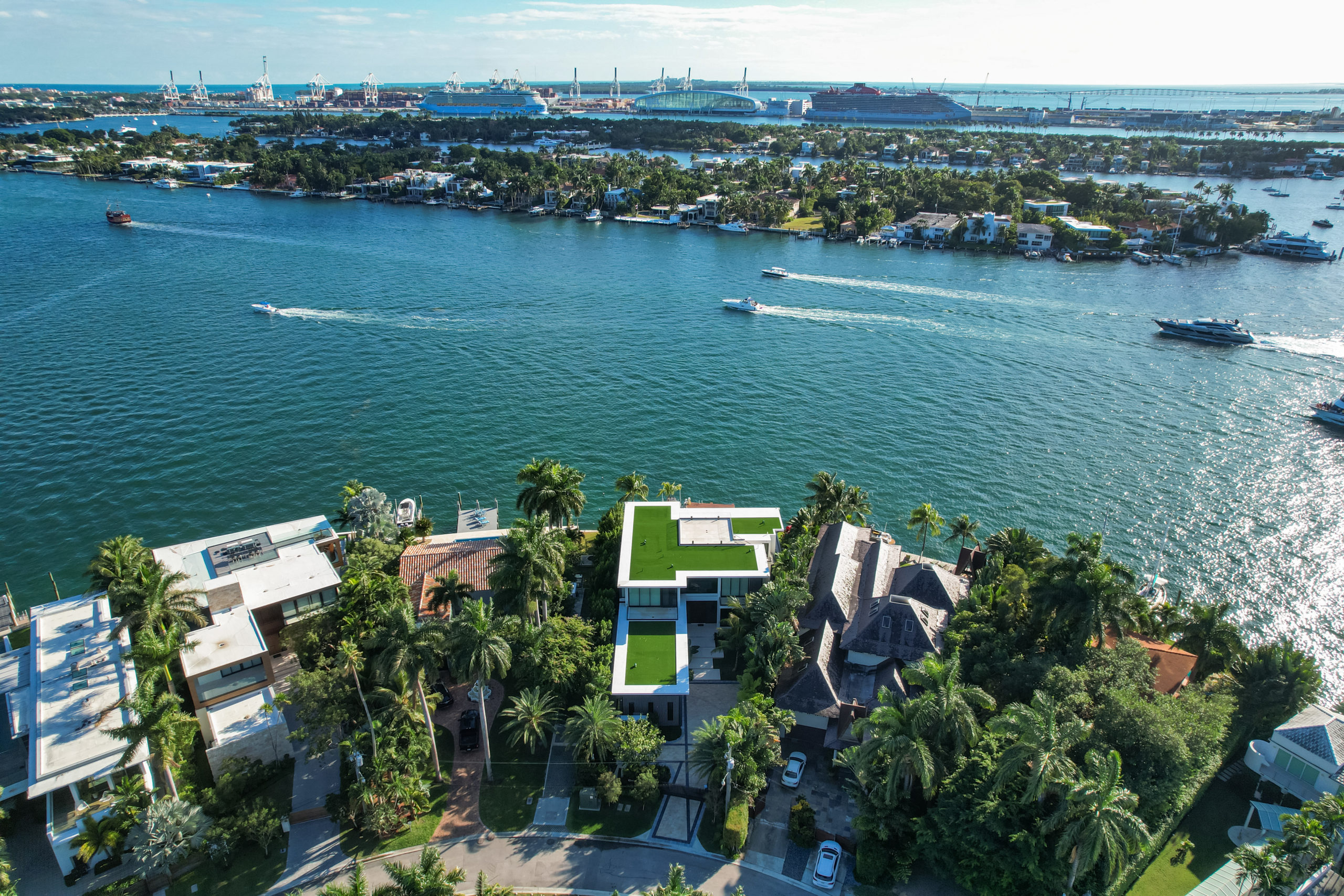 Pictured: The Venetian Islands
What is Miami's Most Famous Suburb?
From the list previously provided Pinecrest and Coral Gables are probably the most famous on the mainland as they are larger towns or cities near Miami that offer an incredible lifestyle, some of the best real estate and some of the best schools. Near the beaches the most famous will be the actual city of Miami Beach along with Bal Harbour. Both offer great restaurants and beautiful condos on the sand. Bal Harbour however is more tranquil and receives less tourists than in Miami Beach.