Trend Alert: Coconut Grove Boutique Condos
Which ones are the New Boutique Condos In Coconut Grove?
The Coconut Grove real estate market seems to have finally responded to the enormous demand for condos. This trend started about 3 years ago with the announcement of ultra-luxury and more large scale projects (Park Grove and Grove at Grand Bay) and is now focusing on the boutique sector.
Why is Boutique Living in Coconut Grove so desired?
Coconut Grove is one of Miami's top 3 residential areas. It is extremely safe, well located (close to the best schools and business centers) and the Grove offers a high quality of living. We recently wrote an article on 'why the Grove is so desired', for those who would like to know more about its charm.
As stated above the Grove was lacking a high-quality condo market. There are a fair amount of waterfront condos along South Bayshore Drive, but many of these are slightly dated and less in vogue with modern day buyers. This gap in the market has now finally been filled by these brand new Coconut Grove boutique condos.
Boutique condos are small-scale condos that offer a sense of privacy and uniqueness. They are for those buyers who want a more quiet environment in a less crowded building. We see an increase of truly boutique style condos all over Miami.
For those that want private condo life in Coconut Grove, the below condos might be ideal for you!
The Fairchild
The Fairchild name is meant to evoke the nearby Fairchild Tropical Botanic Gardens in Coral Gables, one of Miami's most famous and prized points of interest. A rendering for the condos show the building is to be wrapped in foliage with vines climbing up its sides.
26 Units
5 Stories
Residence Mix: Two to Four bedroom residences from 1,714 Sq.Ft to over 4,114 Sq.Ft
Architect: Max Strang
Interior Designer: Rafael de Cardenas
Developer: Grove Bay Properties
Pricing from $1,4M
Delivery: Spring 2018
The Arbor Coconut Grove
The Arbor offers 52 completely finished residences one block away from Coco Walk. The residences are inspired by eco-living, good living and everything in between.
52 Units
5 Stories
Unit mix: 2 – 3 Bedrooms
SF range: 1,466–2,010 SQ FT
Architect: Behar Font & Partners
Landscape Design: Witkin Hults
Design Consultant: Samuel Amoia
Pricing from: $799,000
Delivery: 2017
GlassHaus in the Grove
Glasshaus is the latest of all condo projects offering 23 contemporary residences in the heart of Coconut Grove, just two Blocks from the Bay and the Park
23 Units
5 Stories
1,080 to 2,380 SF
1 to 3 bedroom residences
Development team:  G.D8 and Element Development LLC
Design: Varabyeu Partner
Prices range from $595,000 to $1.2 million
Delivery 2018
The exclusive, eco-friendly, boutique-style building claims an iconic location just blocks away from boating, dining, shopping and Peacock Park, looking out towards Biscayne Bay and the Downtown Miami/Brickell Skyline, in the heart of Coconut Grove.
6 units
3 stories
2 or 3 Bedrooms
1,330 to 1,898 SF in size
Boutique Style
Eco-friendly building
The development is slated for Spring of 2015
Click here for rentals at L'Uccello
Please fill in your details and David Siddons will contact you
Get our

Newsletter

No Thanks
Get the latest news from Miami Real Estate News
Email to a Friend
Recomend this to a friend, just enter their email below.
Your email was sent succesfully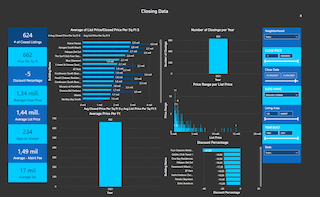 COMPARE WITH CONDOGEEKS

Meet our Team