The Miami Condo Market: Saturated but not Busting
Has the Miami Condo market peaked? Yes (In some neighborhoods)
Do we expect another Bust? No
Whoever follows the Wall Street Journal will have read their recent article about a looming next Miami condo bust. The WSJ used sensational headlines like: "Developers, seeing sharp drop in sales, inventory surge, take steps to avoid a 'bloodbath'", which served the writer's purpose for creating a stir in combination with numerous shares, comments and likes. In this blog we try to explain to you what the condo market in Miami is really experiencing. Although some elements in the before-mentioned WSJ article are true, we are not expecting another bubble.
The Miami condo market knows a different climate these days
Despite the slower Miami condo sales, we are not likely to see another condo bubble like the one we experienced in 2007 and 2008.
First of all, very little has been bought on credit (most Miami condos are bought in cash), so we're not going to see our hand being forced where we have to sell at half the price. This means most people are not in debt and can actually afford their investment.
Many developers require buyers to pay a 50% deposit (unlike the 20% required in the last cycle) on the total cost of their units by the time the project breaks ground. Developers don't break ground until the project is 80% sold, which means the deposits are enough to cover a significant portion of the construction costs.
Miami has developed as a world city with business, services and retail to rival any other major metropolitan hub around the globe. The gap we had for quality retail, banking and services has been filled. What is interesting is the entrepreneurial spirit, open attitudes, and influx of wealth coming into the city. Services that add to the real quality of life in Miami are its arts, shopping, diverse culinary hotspots, and entertainment. Miami is becoming more and more a preferred residential place for young professionals from all over the world.
A slowdown in new projects will prevent the massive oversupply that Miami saw during the last cycle. The current inventory level is not as high as the inventory before the 2007 bubble.
David Siddons
david@siddonsgroup.com | +1 305 508 0899
Meet the team and see our unique insights into the Miami Real Estate Market.
No generalized opinions,  we offer an analytic approach.
Preferred agents of First time buyers, Sellers, Investors and Wealth Managers
Please fill in your details and David Siddons will contact you

Subscribe!
Get uninterrupted access to our entire articles and blogs database.
Get our

Newsletter

No Thanks
Get the latest news from Miami Real Estate News
Email to a Friend
Recomend this to a friend, just enter their email below.
Your email was sent successfully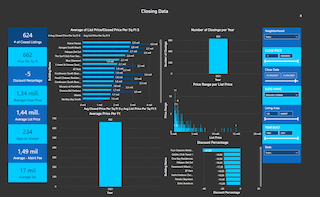 COMPARE WITH CONDOGEEKS

Meet our Team