Should I Buy or Sell My Coral Gables Home in 2017?
Selling or Buying a Coral Gables Home in 2017, What Would Be the Best Move for You?
Many Coral Gables homeowners are interested in knowing the value of their property and to see whether they can step up to a larger home or maybe scale down and purchase a Miami condo. Some owners tell me they read so much different Miami real estate news, they really don't know anymore what to believe.
As a top-producing Coral Gables Realtor who is active in this market on a daily basis I would like to share the below data and personal opinion with you.
For more about Market Trends and Market Forecasts please download our 2017 Miami Real Estate Report
Months of inventory are the months it would take to sell all current listings if no listings are entering the market. As a general rule we say that:
6 Months or less (12 Months in luxury market*): Sellers market, more demand than supply with sellers having an advantage over buyers and prices are likely to increase.
Between 6 and 9 months (12 – 18 in luxury market*): A Neutral or balanced market.
9 Months or more (18 in luxury market*): A buyers market with more supply than demand. Buyers are experiencing an advantage and prices need to be corrected in order to stabilize the market. This type of market leads to price decreases.
Luxury Market is the $1M+ market
The numbers show that the Coral Gables single-family home market remained stable or recorded a growth in value. Coral Gables, being a primary market, has always been more resilient when it comes to market movements. We see a value increase in the lower ends of the market and the months of inventory show that there is still room for growth. Savvy buyers know that when you buy on the lower end of the market (mostly dated properties), renovating or remodeling these properties is where you can add value! If you are a buyer and you can keep it below the average Price per SF as mentioned in the report you are going to be ok. As a seller in the lower end of the market you might be able to get a good price for your property.
Be cautious with the higher priced properties in the high-end markets. We see within the higher price ranges that the highest sales prices per SF are experiencing a price correction (respectively -7%, -6% and -7%). With other words, buyers of luxury properties are paying less for ultra-luxury homes or attach less value to high-end finishes. In the $3M+ market we are seeing a price correction as well. Buyers are more hesitant in the high-end of the market and there is a large amount of brand new ultra-luxury homes that entered the market providing for more competition in this market segment.
Please fill in your details and David Siddons will contact you
Get our

Newsletter

No Thanks
Get the latest news from Miami Real Estate News
Email to a Friend
Recomend this to a friend, just enter their email below.
Your email was sent succesfully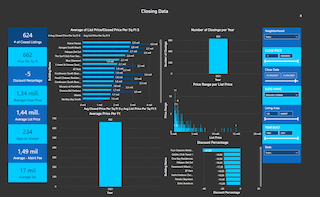 COMPARE WITH CONDOGEEKS