The David Siddons Group – The Preferred Coral Gables Realtor
Looking for the Best Real Estate Agent in Coral Gables?
Are you looking for a qualified and experienced real estate agent in Coral Gables? David Siddons is a top producing Coral Gables realtor with over $100M in yearly sales. Part of our success lies in the fact that David lives in Coral Gables himself and therefore knows the market and its lifestyle like nobody else. More important to know is that we are true market analysts and the authors of several of Miami's most influential real estate reports and forecasts and we have one of Miami's most trafficked real estate websites with an overwhelming online presence and state-of-the-art digital marketing.
Check out my brand new listing on 4424 Granada Blvd in Coral Gables. This brand new waterfront construction home offers 7 bedrooms, 8.5 bathrooms and 7.459 of interior SF. Click here for more information.
The Best Coral Gables Realtor is the One with the Most Knowledge of the Market
If you are reading this, then you are probably looking for an agent. For a buyer it should be clear that the agent with the most knowledge and understanding of the market (analytical, economic and human), would be the one you call. You want to hire the agent who knows the market and the numbers, the agent who can make sure you do not overpay for a property and the agent who understands where we are in the real estate cycle. Knowing the real estate cycle and its previous bottom and peak prices means you can anticipate at what price point you are getting a good deal and at what price point you are buying at the peak of the market. With other words: you need a real estate market analyst!
We have 10+ years of experience in the Miami real estate business and we are top producers with nearly $100M in annual sales. We have studied the market for over ten years and understand the pro's and the con's of each moment within the real estate lifecycle. Among clients, readers and industry peers we are known as market analysts and our real estate blogs, videos, reports and forecasts have provided us with a prominent name in the Miami real estate industry. As market analysts we not only understand the numbers, but we understand the human behavior behind the numbers. Take a look at our reports and you will see it's not just numbers; it's a dialogue that explains the human behavior and macro-economic factors behind the data. If knowledge is power than we could be considered the most powerful team of agents in Coral Gables, at least by analytical standards. We have been writing articles and supremely detailed 'actionable' reports (Including the more recent 2019 Miami real estate forecast and the 2020 Q2 and Q3 Miami Real Estate Report) for over a decade now. I say actionable because our reports do not just give a bunch of arbitrary statistics, but actual actionable advice for buyers and sellers specific to their price point).
Choose from All Coral Gables Homes, not just what is on the Market
Why limit yourself to listed Coral Gables homes if we can offer you so much more. Many of our clients bought a house that wasn't even on the market. As a team we will go out of our way to find your dream house even if it means approaching owners of off-market properties. We have a large database of Coral Gables home owners and we often reach out to specific off-market properties upon request of potential buyers. Moreover as top producing Coral Gables realtors we are constantly in contact with other agents communicating which new product is coming up and as a result we know about new properties before anyone else does.
Market Analytics Tools
Finally we would like to share our Market Analytics tools with you, tools that help us with creating our reports and that are one of the main reasons our site is so heavily trafficked and buyers trust our market knowledge.
In part 5 of our 2020 Miami Real Estate Report we discuss our analytical tools and software. Here are the direct links for the Neighborhood Economic Health score and the Advanced Analytics.
The Best Coral Gables Real Estate Agent for your Listing is Whomever has National and Global Reach.
Miami is not a market that attracts merely local buyers. Miami is a global city appealing to investors from all over the globe and the latest influx of buyers are from the northeast and California (sometimes referred to as tax-refugees). If your realtor has no website or a website that does not rank with the major search engines how will anyone ever find your listing?
As of recent we have been picking up listings that have been previously and unsuccessfully listed by other agents. Often big listings that have been entrusted to agents with little to no web presence. We are living in a 'post-covid' world now and if it has not become clear, it should become clear that everyone looking to buy property is looking extensively online for options and information to make their purchase before they actually buy. In Miami we have been inundated with relocating buyers and not only do they look for properties, but they look for guidance on the best neighborhoods, schools, gated communities, lifestyle, sales statistics and anything else that helps them focus on the area or neighborhood they want to buy in. Whomever provides that information becomes their go-to partner.
Those who are looking for Miami real estate from out of town do not have a local realtor yet so what are they most likely to do? Either search for a Miami realtor or a site to browse for properties themselves. They start searching on Google for "Coral Gables Homes for Sale", "South of Fifth Condos for sale" or "the best Gated Communities in Miami".  If your realtor cannot be found, your listing cannot be found.
If you have a Coral Gables home and you want to reach buyers for Coral Gables homes then you should have a realtor who ranks high for "Coral Gables Homes for Sale". With 1000's of homes for sale and 1000's of realtors in this town you need to have a realtor that makes your home stand out in the crowd.
Please fill in your details and David Siddons will contact you

Subscribe!
Get uninterrupted access to our entire articles and blogs database.
Get our

Newsletter

No Thanks
Get the latest news from Miami Real Estate News
Email to a Friend
Recomend this to a friend, just enter their email below.
Your email was sent successfully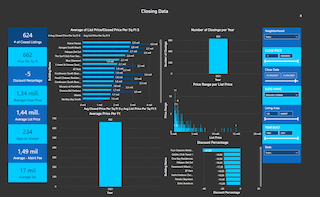 COMPARE WITH CONDOGEEKS

Meet our Team